Berkeley Group has today announced its audited results for the financial year ended 30 April 2020.
The full announcement is available here and highlights from the year include:
2,723 homes delivered (plus 435 in joint ventures) - includes some 10% of London's new private and affordable homes - supporting approximately 32,000 UK jobs directly and indirectly throughout the supply chain
Approximately £270 million of subsidies provided to deliver affordable housing and committed to wider community and infrastructure benefits in the year
Maintained Industry leading Net Promoter Score (+78.8) and customer service ratings
Sector leading 'A-' score

for transparency and action on climate change from CDP

3

5 sites now have net biodiversity gain strategies, which will create approximately 450 acres of new or measurably improved natural habitats on these developments alone
Delivered carbon positive business operations for a third consecutive year
Berkeley Foundation

wins "Business of the Year" at Third Sector's 2020 Business Charity Awards
Chairman's statement
These results reflect a strong performance for the year, driven by the fantastic progress of our long-term brownfield regeneration sites, many of which are now maturing into welcoming and popular communities.
The onset of the Covid-19 lock-down in the last five weeks of the period had a significant impact on our operating environment, but Berkeley ended the year in a strong financial and operational position as our resilient business model and agile working culture defined our response. Berkeley's strategy is designed for a high risk cyclical housing market, so when conditions shift for any reason we have high liquidity, long-term cash flow visibility and highly skilled teams with the grip to effect decisive operational change. This means we are well placed to manage the current period of uncertainty without call on the Government's furlough scheme or its Covid Corporate Financing Facility.
Our agility mitigated the early impacts of Covid-19 and ensured the safety and wellbeing of our people, customers, suppliers and local communities, which is always our first priority. The speed and precision of the implementation of the necessary far-reaching changes to our working practices showed our highly skilled people and suppliers at their very best.
The suffering and upheaval caused by Covid-19 has given cause to reflect on what really matters and our purpose and contributions to society. As the crisis unfolded, we were struck by the selfless bravery of our front line public services and the kindness and resilience of the local communities in which we work. Our local teams have been part of this heartening response, which has reaffirmed our core belief in the value of community-building and supporting local people.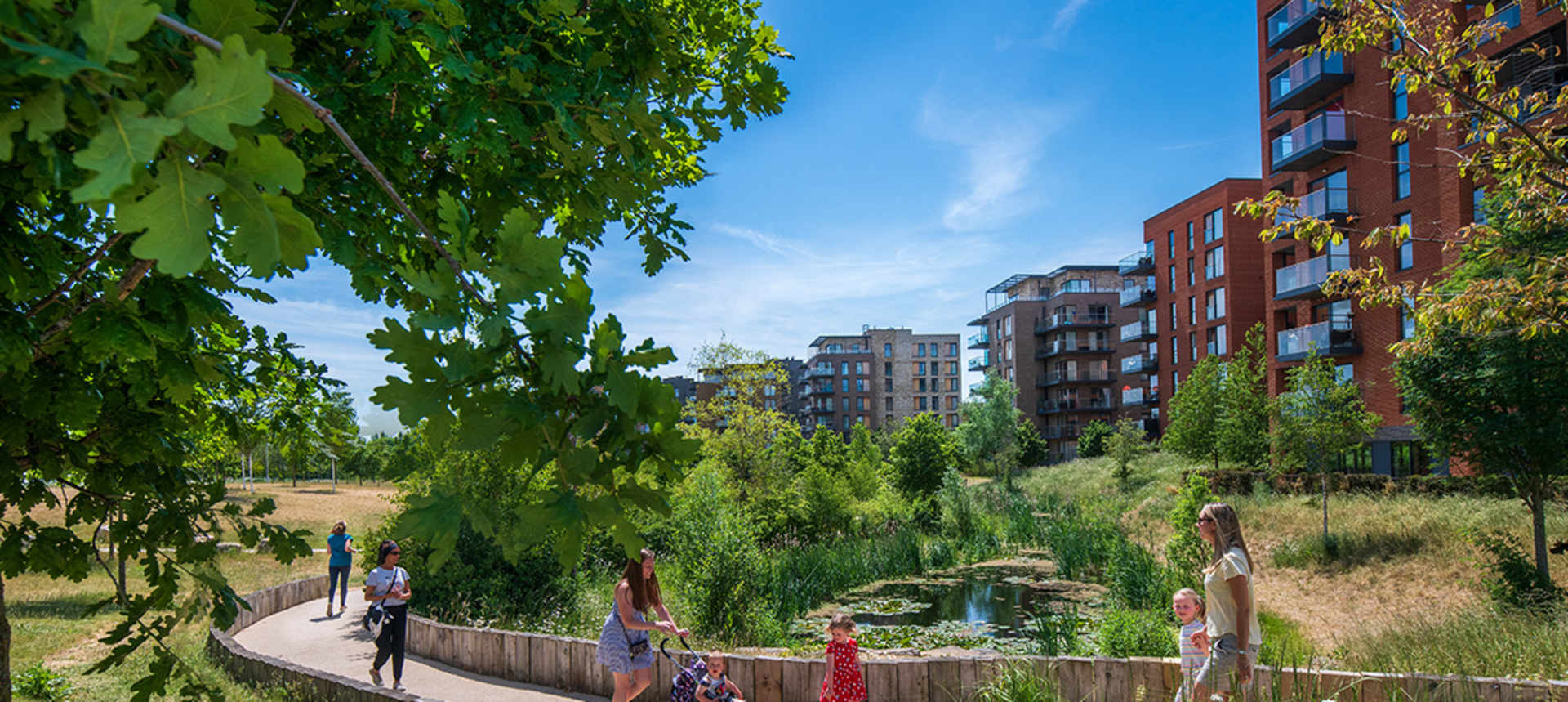 Kidbrooke Village
For us, placemaking is all about people. It's about turning underused spaces into welcoming neighbourhoods which reflect the local character and where people are connected to each other, proud of their homes and feel part of community life. There is no exact formula for achieving this, but as we are seeing at places like Hartland Village, Woodhurst Park, Kidbrooke Village and Trent Park, we can make fantastic progress when we listen to people and take time to engage them in creating and managing their neighbourhoods.
This year we have further embedded and delivered our approach to net biodiversity gain, with 35 sites now on course to measurably increase natural life. These projects, including Poplar Riverside, White City Living and Southall Waterside, will deliver over 450 acres of new or measurably enhanced natural habitats and become beautiful green landscapes where people can experience the benefits of nature.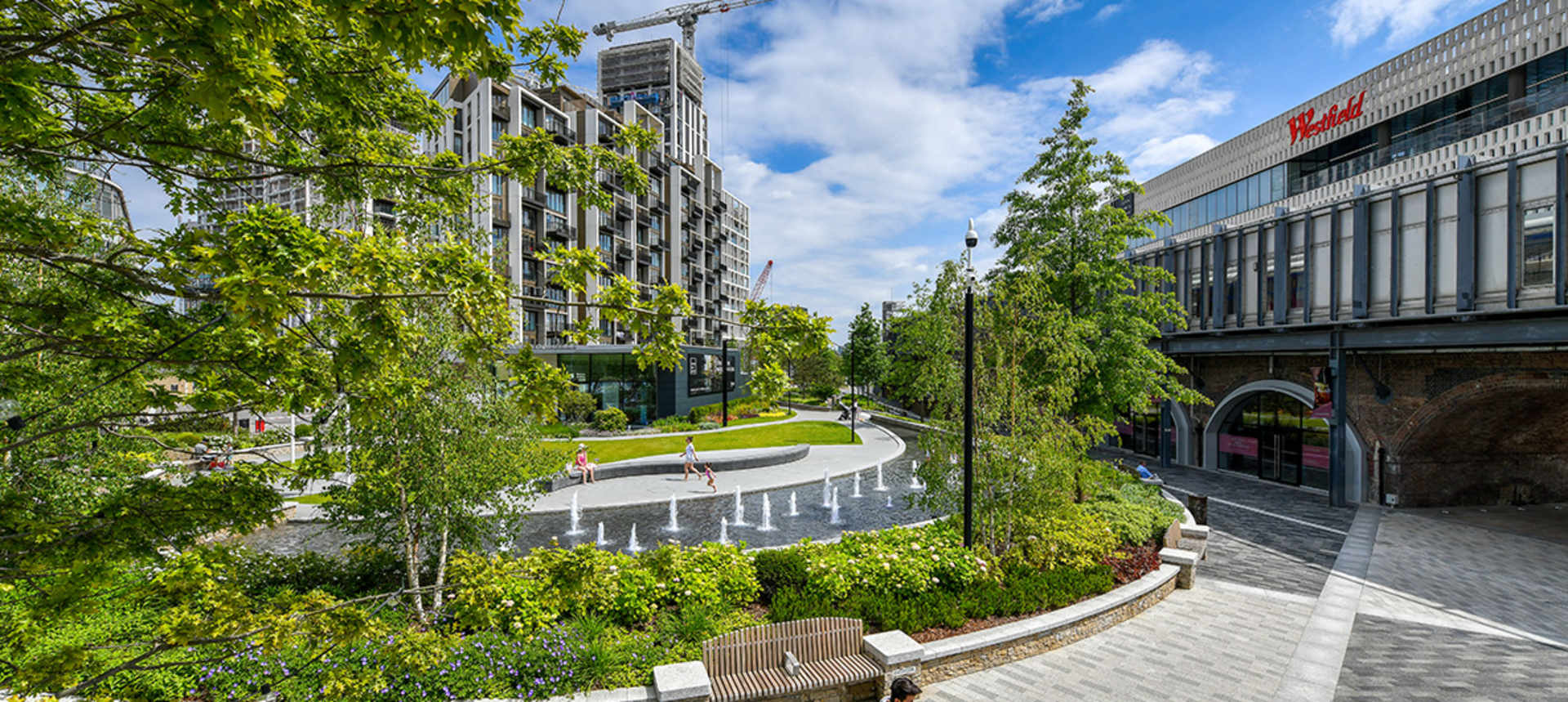 White City Living
I am very proud that this is Berkeley's third year of delivering carbon positive building operations, thanks to our long- term commitments to reduce energy use and use cleaner sources of power. We have also continued our work towards delivering net zero carbon developments and will continue to engage with Government, the energy sector and our World Green Building Council partners to develop long-term solutions.
Over the last twelve months MHCLG reaffirmed Government's commitment to improving building safety with a suite of new measures, including guidance on cladding. While we welcome the commitment to improving the building regulation regime, the impact of the latest guidance on mortgage valuations and the ability of fire engineers to provide the necessary certificates for lenders is creating delays in the second hand housing market which seems unlikely to ease until a collaborative regime, based on risk assessment, is established.
The year has seen further progress in developing our own facility for the manufacture of precision made homes using innovative, modern methods of construction. The bespoke machinery is being installed during the coming year prior to production commencing. This really represents the future for our industry, addressing many of the challenges around the supply chain, skills, the environment and quality.
During the year, Berkeley made shareholder returns of £280.3 million, of which £130.5 million was represented by share buy-backs and £149.8 million by dividends. Of the £140.0 million return already announced to be made by 30 September 2020, £6.0 million has been made to date through share buy-backs. The amount that will be returned as dividend will be announced on 13 August 2020 taking account of any share buy-backs in the intervening period.
In closing, I want to express my gratitude and appreciation to our people. They are highly skilled, hugely committed and put our core values into practice every day. This deeply embedded culture is what sets Berkeley apart and ensures we deliver long-term value for all stakeholders.
Tony Pidgley CBE
Chairman
Click here to view the final results announcement in full.