Tackling climate change has been a priority for Berkeley since 2007 and we are proud to be a 1.5°C aligned business.
76%
reduction of our scopes 1 & 2 emissions compared to our 2019 baseline year
23
Embodied Carbon Assessments undertaken across our sites
93%
of homes completed in 22/23 had an EPC of B or above
As a company we have an impact on climate change through the carbon produced by the energy we use, but more significantly through the carbon in our supply chains (embodied carbon) and during the lifetime of the homes we build. We also have a duty to ensure that the homes and places we are creating are resilient to the impacts of future changes in climate.
Climate Action is one of our ten strategic priorities for Berkeley Group and is integrated into our business strategy Our Vision 2030.
Science-Based Targets to Reduce Greenhouse Gas Emissions
We have set science-based targets (SBTs) which commit us to reducing our greenhouse gas emissions (GHG) by 2030. Our targets cover our direct emissions, the embodied carbon in our supply chain and the in-use emissions created by our homes. They have been calculated to ensure that we play our part in limiting global warming to 1.5°C above pre-industrial levels and put us on the pathway to be a net zero carbon business by 2040. Our targets were independently approved by the Science Based Targets initiative (SBTi) in December 2020 and our progress is externally audited.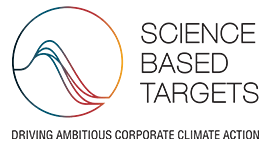 Our Targets
| | |
| --- | --- |
| 50% | Reduction in absolute Scope 1 and 2 GHG emissions from our direct operations between 2019 and 2030. |
| 40% | Reduction in Scope 3 GHG emissions from our purchased materials and services between 2019 and 2030. |
| 40% | Reduction in Scope 3 GHG emissions from the use of the homes we build between 2019 and 2030. |
Understanding Our Carbon Impact
Each year we measure our impact to understand our progress against our science-based targets. In 2022/23 the embodied carbon or upfront carbon accounted for 55% of our impact, the in-use carbon from our homes accounted for 44% and our direct emissions were only 1%. Our focus is on reducing our emissions in the embodied carbon and in-use emissions of our homes.
Task Force on Climate-Related Financial Disclosures (TCFD)
We have supported the recommendations of the TCFD since 2018, and have completed detailed Climate Scenario Analysis which has helped us to further understand and enhance our disclosure around the risks and opportunities that climate change presents to our portfolio and business activities, and demonstrates how Berkeley already designs its places and buildings to mitigate long-term climate change risks. Of the identified transitional risks and opportunities, there are seven which have a potentially greater impact on Berkeley. Against these, the Group has relatively low residual exposure to transition risk in the short term (2023), which could moderately rise in the medium term (2030). We have also undertaken a comprehensive physical risk analysis of our land holdings against current and future climate scenarios with the support of Willis Tower Watson (WTW).
| | | |
| --- | --- | --- |
| | 2007 | Became the first UK homebuilder to publish a Climate Change Policy |
| | 2010 | First carbon reduction targets set and programmes launched as part of our business strategy, Our Vision |
| | 2014 | Launched our first climate change adaptation programme to make our homes and neighbourhoods more resilient to extreme weather and rising global temperatures |
| | 2018 | Procured 100% renewable electricity for UK operations for the first time |
| | 2018 | Achieved carbon neutral business operations for the first time, by taking action to reduce our emissions and offsetting remaining emissions via verified offsetting projects |
| | 2020 | Set science-based targets and became a 1.5°C aligned company |
| | 2022 | Completed detailed scenario analysis to understand how climate change could impact our business |
| | 2022 | Rated "A-" by CDP for Climate Action and Transparency |
| | 2023 | Met our scopes 1 and 2 science-based target ahead of 2030 goal |