Shared Value
Our goal is to allocate capital to deliver sustainable returns to our shareholders whilst creating value for our other stakeholders including through the work of the Berkeley Foundation.
Our Approach
Our long-term strategy is to invest in opportunities with the right risk-adjusted returns, while ensuring our financial strength reflects the prevailing macro environment, and to make returns to the shareholders who support us to achieve our purpose. We have a unique operating model that is responsive to the cyclical nature of the housing market and focuses on transforming the most challenging and complex sites into exceptional places where communities thrive. Our Vision 2030 is about ensuring that we do this whilst also creating value for our other stakeholders, including through the work of the Berkeley Foundation.
Sustainable Returns
Delivering returns to our shareholders whilst creating value for other stakeholders

We will continue to deliver sustainable returns to our shareholders across the cycle, whilst creating value to our other stakeholders.

The housing market is cyclical in nature and is one of the key indicators of the health of the economy. Berkeley has a strong track record of delivering homes through numerous market cycles, predominantly in London and the South East of England.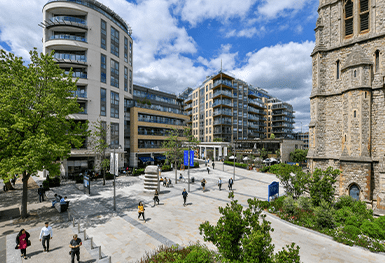 Value to Society
Undertaking a broader assessment of our value to society across a range of indicators

We take a broad view of our impact on society, understanding that it is not limited to the boundary of our sites. For several years we have quantified our contribution as a business, in terms of the homes we create, the tax we pay and the jobs we create. Over the last five years, we have contributed £2bn to community facilities including affordable housing, and £14bn in total to the UK economy.

In 2020, we undertook an assessment of our business activities across a broader range of indicators, both positive and negative, in order to quantify the value that our activities have on society. This includes the benefits of early careers training, investment in site health and safety, and innovative practices, together with the impacts that we have, such as greenhouse gas emissions. We plan to refresh the assessment over the coming year.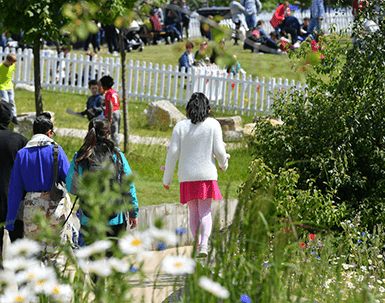 The Berkeley Foundation
Engaging all employees in the work of the Berkeley Foundation

The Berkeley Foundation is a registered charity, working in partnership with the voluntary sector to focus the skills, resources and fundraising efforts of the Berkeley Group on helping people overcome barriers, improve their lives and build a fairer society. 55% of Berkeley Group employees chose to actively contribute to the charity in 2021/22, through time, fundraising or donations.
We are aiming for every employee to engage in this important work, to help the Foundation build a society where every person can thrive.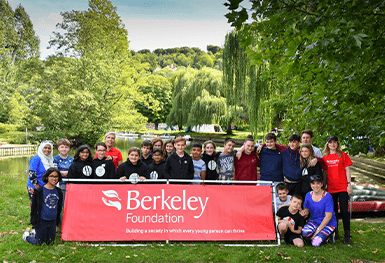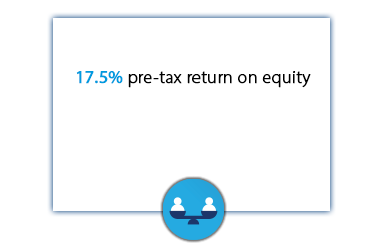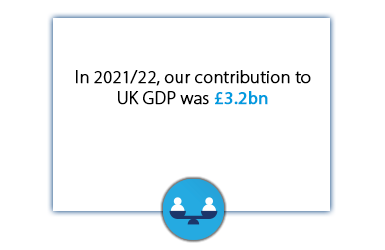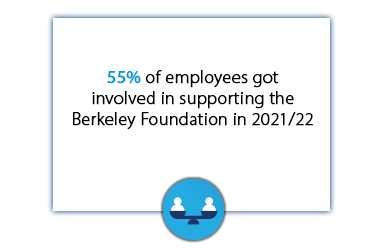 Awards, Accreditations & Partnerships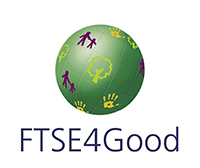 Listed Company
FTSE4 Good Index Series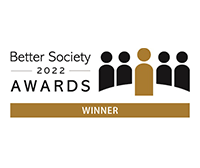 Transformation Award
Better Society Awards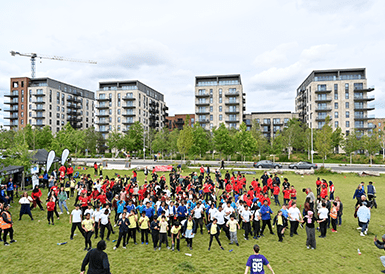 Ealing Celebrates Street Elite Graduates
Street Elite Festival at The Green Quarter attended by hundreds of local school children...
£21,000 Donated to Charity Partners at Berkeley Foundation Awards
Donations to 17 local partner charities announced at awards.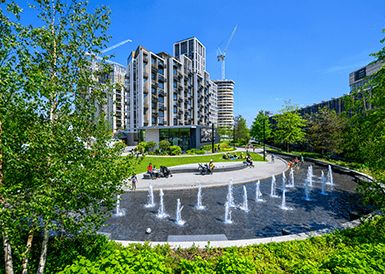 Green Bond to Finance Energy Efficient Homes on Brownfield Land
Berkeley is set to raise £400 million through the issue of a Green Bond, with the proceeds earmarked to deliver energy-efficient homes on brownfield regeneration sites.

Read More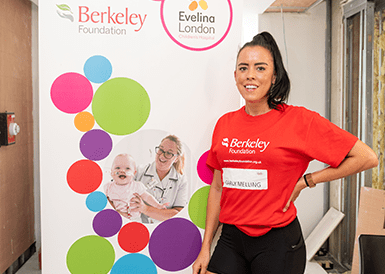 Berkeley's 68-Storey Race for Children's Charities
Berkeley runners took on 68-storey South Quay Plaza to raise funds for Berkeley Foundation partners

Read More
£10k Boost for Birmingham Youth Homelessness Charity
St Joseph's 10-10-10 challenge to fundraise for St Basils.

Read More
2022 Annual Report
An overview of financial and non-financial performance is detailed for 1 May 2021 to 30 April 2022 in the Berkeley Group's 2022 Annual Report.
Find Out More
Berkeley Foundation 10 Year Review 2011-2021
An overview of the Berkeley Foundation's first decade of success, having worked with more than 130 voluntary sector organisations and committed over £23m in support of work with local communities.
Find Out More