New Homes in Buckinghamshire
Living in Buckinghamshire
Buckinghamshire is one of the Home Counties, which borders Greater London, boasting great travel links into the capital by both road and rail which makes it a brilliant place to live for any regular commuters. Occasionally abbreviated to Bucks, the county sits around 40 miles north of London and spans 742 square miles of gentle rolling hills which comprise the Chilterns and flatter verdant plains that also make up the Vale of Aylesbury.

The market town of Buckingham was originally established in the Middle Ages, with other settlements forming around it to eventually make up the county with the traditional structures from across the ages still standing in areas such as Aylesbury.
You can also see the historical influence within the picturesque town of Amersham, which showcases a number of half-timbered inns and shops which have stood the test of time.

Finding your places within Buckinghamshire is easy, with each of the welcoming local communities offering something different yet equally enticing. Whether you're looking for a thriving town atmosphere or something more quaint, Buckinghamshire will have you feeling right at home in no time.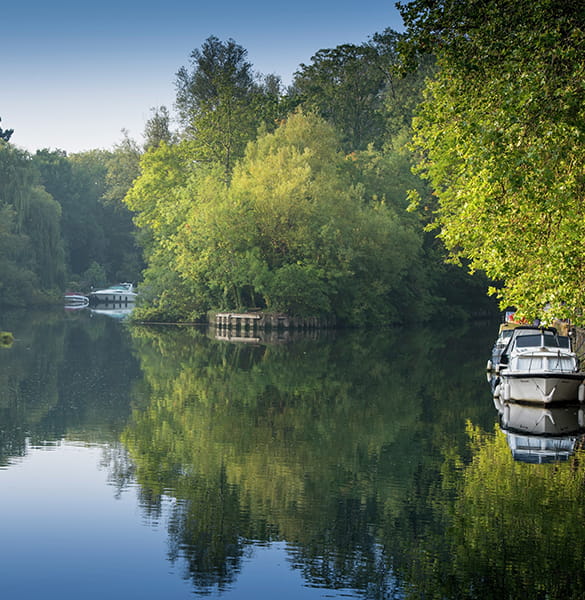 Where to live in Buckinghamshire
Buckinghamshire brings a calmer paced alternative to the big southern cities like Birmingham and London, mixing more green spaces and traditional charm into its towns. Milton Keynes is one of the largest towns in Buckinghamshire and was founded back in 1967 as one of the 'new-towns' which were created as an alternative to life in the capital. Commuters will find that the regular train service can get them into London in around half an hour, or around an hour and half's drive. Outside of the town, the Borough of Milton Keynes itself combines several other districts and towns with distinct histories which add to the borough's collective heritage and raise the overall population to around 230,000.

Another popular town found in Buckinghamshire is High Wycombe, nestled in the Chiltern Hills and is roughly 27 miles away from Charring Cross in London. This close proximity to the capital makes it an extremely popular area with homeowners who like to balance the bustle of the big city and the charm of country life as rail links can get you into Central London in under an hour.

High Wycombe is a thriving historical market town in Buckinghamshire. Traditionally know for its furniture manufacturing history, today High Wycombe is as well known for its regular markets and retail opportunities. The landscape around the town is a patchwork of fields and woods perfect for escaping to nature. With London less than half an hour away on the train, High Wycombe can be a great place for commuting to the capital.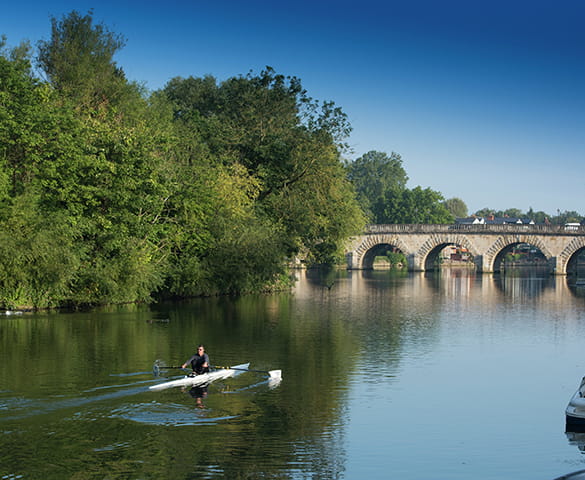 Things to do in Buckinghamshire
Buckinghamshire's verdant landscape naturally lends itself to various outdoor activities, with a whole host of national parks and areas of outstanding natural beauty to be found across over 700 square acres of land which make up the county.

There are a number of parks within the Chilterns, which are teeming with wildlife and make for great escapes during the warmer months, like Ashridge Estate and Dockey Wood in Ringshall.

Amersham is a town of two halves - the older half nestled within the Misbourne Valley and the newer sat on top of a hill within the Chilterns. With the arrival of the Metropolitan Railway in the 1890s, the town was split due to the need for a more accessible location which led to the modern development on the hill. Old Amersham has still retained a number of buildings from the 17th, 18th, and 19th century which are in fantastic condition, giving the streets a sense of stepping back in time.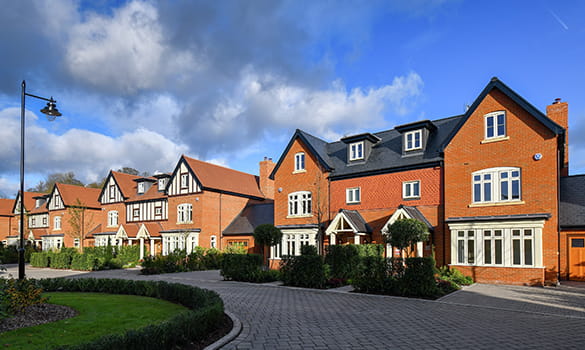 Property to buy in Buckinghamshire
If you're looking for property in Buckinghamshire, whether that's a 2 bedroom apartment as a professional couple or a 3 and 4 bedroom house for all the family, then look no further than Berkeley Group. Our property developments and new homes in Buckinghamshire cover a range of different properties which can cater to all sorts of housing situations you may be looking for. If countryside accommodation is what you're looking for then Abbey Barn Park is the place to be, bordered by a new country park and woodland.