Climate Action
Our goal is to play an active role in tackling the global climate emergency by creating low carbon, resilient homes.
Our Approach
Berkeley is playing a lead role in tackling climate change. We have an ambitious, holistic approach for climate action, which includes designing efficient and resilient places, alongside transformational changes to our construction processes and wider business operations. We set stretching science-based targets in 2020 that push us to reduce our direct emissions, the embodied carbon in our supply chain, and the in-use emissions created by our homes. We are committed to supporting public policy and regulation in line with the goals of the Paris Agreement. We engage with key stakeholders, such as government and others across the built environment, to actively collaborate and help ensure that we are aligned with global goals, putting us on the pathway to be a net zero carbon business by 2040.
Ambitious Science Based Targets
Taking action to reduce our impact

In December 2020, we received approval from the Science Based Targets initiative (SBTi) for our science-based targets (SBTs) to reduce greenhouse gas (GHG) emissions. These commit us to:
Reduce absolute scope 1 and 2 GHG emissions 50% by FY2030 from a FY2019 base year.
Reduce indirect GHG emissions (scope 3 purchased goods and services and use of sold products) 40% per square foot of legally completed floor area over the same timeframe.
These targets represent an ambitious step forward in Berkeley's approach to tackling climate change and have been calculated to ensure that we play our part in limiting global warming to 1.5°C above pre-industrial levels.
This year, we have met our science-based target for a reduction of 50% in scopes 1 and 2 GHG emissions.
We publicly report our emissions and progress against our SBTs on an annual basis as detailed on our ESG performance page here.
Our emissions reporting methodology and details of the independent limited assurance received can be found within our carbon and climate change disclosures here.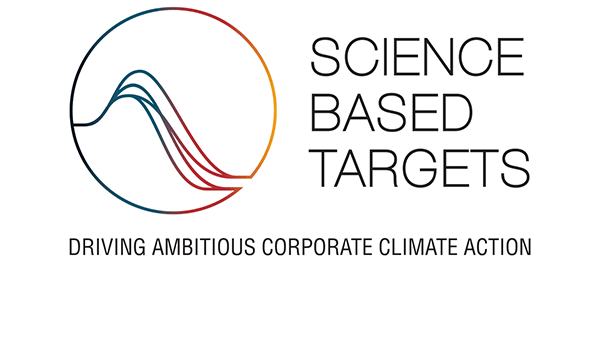 Low Carbon Homes
Meeting our science-based target by reducing the in-use carbon emissions of our homes by 40% between 2019 and 2030

We have significantly improved the fabric efficiency of our homes and will continue to improve this in line with the Future Homes Standard.
We are now using our validated science-based targets to reduce the in-use lifetime carbon emissions of our homes, focusing on the efficiency of the building fabric and appropriate low carbon technologies. We will continue to build on this work by incorporating the right low carbon technologies into our homes including heat pumps and photovoltaics.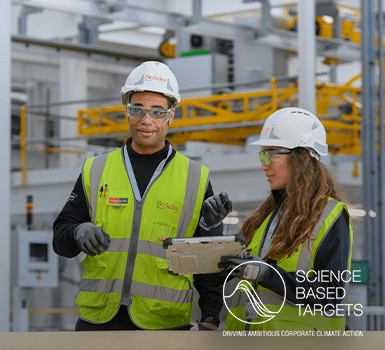 Low Carbon Operations
Meeting our science-based target by reducing absolute emissions across our direct operations by 50% by 2030
We've maintained carbon neutral business operations since 2017 and this year, through the dedication and determination of our teams to operate more efficiently, we are delighted to have achieved our 2030 science-based target for scopes 1 and 2 emissions, having seen a 76% reduction since our 2019 base year. This has predominantly been achieved through the use of biodiesel HVO as a low carbon alternative to diesel. We also continue to be an early adopter of electric and hybrid machinery.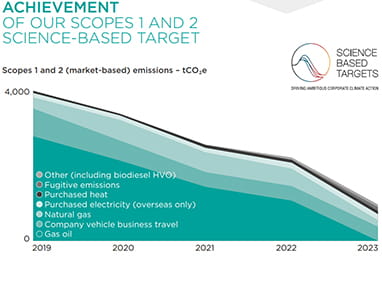 Embodied Carbon
Meeting our science-based target by reducing the carbon impact of the materials and services we use by 40% between 2019 and 2030
We recognise that the majority of our carbon impact comes from the materials and services we use to construct homes. We have undertaken 23 embodied carbon studies across a range of building typologies, giving us valuable site-specific data. We are now routinely measuring the embodied carbon of new buildings and taking action to reduce this through design and specification.
We are also working with our supply chain to understand and reduce the carbon content of the materials and services we procure. We will preferentially partner with suppliers that share our commitment to climate action and are reducing emissions within their own operations.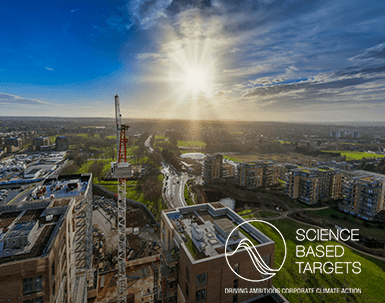 Resilience
We will manage climate risks for our developments and business
We are making our homes and places resilient to the impact of climate change. We will continue to incorporate adaptation measures in the homes and developments we build, with 100% of developments incorporating sustainable drainage systems (SuDS).
In 2022 we completed detailed Climate Scenario Analysis on our development portfolio and business activities. We are now embedding the findings of this analysis of future climate scenarios within our risk management and strategic planning processes.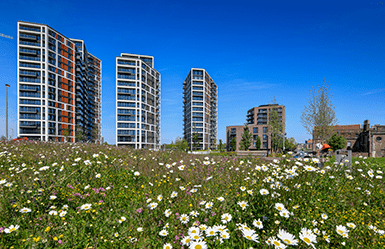 Net Zero Carbon
We will maintain carbon neutral business operations and work to become net zero carbon across Scopes 1, 2 and 3 by 2040
Our first priority is to reduce our emissions, but until we complete this transition we will continue to balance our impacts by investing in projects and partnerships that actively reduce, avoid or remove GHG emissions from the atmosphere. We will maintain carbon neutral direct business operations (scopes 1 & 2) through purchasing verified carbon offsets, as well as investigating opportunities to deliver or support nature-based carbon capture and renewable energy initiatives. This year we have supported two verified projects including a scheme that unlocks additional funding into housing retrofit in the UK. More information on our carbon neutral approach including the offset projects supported within each year can be found here.
We are proud to be one of the five founding partners to the UK Green Building Council's Advancing Net Zero programme, which is helping to lead and co-ordinate climate action across the UK built environment sector.
We are currently developing a Net Zero Transition Plan in line with the recommendations of the Transition Plan Taskforce. We are using the guiding principles to set out our journey towards being a net zero business.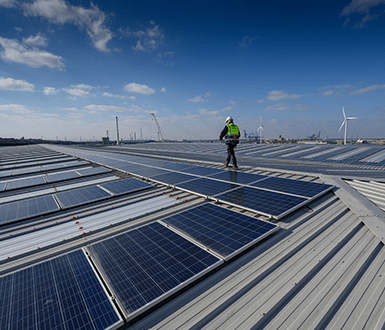 We have a CDP Climate Change programme leadership rating of 'A-' demonstrating climate action and transparency

76% reduction in scope 1 and 2 emissions since 2019, offsetting remaining emissions with verified carbon credits

89% of energy consumption is from renewable sources, including 100% renewable electricity for UK activities
Awards, Accreditations & Partnerships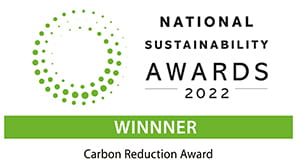 Carbon Reduction Award
National Sustainability Awards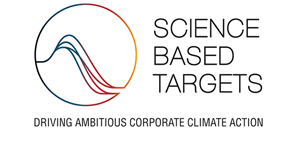 Validated Company Targets
Science Based Targets initiative (SBTi)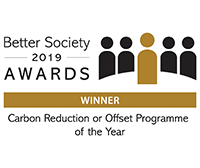 Carbon Reduction or Offset Programme of the Year

Better Society Awards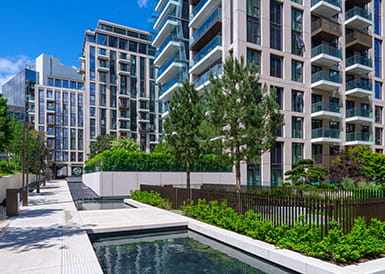 Berkeley Wins National Award for Tackling Carbon Emissions
Berkeley scooped the win at cross-sector National Sustainability Awards.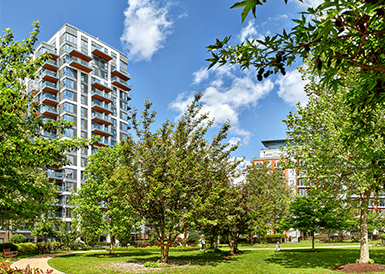 Berkeley Recognised for Leading on Climate Action
Berkeley Group has been awarded a place on CDP's prestigious Climate Change 'A List', which recognises global companies "leading the way to a more sustainable future".

Read More
TCFD Recommendations Response
The Berkeley Group welcomes the recommendations of the Task Force on Climate-related Financial Disclosures (TCFD) and are committed to taking a key role in tackling climate change. This extract from the Berkeley Group's 2023 Annual Report provides our latest response to the TCFD recommendations, including details on the Climate Scenario Analysis completed in 2022.