Our vision is to be a world-class business, trusted to transform the most challenging sites into exceptional places and to maximise our positive impact on society, the economy and the natural world.
Our Vision 2030
Our Vision 2030 is Berkeley Group's ambitious strategy for the future.
Berkeley has always been driven by a clear purpose - to build quality homes, strengthen communities and improve people's lives. We have established a unique culture, and strong values that shape the way we work.
Building on these foundations, in 2010 we created a long-term strategy to guide our business: Our Vision. Since then, it has pushed us forward and helped us lead the industry in important areas like customer satisfaction, tackling biodiversity loss, taking climate action and embracing advanced manufacturing. Read more about a decade of success here.
Our 10 Priorities
We have identified ten strategic priorities that will help us to transform tomorrow - through both what we create, and how we work. To pinpoint these topics a materiality assessment was carried out in 2020 by an independent expert consultancy, with a methodology based on international best practice from the Global Reporting Initiative. Read more here.
Each priority has a goal and you can read more about what we're doing to achieve it, as well as our progress, by following the links below:

What We Create
Places that stand the test of time:
How We Work
Exceptional people and resources:

Our Net Promoter Score (NPS) is consistently above 70, compared to an industry average of 45 (on a scale of -100 to +100)

89% of energy consumption is from renewable sources, including 100% renewable electricity for UK activities

Our biodiversity net gain sites are set to create more than 550 acres of new or improved natural habitats

We have a CDP Climate Change programme leadership rating of 'A-' demonstrating climate action and transparency

We have delivered and installed our first modules at Kidbrooke Village from our 160,000 sq.ft advanced manufacturing facility

10% of employees are in an earn and learn roles as graduates, apprentices or sponsored students
Awards, Accreditations & Partnerships
Outstanding Achievement Award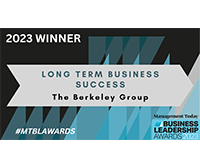 Long Term Business Success
Management Today Business Leadership Awards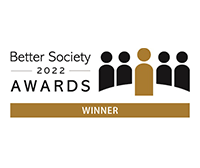 Transformation Award
Better Society Awards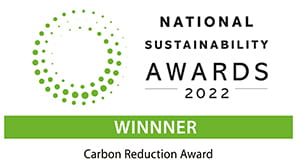 Carbon Reduction Award
National Sustainability Awards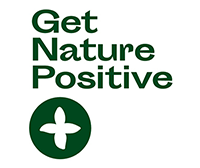 Campaign Supporter
Get Nature Positive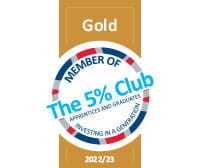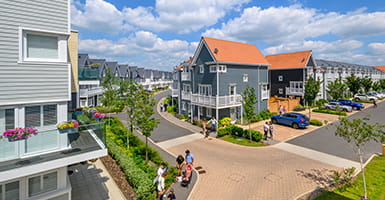 Transformation Award for Berkeley Group
The award recognises Berkeley's sustainable changes, to address ESG issues.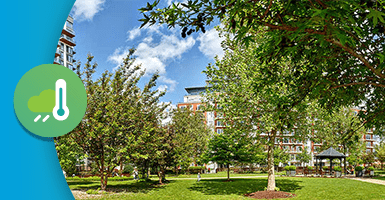 Berkeley Recognised for Leading on Climate Action
Berkeley is the only UK homebuilder to be awarded an A rating for Climate Action and Transparency...

Read More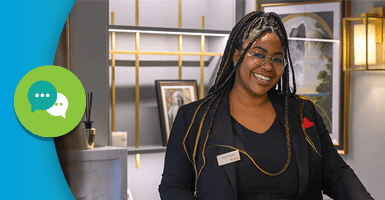 Another Year of Outstanding Customer Satisfaction for Berkeley
Berkeley Group has won top customer service awards in an independent benchmarking assessment...

Read More
Celebrating 10 Years of Success
Find out more about our first decade of successes with Our Vision in the video and brochure below.