Cllr Peray Ahmet, Leader of Haringey Council, has welcomed the completion of 87 new homes for social rent at Clarendon.
The homes were officially handed over to L&Q at an event in August, with regeneration partners from Haringey Council, L&Q and the GLA joining St William.
In total, Clarendon will provide more than 1,700 new homes for Hornsey, including 599 affordable homes, making a major contribution to affordable housing provision in the local area.
The former gasworks is being transformed into a welcoming, sustainable new neighbourhood, with 2.5 acres of public green space, including a park with children's play area that is already proving very popular with local families.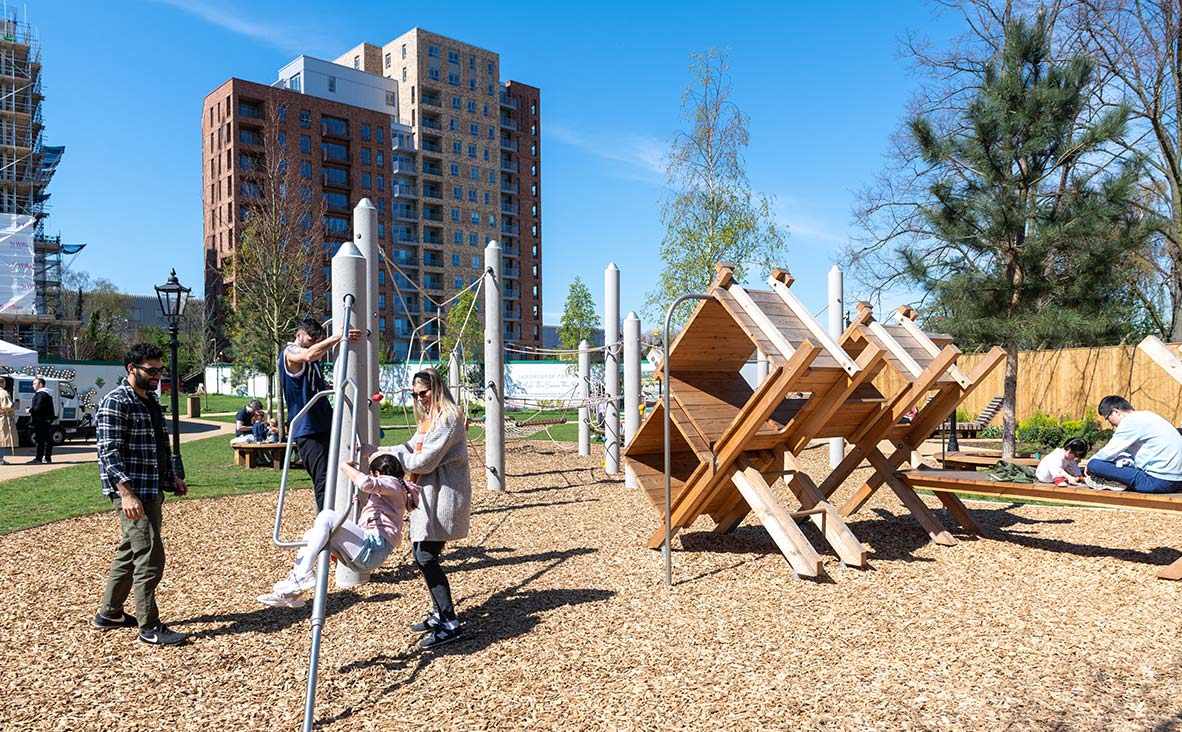 The new children's playspace is already being enjoyed by local residents
The new landscaping, along with brown and green roofs, is set to increase net biodiversity on the brownfield site by more than 70%.
A new community centre, shops, offices and restaurants will also be created, within 125,000 sq ft of commercial space aimed at local businesses and start-ups.
The major regeneration project forms an important part of the Haringey Heartlands Opportunity Area. Both the layout of the scheme and the architecture have been shaped and inspired by the site's historic use, the Moselle River and the characterful detailing of the brickwork in the nearby conservation area Noel Park.
Cllr Peray Ahmet, Haringey Council Leader said "Haringey desperately needs more affordable housing. Over 50 of the new homes at Clarendon - in Haringey Heartlands, Wood Green - are three- and four-bedroom family properties which will be let at Haringey's social rent levels. This comes alongside the council's own housebuilding programme that is building thousands of high-quality new council homes over the coming years and aims to deliver many more three-four-bedroom homes for families.
"We need affordable housing, and we need developments that contribute to placemaking - to not just building homes but building communities - with the infrastructure around them that's needed."
Find out more about Berkeley's approach to building communities here.
Sean Ellis, Chairman of St William, said "Clarendon is quickly becoming a thriving new community and its regeneration is helping to breathe new life into the area. Importantly, part of the vision for Clarendon is to provide a significant number of affordable homes across different tenures. We are delighted to be working with our partner L&Q, as well as Haringey Council, to hand over these first affordable homes and look forward to providing more as the project evolves. Alongside the new homes, we are already seeing many local people visit and enjoy the new one acre public park."
Jacqueline Esimaje-Heath, Director, Development Growth from L&Q, said: "We're delighted to be providing these affordable homes at Clarendon, another fantastic milestone in our partnership with the Berkeley Group. We believe good regeneration is about creating places that offer people the opportunity to live a better life, and these homes will make an important contribution to meeting local housing need. The transformation of this former gasworks into a beautiful, green place is a truly exciting project to be involved in."