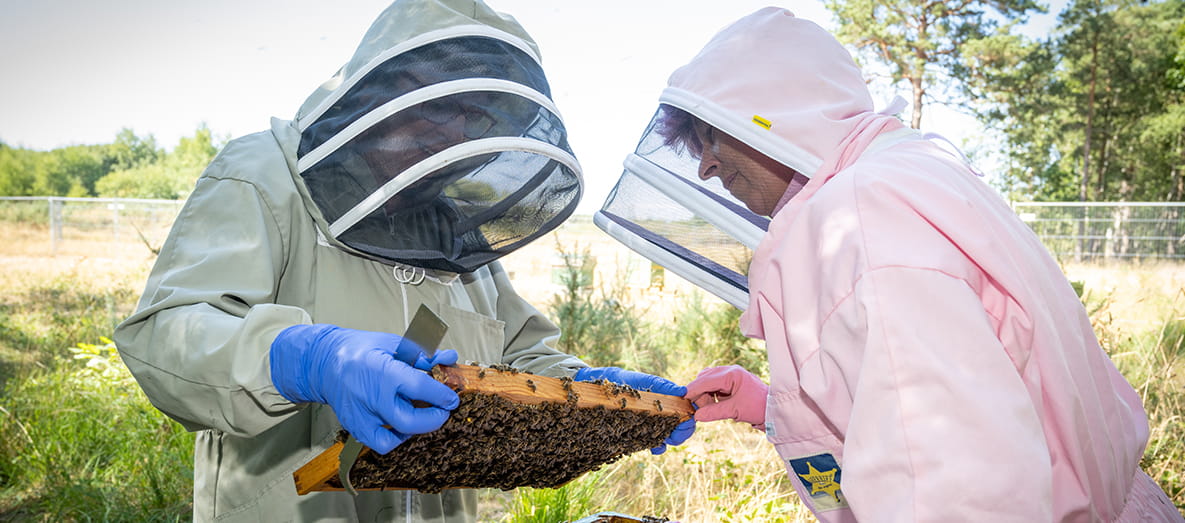 St Edward has welcomed nine newly installed hives of honey bees to its landmark development Hartland Village near Fleet, in partnership with Fleet & District Beekeepers' Association.
As part of its commitment to supporting the natural environment and boosting biodiversity, the developer has provided dedicated space for the association to keep the hives - situated on the outskirts of the 70-acre Country Park that forms part of Hartland Village - for the association to deliver practical training to its new beekeepers each year and to develop and improve the skills of existing beekeepers.
David Morgan, Fleet & District Beekeepers' Association's Apiary Manager said: "Honey bees, along with many other insect species, play a vital role in the pollination of all flowering plants and trees and help keep our ecosystems healthy. Our new home at Hartland Village will help us teach more local people about the importance of bees in nature."
In addition, St Edward teamed up with Court Moor Secondary School to design a new curriculum project that teaches students the crucial role that bees play and how to protect them. Pupils also designed new signage for the apiary; the winning design is now displayed at the entrance.
Danny Rowland, Sales Director at St Edward, added: "Hartland Village is a proud part of the Fleet community and one of our most important local commitments is to the natural environment; our partnership with the Beekeepers' Association is a practical way to help protect the local bee population. Our residents are also looking forward to learning more about what they can do to help in their own gardens, and to sampling some Hartland honey!"
St Edward's vision for Hartland Village is to create an exceptional place – in design, architecture, and in the delivery of a true community. It will be home to a new primary school, shops, cafés and other facilities, and is surrounded by extensive areas of woodland interspersed with open heath creating a distinctive landscape. The Country Park features wildflower meadows, picnic areas and butterfly banks. Cycle paths, trim trails and walkways encourage active and social lifestyles, providing links across the village, the Country Park and the surrounding forests and local towns.
Hartland Village is located just six minutes by car to Fleet station and eight minutes to Farnborough Main train station. Ideal for commuters, the Hartland Hopper station shuttle is available to book for residents, providing transfers to Farnborough Main.
Prices at Hartland Village start from £610,000 for a three-bedroom house and £730,000 for a four-bedroom house. To find out more or book an appointment, call St Edward on 01252 378844 or visit hartlandvillage.co.uk.