Berkeley Group is the first UK developer to adopt a new design framework which aims to make the next generation of new build homes even safer places to live where people suffer fewer accidents.
With falls the biggest single cause of accidental death, the Safer by Design framework has been developed by the Royal Society for the Prevention of Accidents (RoSPA), with support from the Berkeley Group and other industry experts.
It encourages house builders and designers to go beyond current regulatory requirements for accident prevention, outlining low-cost, practical interventions that can be "designed in" to address issues such as falls, poisoning, entrapment and burns and scalds.
Examples interventions include precise step and stairs dimensions, guidance on the most effective use of handrails, high standards of slip-resistant floors and staircases designed to safely accommodate childproof gates at the top and bottom.
The framework also recommends positioning ovens at mid-height and installing lockable high-level cabinets in kitchens and bathrooms to reduce the risk of children ingesting harmful substances, like cleaning products or medications.
New homes and developments being built in line with the framework can apply for Safer by design Silver, Gold or Platinum status. Points towards these standards are accrued for each recommendation within the framework that is adopted, with more points equalling a higher overall standard.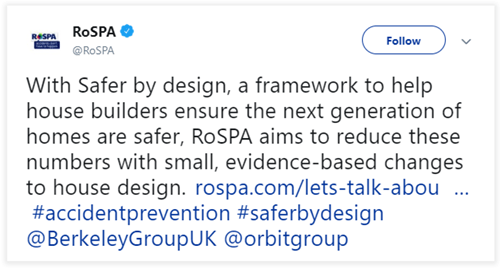 Berkeley Group expects to complete homes built to a Safer by design Gold standard at Kidbrooke Village in summer 2020.
Safer by design was launched with a reception at Westminster Abbey by RoSPA chief executive Errol Taylor, RoSPA President Baroness Jolly, RoSPA trustee and emergency medicine consultant Dr Julian Redhead, and representatives from Orbit Homes and Berkeley Group.
Errol Taylor said: "Our homes are the most dangerous place to be, and that's particularly true for the most vulnerable - the under-5s, the over-65s, and the most deprived in our society. Unintentional injury places a huge burden on the country's health and social care services, on the economy through lost working time, on companies through reduced productivity, and on the wellbeing of our families and loved ones.
"Both Berkeley Group and Orbit Homes are in the process of building new homes in line with the framework's recommendations, so we know Safer by design is technically, practically and economically viable; we expect the first homes built to the Safer by design framework to be completed in the new year."
Barry Oliver, Berkeley Group Health and Safety Executive, said: "We are pleased to be adopting the Safer by design framework as part of our long-term partnership with RoSPA. It fits well with our core mission of building fantastic homes, strengthening local communities and improving people's lives. Our first Safer by design properties will be completed next year as we roll the initiative out across the different businesses in the group."
Helen Moore, managing director at Orbit Homes, said: "Orbit is passionate about delivering thriving communities and therefore customer safety is paramount. Safer by design is closely aligned to our own design standards, which ensure that safety is designed in and therefore our customers will be able to live more safely throughout their occupation. Orbit is extremely proud to be working with RoSPA standards that go above and beyond building regulations. This ensures that customer safety is at the heart of what we do."
According to RoSPA's research, the home is statistically the most unsafe place to be, with 6,000 accidental deaths in the UK every year, and many thousands more that result in life-changing injury and visits to A&E. With Safer by design, RoSPA aims to reduce these numbers with small, evidence-based changes to house design.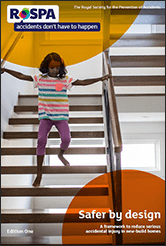 For example, by ensuring key elements of British Standard BS5395 are adopted, we could reduce the 30 deaths, 1,000-plus hospital admissions and 14,000 A&E attendances that occur every year on stairs built since 2010.
The framework deliberately does not address the risks associated with domestic fires because they are already the subject of detailed review following the Grenfell Tower tragedy.
For more information on the framework, see www.rospa.com/built-environment