In this extract from the 2019 Annual Report, Berkeley Group Chief Executive Rob Perrins provides an update on performance against the Our Vision business strategy.
"Berkeley's business strategy is called 'Our Vision' and includes five strategic focus areas: Customers, Homes, Places, Operations and Our People. Every two years we review and develop strategic commitments under each of our focus areas to drive continual business improvement and to address industry and global issues. Our Vision is an integrated business strategy, bringing together our commitments across a wide range of business topics, including sustainability and key themes such as climate change and nature.
We have reviewed the United Nations' Sustainable Development Goals (SDGs) and the targets that sit beneath them, to understand how they relate to our business and where we can make the most significant contribution. We are making good progress against our commitments launched in May 2018, with performance highlights as follows:
Customers
Our customers' experience is central to our strategy and we use the independently assessed Net Promoter Score (NPS) to drive and measure progress in this area. Our NPS remains industry leading at 73.5 (on a scale of -100 to +100). We continue to gather insight into the customer journey to further improve the professional and efficient service we provide.
Homes
In May 2018 we committed to produce a transition plan for each new development to enable our homes to operate at net zero carbon by 2030, in our drive to help the built environment transition towards a low carbon economy. In the year, we have trialled transition plans for three of our developments, helping us to further understand the long-term energy solutions that will enable our customers to live low carbon lifestyles. We have built upon our own commitment by becoming a programme partner of the UK Green Building Council's (UKGBC's) Advancing Net Zero work.
At the same time, we continue to work with E.ON to pilot the 'Future Energy Home', which allows residents to generate renewable energy on site and then store it in a battery; this energy can then be used to charge electric vehicles and to relieve pressure on the power grid at times of high demand.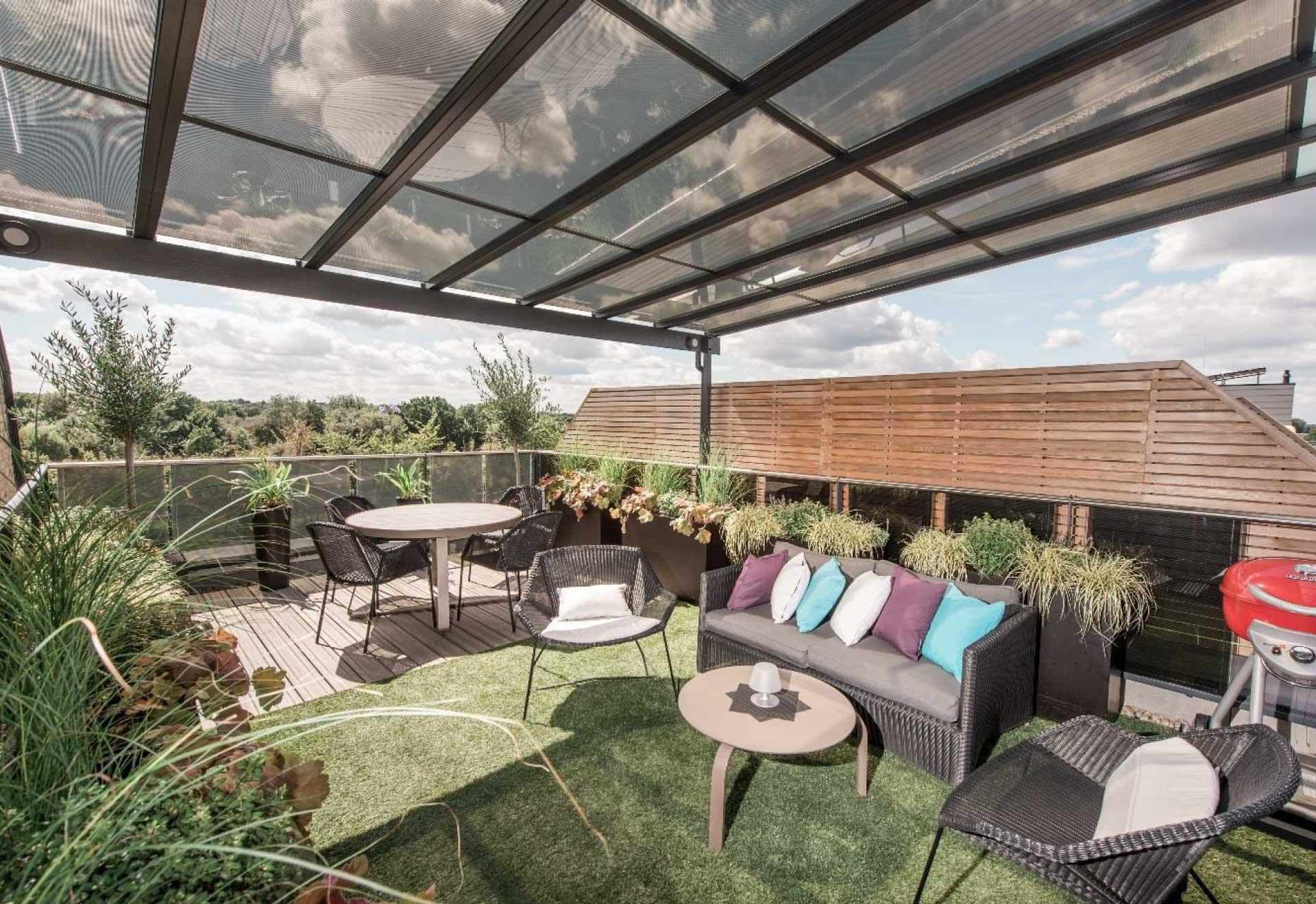 The Urban House at Kidbrooke Village offers energy solutions, like a canopy that collects solar energy
Places
Creating beautiful, sustainable places that will endure as settled, vibrant communities long into the future, is central to our approach. Nature can bring a multitude of benefits to communities, and we believe that new developments can create places with more nature afterwards than before, through the provision of higher quality habitats. We have delivered our first measured implementation of net biodiversity gain at Kidbrooke Village, as calculated using our Biodiversity Toolkit. Here we have worked with the London Wildlife Trust to transform parkland into a wetland area that will attract wildlife and people.
More broadly, Berkeley has been sharing its approach to net biodiversity gain with Natural England and the Greater London Authority to help inform future policy. We are delighted that our approach has been nationally recognised and shared in the Government's consultation on net biodiversity gain, making Berkeley well placed to meet the Government's intention to mandate net biodiversity gain for new developments.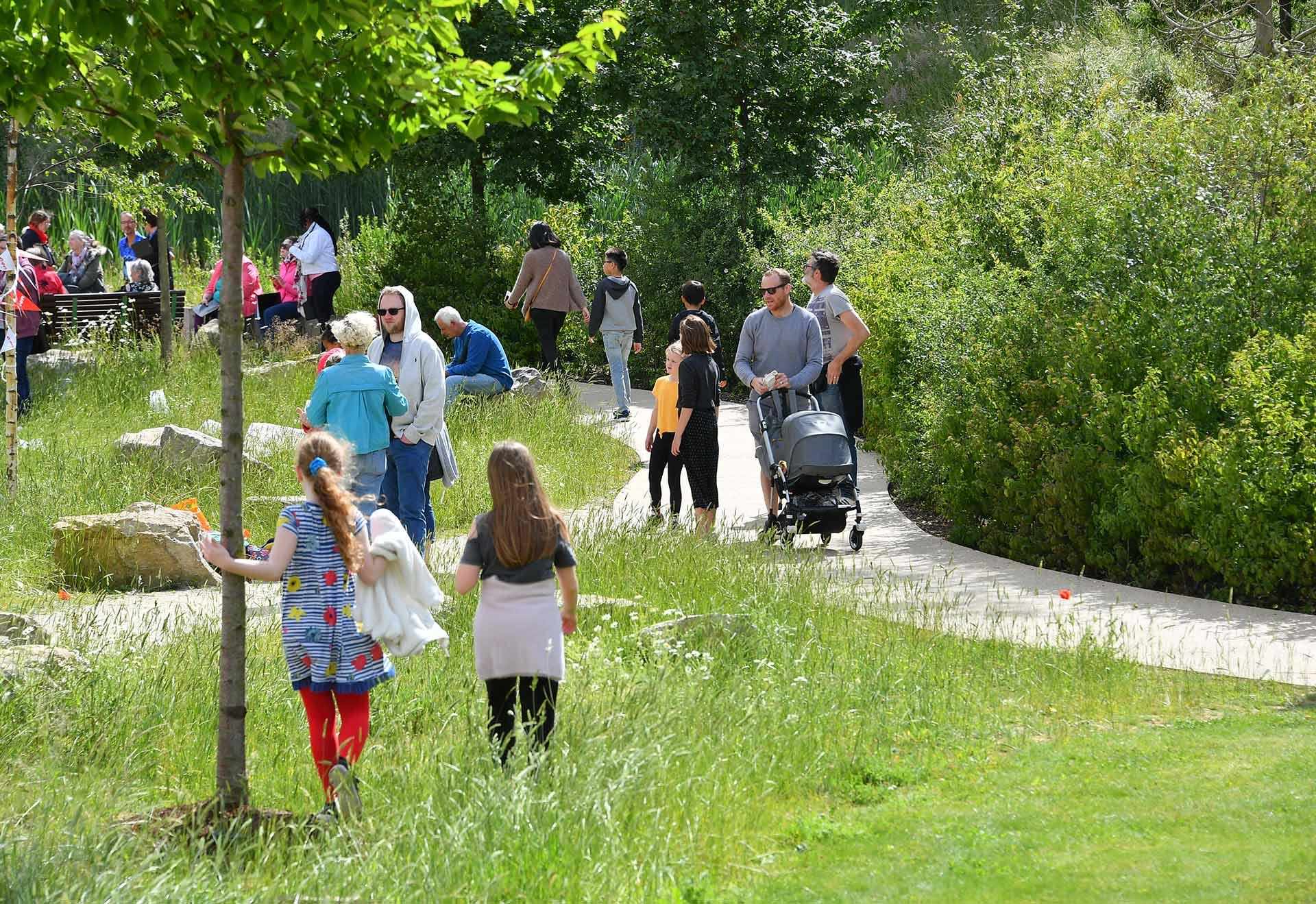 The biodiverse Cator Park in Kidbrooke Village, designed with London Wildlife Trust
Operations
Berkeley has continued to progress delivery of its Berkeley Modular facility, having completed construction of the factory building in the year. We are undertaking research and development with our consultants and supply chain partners to create a sophisticated modular solution. We are proud that our team at One Blackfriars has demonstrated industry leading performance in managing this complex construction site with exemplary consideration of the workforce, community and environment, achieving the accolade of 'Most Considerate Site ( > £50m)' at the Considerate Constructors Scheme National Site Awards 2019.
More broadly, our approach to ensuring our operations are carbon positive has been recognised at the Better Society Awards 2019, with Berkeley winning 'Carbon Reduction or Offset Programme of the Year'.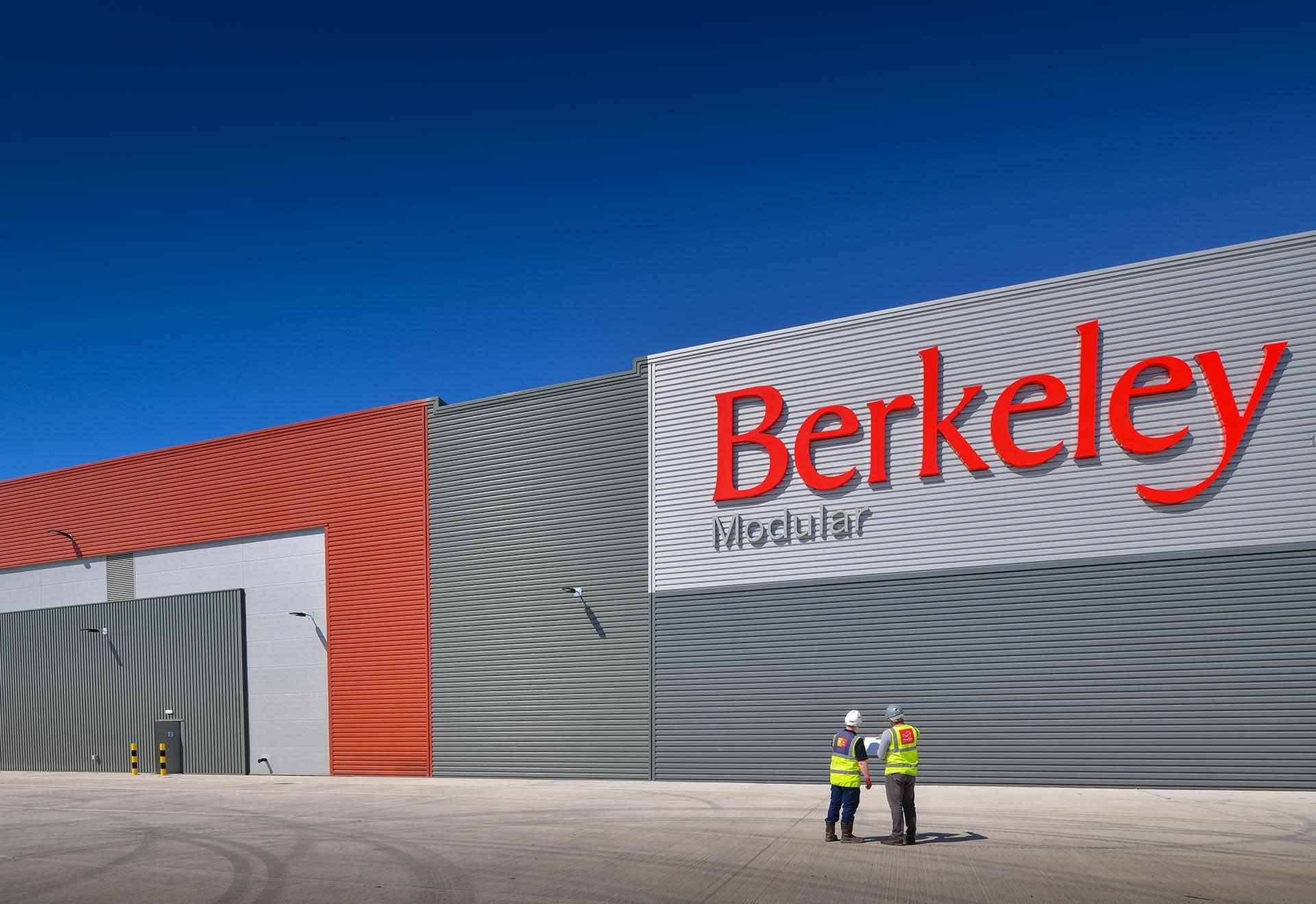 Berkeley's new modular factory in Northfleet, Kent
Our People
Contributing to tackling the industry's skills crisis remains a key area of focus for Berkeley. In autumn 2018, we saw the official opening of one of the country's first purpose-built construction academies on our Southall Waterside regeneration site. The West London Construction Academy is being delivered in partnership with West London College and was named as one of the first Mayor's Construction Academy (MCA) Hubs in January 2019, a quality mark that identifies and recognises high-quality construction skills training in London.
The health, safety and wellbeing of our people is of the highest importance to Berkeley. Our latest 12 month rolling Accident Injury Incidence Rate (AIIR) is 1.14 reportable incidents for every 1,000 people working on our sites and in our offices (2018: 1.42). We are strengthening our focus on wellbeing, and in particular are developing and implementing a strategy for mental health, with 80 Mental Health First Aiders having been trained in the year.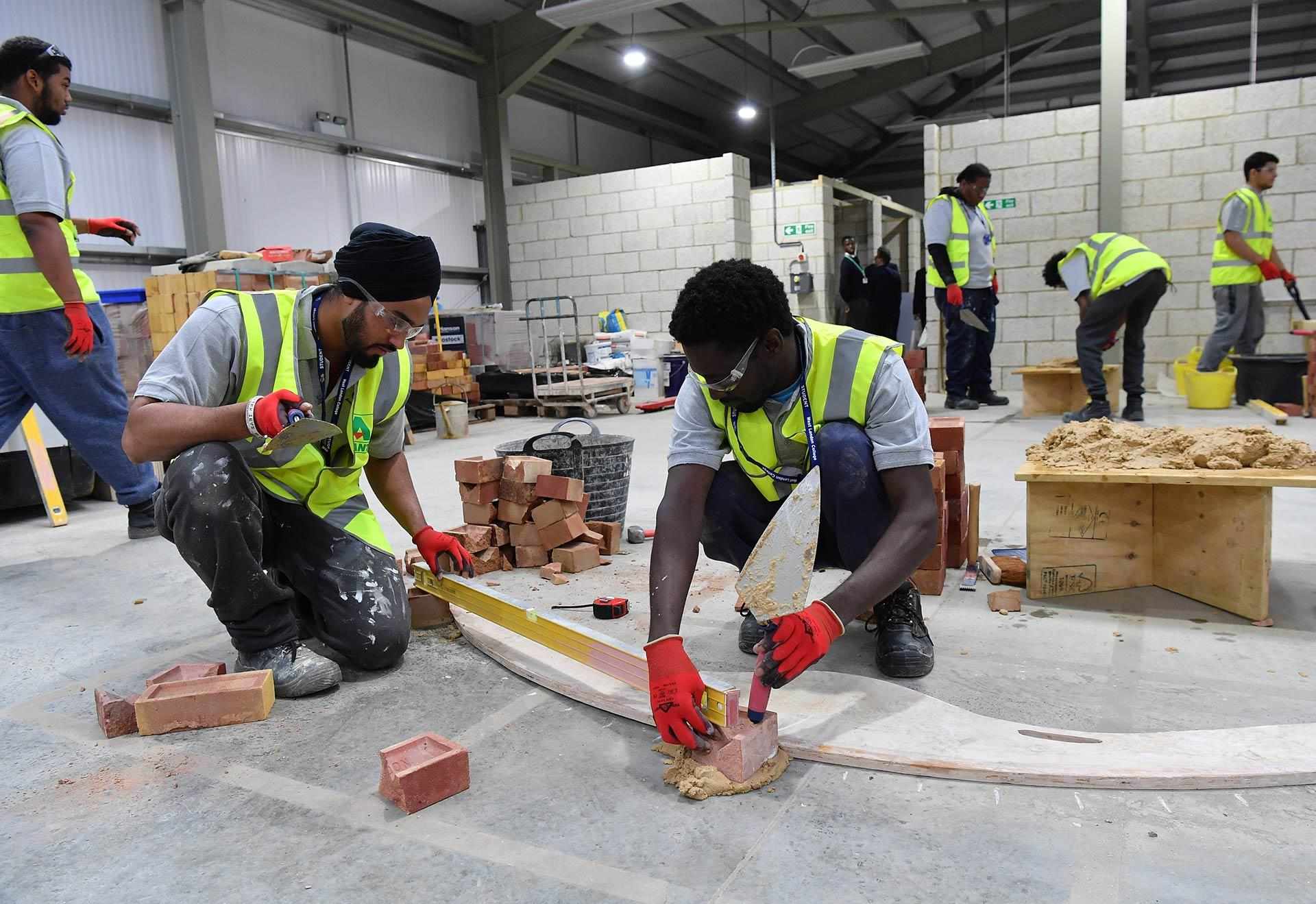 Training the workforce of the future at West London Construction Academy
The Berkeley Foundation
We continue to support our local communities through the Berkeley Foundation (the "Foundation"), a registered charity. The Foundation works in partnership with the voluntary sector across London, Birmingham and the South East of England, with a particular focus on reducing homelessness, increasing access to employment, and improving health and wellbeing. Since 2014, the Foundation's partnerships have supported almost 22,000 people.
This year, the Foundation has contributed more than £3.2 million in funding, through grants, fundraising and Give As You Earn. 65% of Berkeley staff have got involved in its work, raising over £1 million; more than ever before. Berkeley also earned the new Diamond Payroll Giving Award - the highest level achievable.
The Foundation has recently launched its new strategic plan, which will take the organisation through to 2021. This focuses the Foundation's efforts on improving social mobility for young people in our local communities, working towards a new vision: a society in which every young person can thrive.
Over the next three years, this will involve growing the Foundation's community investment, working with others to develop more collaborative approaches to funding, and looking at how we can maximise the value we are able to add to the Foundation's partners through the skills, experiences and opportunities available at Berkeley."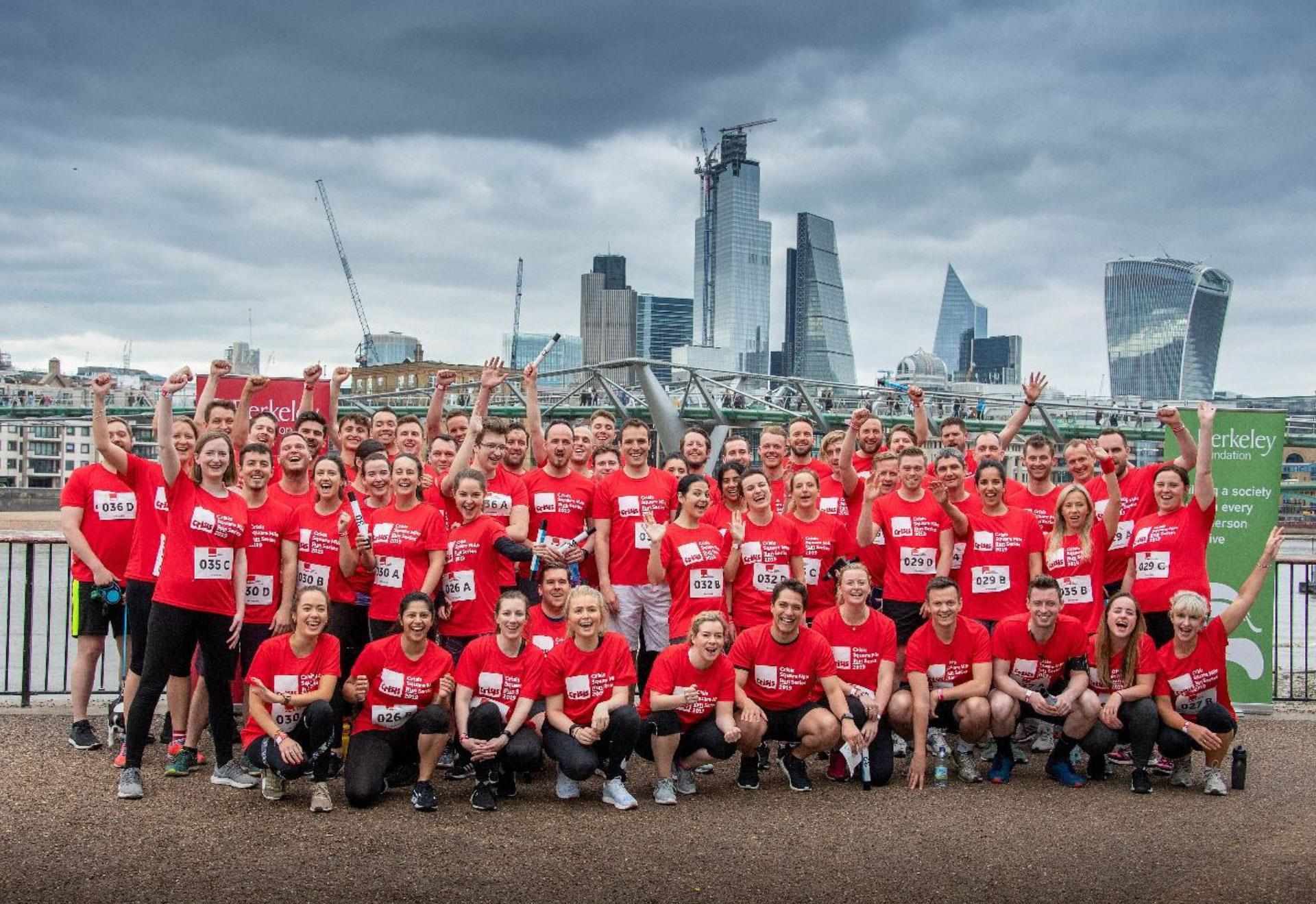 Berkeley staff fundraise at the annual Square Mile run
Rob Perrins
Chief Executive