Green is More Than a Colour
Welcome to West London's new green neighbourhood
Designed for the future in mind, The Green Quarter is a development designed for those seeking a sustainable way of life.
One of London's most important regeneration schemes, this 88-acre site is being transformed into a remarkable new neighbourhood with nature recovery at its heart.
With wetlands, waterways, parks and acres of green open spaces, The Green Quarter will become one of the most biodiverse developments in the UK.
Discover more about how we're putting the 'green' into The Green Quarter with nature on your doorstep, unrivalled connectivity, carefully crafted homes, and creating a sense of place with the local community.
Nature on Your Doorstep
At The Green Quarter, green really is all around. With acres of parkland, open green space, gardens and landscaping it provides space to enjoy peaceful walks, exercise through the parks and an environment where flora and fauna thrive, providing benefits to the environment and people's health.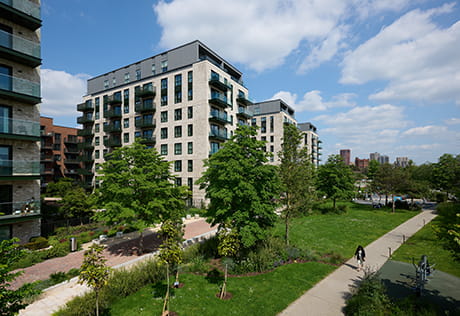 4.5km of Central Gardens and 13 acres of parkland
93.6% biodiversity net gain will be achieved, with 9 acres of wetland to provide natural habitats for wildlife.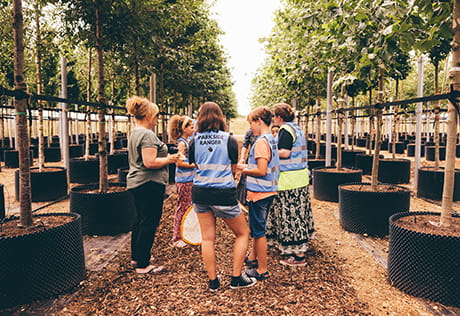 2,500 new trees planted across the development, and 600 potted trees at Parkside Youth.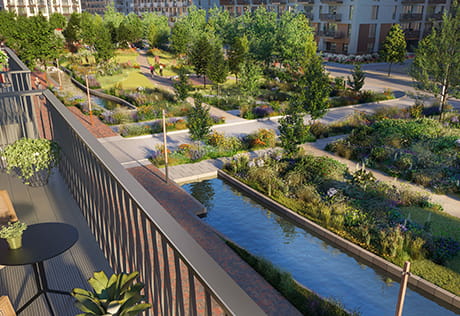 Private outside space for every home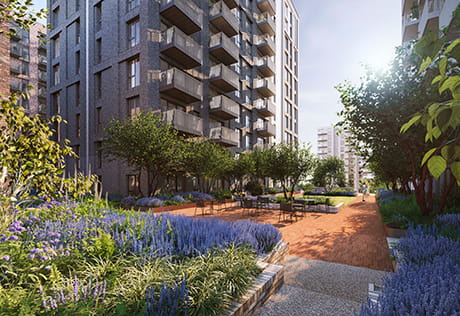 Beautiful landscaped resident podium gardens
Unrivalled Connectivity
Conveniently located in zone 4 making it perfectly connected via foot, bike, rail and air. A number of transport routes link the development with the wider community and offer convenient travel to central London and beyond, whilst new foot and cycle paths throughout the development link you to the Grand Union Canal and local community.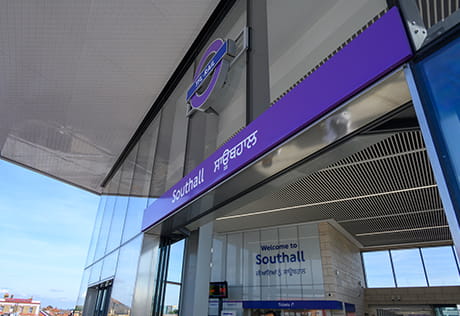 Located adjacent to the Elizabeth line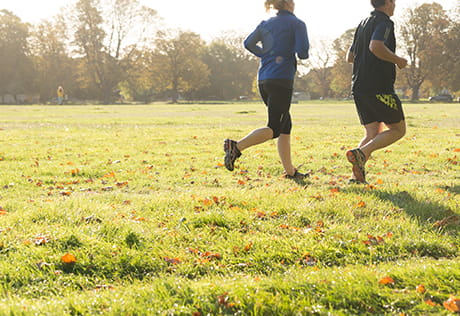 2 new footbridges providing access to Minet Country Park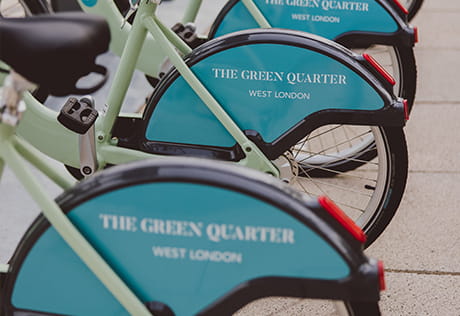 On-site cycle hire, and over 5,00 cycle spaces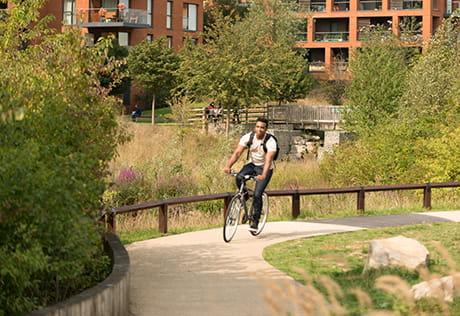 Cycle path to the Grand Union canal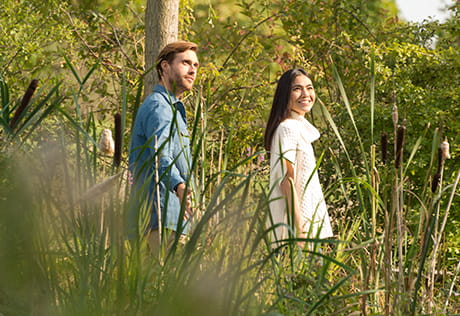 Green Inside & Outside
At The Green Quarter, it's not just the outside environment that is created with sustainability in mind. The homes themselves are also carefully designed and constructed to be energy efficient and future-proofed. Using modern technology, materials and construction methods the homes are finished with style and convenience, whilst also saving money on heating and bills.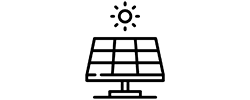 250 solar panels across the development [1]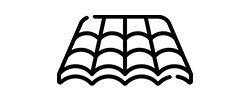 60,000m2 of brown roofs [2]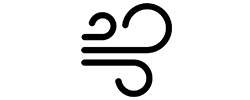 Sustainable energy centre via Air Source Heat Pumps [3]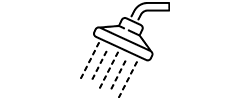 Modular construction via bathroom pods [4]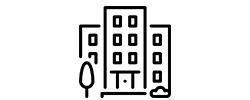 Low energy lighting and appliances [5]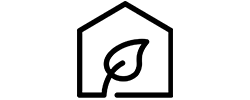 EPC rated B or above [6]
Creating a Sense of Place
The Green Quarter offers a place for everyone to enjoy. From cycling routes to nature trails, and resident facilities to shops and cafes, there is something for all the family. Enjoy a coffee in the local café, a creative class or wander through the nature trail in Parkside Yards, or watch a film in the private screening room and relax in the residents lounge, The Green Quarter has everything you need for everyday life, with plenty more exciting retail and leisure offerings to come.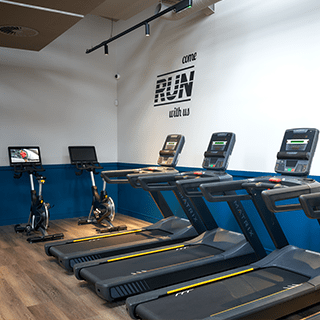 Fully Equipped Gym and Fitness Suite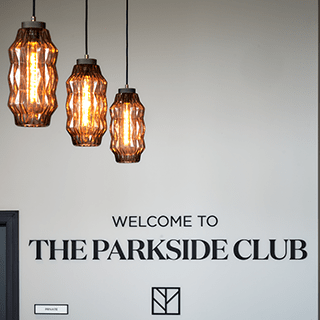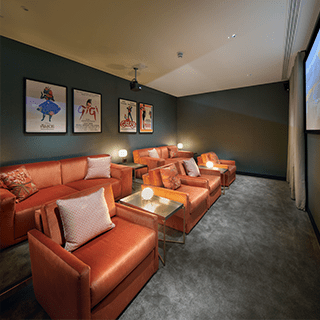 On-site resident facilities including gym and screening room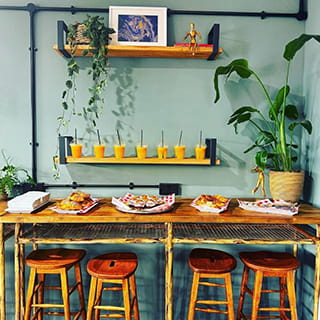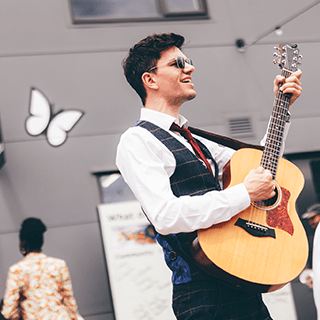 Parkside Yards - Over 150,000 sqft of Community Facilities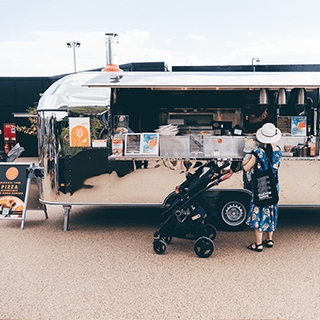 Outdoor Piazza with Events and Entertainment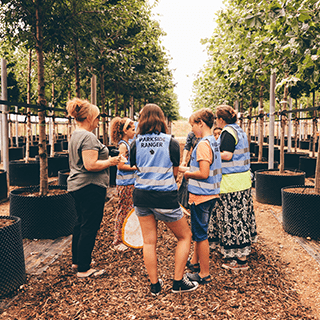 600 Tree Nursery and Nature Trail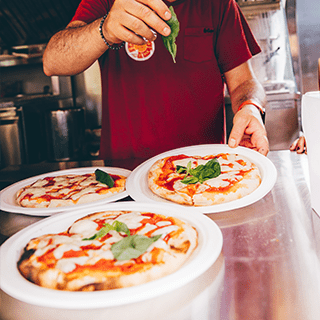 High Street Shops and Restaurants [7]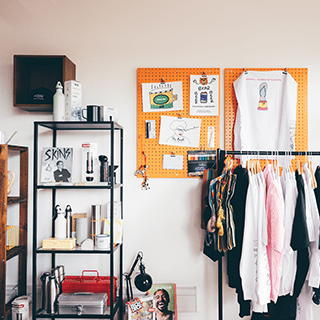 Retail and Leisure Hub [7]
Homes at The Green Quarter
There are a selection of Manhattan, 1, 2 & 3 bedroom homes available in The Harris and Quadrant House, with some ready to move into in the new year. To find out more about the homes we have available please contact us today.
Prices from £401,500.
Disclaimers
[1] Tree icons created by Freepik - Flaticon
[2] Bike icons created by Freepik - Flaticon
[3] House icons created by iconixar - Flaticon
[4] Help icons created by Freepik - Flaticon
[5] Town icons created by Zlatko Najdenovski - Flaticon
[6] Green house icons created by deemakdaksina - Flaticon
[7] To be delivered at later stages of the development
Where applicable, images, CGIs and photography are indicative only.
Site Plans / Site Maps are indicative only and subject to change [and subject to planning]. In line with our policy of continuous improvement, we reserve the right to alter the layout, building style, landscaping and specification at any time without notice.
Your attention is drawn to the fact that in rare circumstances it may not be possible to obtain the exact products or materials referred to in the specification. Berkeley Group plc reserves the right to alter, amend or update the specification, which may include changes in the colour, material and / or brand specified. In such cases, a similar alternative will be provided. Berkeley Group plc reserves the right to make these changes as required. A number of choices and options are available to personalise your home. Choices and options are subject to timeframes, availability and change.
Floorplans shown are for approximate measurements only. Exact layouts and sizes may vary. All measurements may vary within a tolerance of 5%. The dimensions are not intended to be used for carpet sizes, appliance sizes or items of furniture.
Maps are not to scale and show approximate locations only.
All distances or journey / travel times are approximate and may not be direct. Where applicable, times have been established using relevant sources (
maps.google.co.uk
/
nationalrail.co.uk
).