New Show Apartment Now Open
The Eight Gardens
Watford, WD24 4AD
£320,500 - £537,000
Studios, 1, 2 & 3 bedroom apartments
Eight Landscaped gardens and impressive art installations
14 minutes to Zone 1
Concierge, gym, business lounge and screening room
15,000 sq.ft of commercial space
Part of the wider regeneration of Watford
Located within a 4-minute walk of Watford Junction Station with frequent connections to London Euston in just 14 minutes. Residents of The Eight Gardens will benefit from impressive art installations, landscaped gardens and water features providing quiet spaces to sit, relax and contemplate. Union Court is the first phase of this iconic regeneration project, made up of a stylish selection of studios and apartments where Town, City and Country meet.
Sales & Marketing Suite and Showhome (where available) details:
Monday – Saturday: 10am – 6pm. Late night opening on Thursdays until 7pm. Sundays & Bank Holidays: 10am – 4pm
Penn Road, Watford, WD24 4AD
Get in touch now to arrange a chat, book an appointment or register your interest
Stunning New Showhome Now Available to View
With properties ready to move into next year, come and visit our brand new showhome located within the marketing suite.
This stunning 2 bedroom apartment showcases the recently uplifted bathroom specification.
Book your appointment today!
Relax and Connect With Nature in One of Our 8 Gardens!
Spread across eight distinctive and characterful gardens, there will be tranquil water features, verdant lawns and leafy pathways, creating a natural sanctuary to unwind in. A vibrant mix of planting will add colour and interest throughout the seasons, while also providing habitats for wildlife.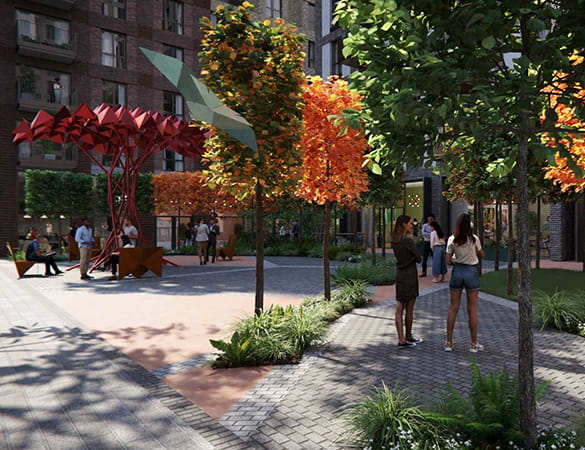 01. Penn Square
A formal landscaped garden with pleached trees that divide the space into a series of 'rooms'. Central to this garden is a striking tree sculpture, representing life, growth and laying down roots.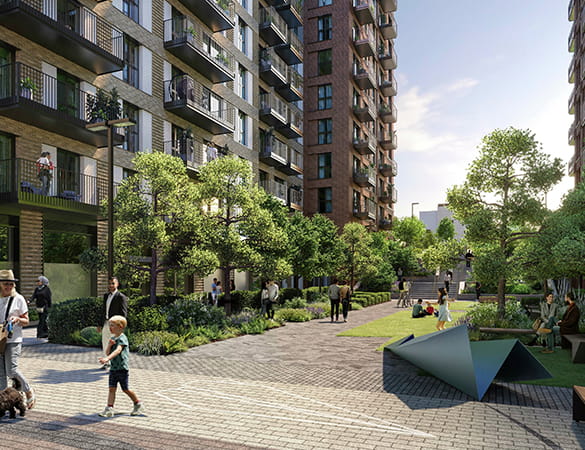 02. Dickinson Mews
Dickinson Mews is a second formal garden with structured planting that includes feature trees and topiary hedges.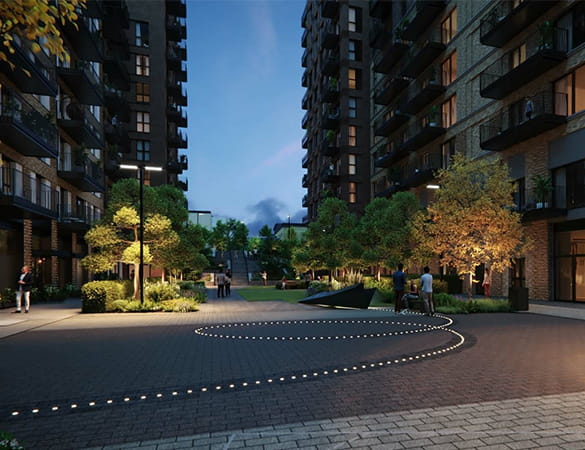 03. Dickinson Mews Square
A cascading staircase of water tumbles through this garden, while a sculpture in the shape of a folded paper plane draws on Watford's printing and paper heritage. Feature paving and lighting surround the sculpture, and Ginko trees add colour to the scene.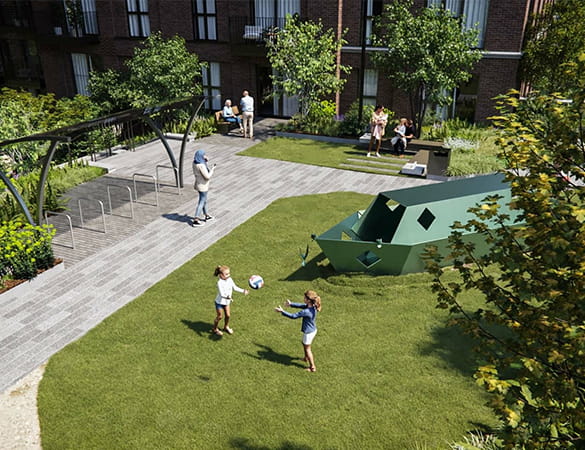 04. Dickinson Mews Gardens
This garden features informal landscaping for a more relaxed feel, with lawns and softer planting. A third sculpture, 'Waterways', in the shape of a boat, sits within the lawn and forms part of a play area for children.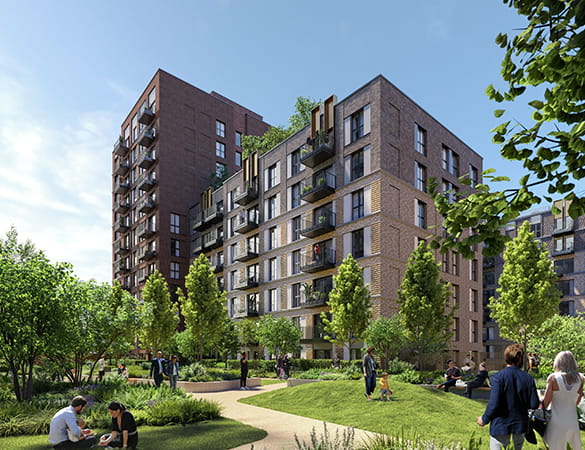 05. The Podium Garden
Located at second floor level, the Podium Garden is for residents only and offers a sheltered retreat from Watford's bustling streets. It features a pergola with climbing plants growing around it, swathes of green lawn, raised planters with colourful bursts of flora, and a variety of different trees.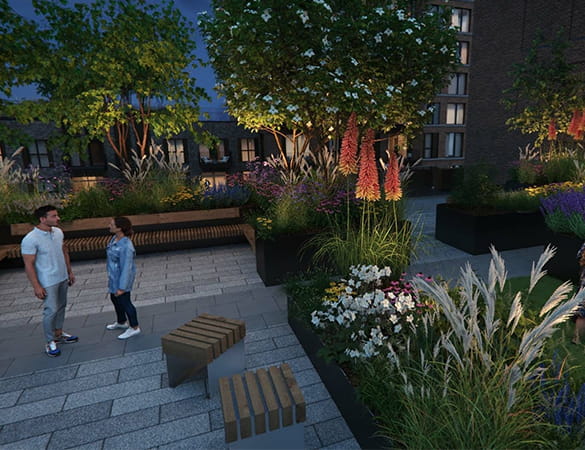 06. The Roof Garden
There are four roof gardens on top of the apartment buildings, offering a completely private area for residents. Planting and seating provide a place to relax and enjoy the views, while allotments are available for residents to grow their own fruit and vegetables.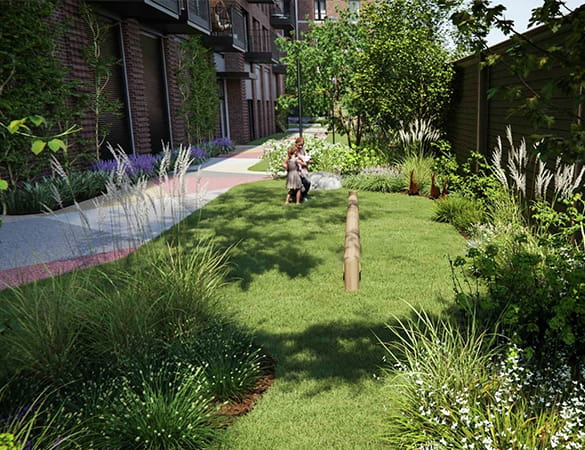 07. Fauna Walk
This garden embraces ecology, with diverse natural planting and a dry pond to encourage insects, small mammals and bird life. Planted arches, patterned paving and animal sculptures evoke a sense of playfulness, while sensory lighting and fragranced planting create an experience for the senses.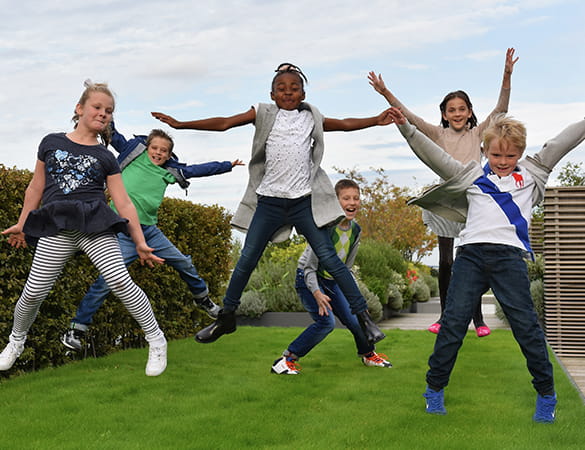 08. Northern Mews
A green open area designed for play and recreation, with space for children to let their imagination run free.
Union Court Now Launched!
Celebrating the arrival of this stunning residential development, Union Court is the first phase of apartments to be released and your first opportunity to become part of a new legacy in Watford.
Situated at the southern most part of the development and with direct access to Watford Junction Station, Union Court provides a selection of studio, one, two and three bedroom apartments with views over the central podium garden.
Click below or call to register your interest.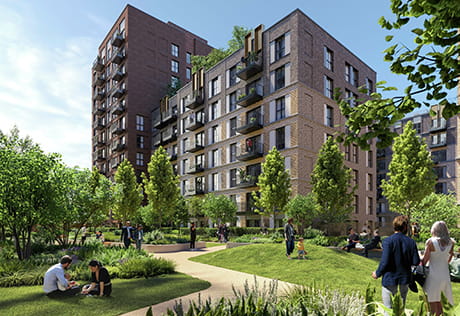 Bringing Art to The Eight Gardens
The outdoor space at The Eight Gardens has been beautifully designed to create areas where residents can relax, feel inspired and connect with the landscape. Art and sculpture form focal points, while beautiful planting and landscaping features provide interest for all the senses.
The four garden areas each have their own distinctive identity, united by the theme of papercraft, which reflects Watford's industrial heritage.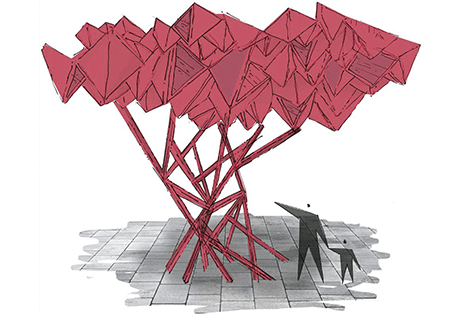 Penn Square Life & Growth
At the heart of Penn Square is a sculptural, multifaceted tree inspired by an ancient cedar tree in Watford's Cassiobury Park. This contemporary interpretation is made up of origami forms creating a canopy which will allow light to dapple through onto the ground below. Capturing the idea of a new community growing at the heart of The Eight Gardens, a place to lay down roots, it offers strength, security and stability.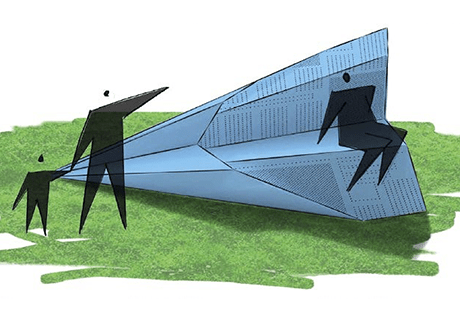 Dickenson Mews -Wings
Mews Square celebrates the history of aviation in the area. Leavesden film studios was once the site of Leavesden Aerodrome, where fighter and bomber aircraft were manufactured during World War II. The sculpture here uses the form of a paper plane to reflect this heritage, with lighting reminiscent of a flight path to add to the effect.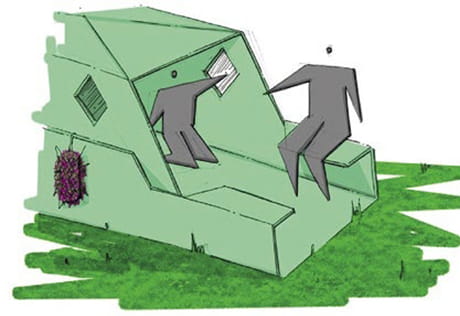 Dickson Mews Gardens - Waterways
Watford's Grand Junction Canal played an important role in the development of industry, transporting coal and connecting the growing economies of Birmingham, the Midlands and the North of England to London. The canal boat sculpture is embedded into the ground, creating the sense that it is in the water, and making it more accessible for play and interaction.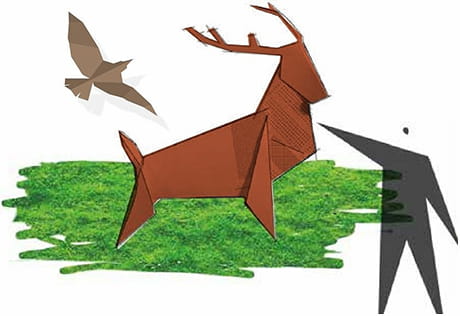 Fauna Walk - Natural Heritage
Fauna Walk celebrates Watford's wildlife with a series of sculptures located throughout this woodland inspired landscape. Different sculptural animal forms are encountered throughout the walk, bringing the wildlife of Watford's forests and parks to The Eight Gardens, and reminding residents of the nature around them.
Major Regeneration in Watford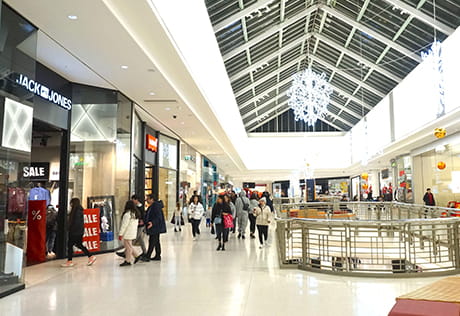 Atria Watford
£180 million refurbishment and extension to Watford's shopping centre
1.4 million sq ft retail, catering and leisure destination
New public spaces for entertainment and events
atriawatford.com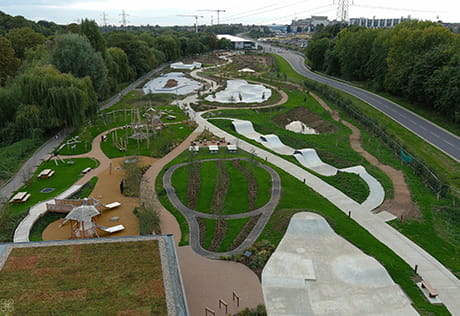 Oxhey Activity Park
New sport and leisure facilities
Café with riverside terrace, children's play area, improved walking and cycling routes, recreation facilities for skateboarding, scooters, blading, mountain bikes and BMX
Creation of wetland areas and improvements to River Colne bankside
oxheyactivitypark.co.uk
Watford Junction Station
Used by 8 million people a year
New facade, ticket hall, shopping facilities, bus stops, better walking routes and a brand new connecting bridge
Partnership between Watford Borough Council, Halkin, Network Rail, London North Western Railways and Hertfordshire County Council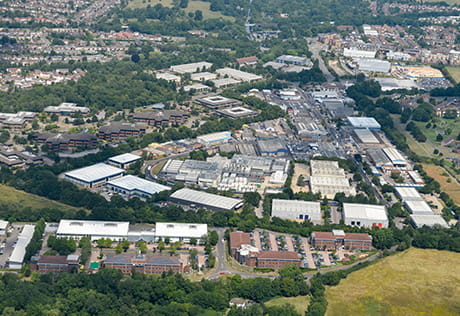 Watford Business Park
£20 million redevelopment project to create a business park fit for the future
Proposed first phase Greenhill Works will feature up to 7,100 sqm of new industrial/ business space and associated facilities within an attractive landscape setting
Designed by award winning architecture practice Studio Egret West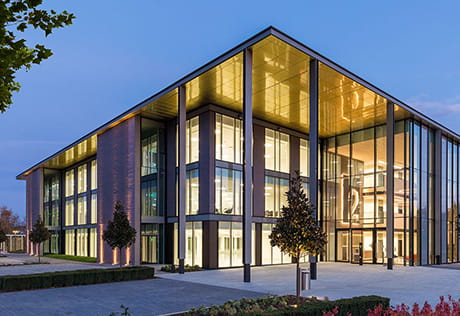 Croxley Park
700,000 sq ft of office and business space across 13 buildings
Home to 60 companies and 2,400 employees, including Kodak, DLL, Medtronic, Laserfiche and Smiths
It offers modern buildings with first-class amenities in landscaped green setting
croxleypark.com

14 minutes by train to London Euston

Access to 6 International Airports within 1 hour of Watford

The Eight Gardens sits within the Golden Triangle for Oxford, Cambridge and London universities

There are 67,000 employees in Watford

£1.6bn will be invested into Watford Town Centre over the next 20 years
Discover The Eight Gardens
Supporting All Life to Flourish
Boxes for birds, bats and invertebrates to provide roosting sites so that these species can thrive.

21 electric vehicle charging spaces so that more people can use electric cars, reducing fuel emissions and improving air quality.

Rainwater harvesting to help reduce water consumption.

300 new trees planted to absorb carbon dioxide, improve soil and provide homes for fungi, nesting birds, small mammals and insects.

1,400 cycle spaces and a bicycle hire scheme.

Urban farming opportunities on roof gardens so residents can grow their own produce.

Log piles provide a home for fungi, mosses and lichens, and insects that birds feed on, while pebble beds are used by butterflies for basking.

Bee hives to support bee populations, vital for pollinating plants and keeping the ecosystem healthy.

Safe pedestrian routes along green streets to encourage walking and help reduce car usage.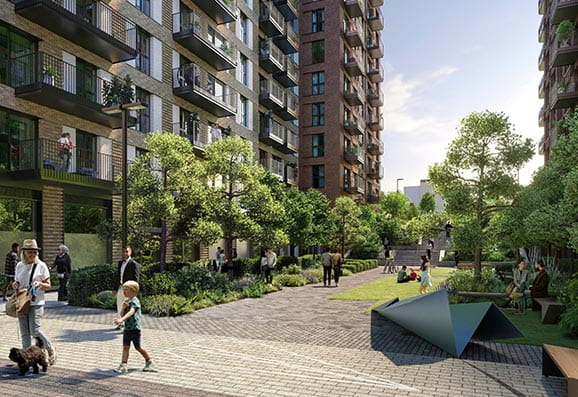 Union Court
£320,500 - £537,000
Located within a 4-minute walk of Watford Junction Station with frequent connections to London Euston...
Local Area
To show local points of interest on the below map please select from the available filters.

The map cannot be loaded
Please try again by refreshing the page, or come back later.
Watford Town Centre
0.8 miles
Cassiobury Park
1.9 miles
Warner Bros Studio
2.5 miles
Nascott Wood Junior School
1.3 miles
Watford Grammar School for Girls
1.3 miles
St Michael's Catholic High School
2.6 miles
Parmiter's School
4.1 miles
St Albans School
10 miles
Berkhamsted School
11 miles
Watford Junction Station
0.3 miles
Heathrow Airport
20.2 miles
Warner Bros Studio and Harry Potter Tour
Leavesden Studios has made history a number of times, a previous World War II aerodrome site, a Rolls Royce manufacturing site and since 1992 a major studio where many of the world's ground-breaking films have been created.

Leavesden Studios has brought us classics including James Bond, Goldeneye (1994) and Star Wars: The Phantom Menace (1999) and fan favourites such as Paddington (2014), Kingsman: The Secret Service (2015), Mission Impossible: Rogue Nation (2015) and Spider Man: Far from Home (2019). However, the studio is most noticeably famous for the creation of all eight Harry Potter Films and the Fantastic Beasts franchise.

The Making of Harry Potter at the Warner Bros. Studio in Leavesden, Watford is a leading attraction in the South East with 6,000 visitors a day during peak times. This remarkable tour takes you through the world of Hogwarts and Harry Potter, revealing many of the film's secrets and giving you access to a magical array of sets and props.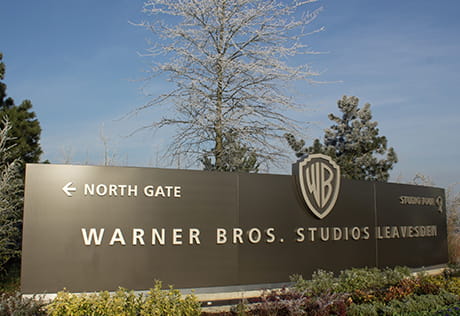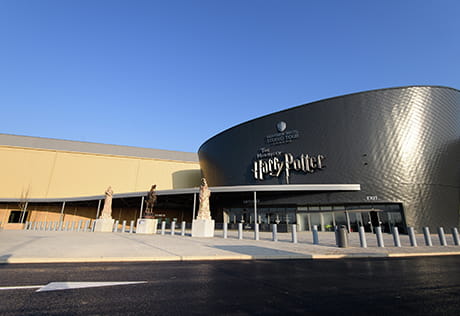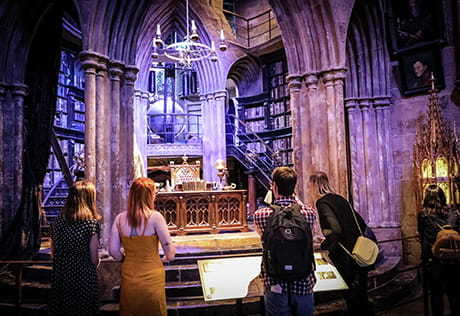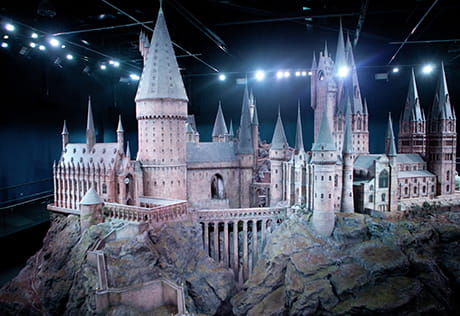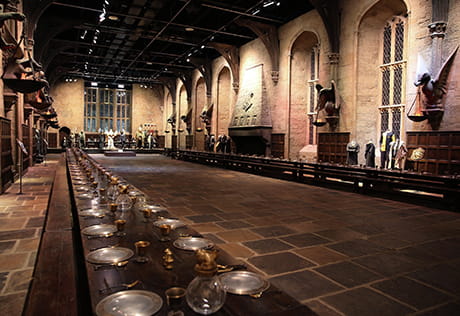 Find
Penn Road, Watford, WD24 4AD

Call
02039 448288
Monday – Saturday: 10am – 6pm. Late night opening on Thursdays until 7pm. Sundays & Bank Holidays: 10am – 4pm
Disclaimers
Where applicable, images, CGIs and photography are indicative only.
Site Plans / Site Maps are indicative only and subject to change [and subject to planning]. In line with our policy of continuous improvement, we reserve the right to alter the layout, building style, landscaping and specification at any time without notice.
Your attention is drawn to the fact that in rare circumstances it may not be possible to obtain the exact products or materials referred to in the specification. Berkeley Group plc reserves the right to alter, amend or update the specification, which may include changes in the colour, material and / or brand specified. In such cases, a similar alternative will be provided. Berkeley Group plc reserves the right to make these changes as required. A number of choices and options are available to personalise your home. Choices and options are subject to timeframes, availability and change.
Floorplans shown are for approximate measurements only. Exact layouts and sizes may vary. All measurements may vary within a tolerance of 5%. The dimensions are not intended to be used for carpet sizes, appliance sizes or items of furniture.
Maps are not to scale and show approximate locations only.
All distances or journey / travel times are approximate and may not be direct. Where applicable, times have been established using relevant sources (
maps.google.co.uk
/
nationalrail.co.uk
).