Tips for Perfecting the Ultimate Christmas Décor
Christmas is a special time of year and decorating for the occasion is all part of the festive joy of the season. Whether you are taking a modern or traditional approach to Christmas decorations this year, there are plenty of trends and ideas out there to inspire a dreamy interior scheme.
We have combined our own tips with advice from some of our most talented interior designers, to help you create the ultimate Christmas décor.
---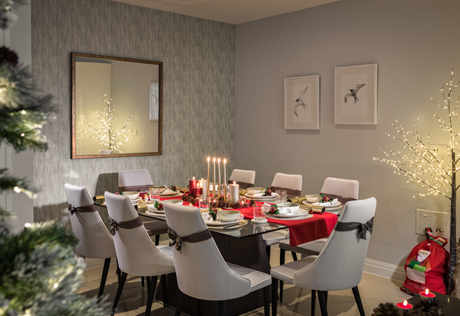 Christmas Roses
Why not try something new in your floral arrangement this Christmas by introducing the Christmas rose that blooms over the winter period. This will provide an alternative to the classic Christmas plants such as holly, mistletoe and the widely used red and white poinsettias. You could display a lovely bunch of Christmas roses accompanied with other Christmas items and ornaments for a beautiful dinner table centre piece. Or place the roses within door wreaths and garlands around the mantlepiece or along the banister to create a stunning display.
Mixed Metallics
We recommend mixing copper, rose gold and bronze with silver and gold for a decadent colour scheme that is both modern and sophisticated. This on trend colour scheme is a good alternative to more traditional Christmas colours such as green and red. It is also a great way to inject some glamour in to your home over the festive period.
Dress your Surroundings
"Christmas décor that really looks as though it's been created just for that space will always make the greatest impact. So, for example, if you live in a really old property (as I do!) then go for a traditional tree and rustic decorations, from brown paper wrapping with string and thin rope to plenty of berries and mistletoe. If you live in an ultra-contemporary flat, on the other hand, then go for a more arty interpretation - a Perspex tree or a sculptural arrangement of twigs and branches, all sprayed in white." - Jo Littlefair, Director and Co-Founder of Goddard Littlefair.
Christmas Chandeliers
You can make the most of your ceiling space and add height to your scheme by decorating a chandelier. You can use a garland, flowers, baubles, hanging candy canes, or any other Christmas decorations to style your chandelier. This is a great way to tie in a colour scheme throughout the décor of a room.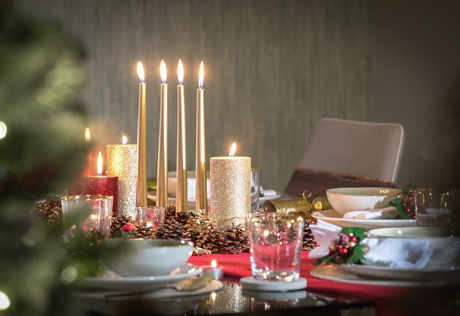 Try Turquoise & Teal
"Turquoise and teal in home furnishing have gone from strength to strength - never more so than this Christmas," says Paul Dawson, Design Director at Honky.co.uk. "As a colour it conveys balance and calm - something we all aspire to! As we look to the new year, what better colour choice than one that promotes reflection and optimism. Christmas will always involve the sparkle of metallic, and the turquoise-teal palette works across the range - from icy turquoises with silver to rich teal with bronze. And of course, as it's Christmas, everything works with old gold!" says Dawson.
Seasonal Fragrance
"Smell is one of the quickest and most effective ways to create a seasonal atmosphere, so I'd always start with a great candle smelling of juniper and pine," says Jo Littlefair, Director and Co-Founder of interior design company Goddard Littlefair.
Create A Statement
"Proving that there really is nothing new under the sun - this year sees a push for upside down trees. The practice of hanging a tree upside down dates back to the Middle Ages. Picked up by retailers (presumably wanting a festive display whilst maximising floor space over this key time), this year sees the concept being widely available for domestic situations. Parents with inquisitive children & pets, will probably welcome the concept..." - Paul Dawson, Design Director at Honky.co.uk.
Spruce Up Your Wreath
At Christmas, your front door is nothing without a cheerful wreath. This year, why not try dressing your front door with two wreaths instead of one, to double up on the festive spirit. Create a statement decoration piece by adding ornaments, fabrics and plants to add more texture and interest.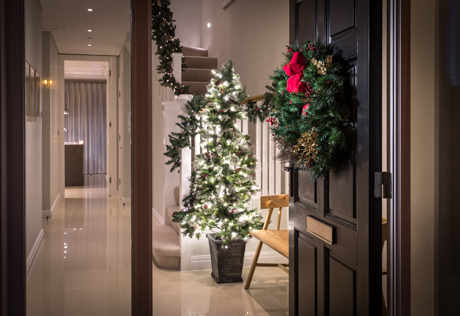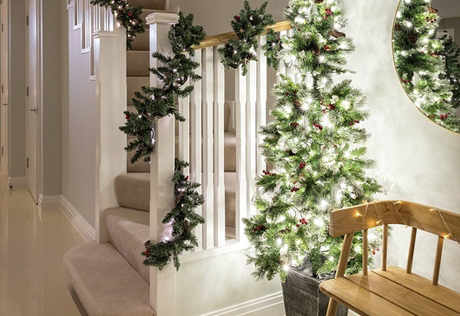 Make Homemade Decorations
"There's no better way to be unique than to make things by hand. If you're feeling crafty, then create your own wrapping paper using a bespoke stamp and brown paper - it's so cheap, but can be so effective with raffia ties. Or, for a really high-end look, you can decorate fruit with gold leaf for a table or hearth display. If you have children, this is a perfect time to involve them, from decorated table place names or parcel tags to hand-made crackers with made-up jokes inside." - Jo Littlefair, Director and Co-Founder at Goddard Littlefair.
Light Up
"Decorations can easily look like a jumble, so streamlining colour is vital to creating an effective look, whether you go for a traditional red and green theme or more unusual autumnal shades, such as plum and burnt orange. Twinkling lights, however, are something you can always go big on, because they lift a whole room and create an instant party feel." - Jo Littlefair, Director and Co-Founder at Goddard Littlefair.