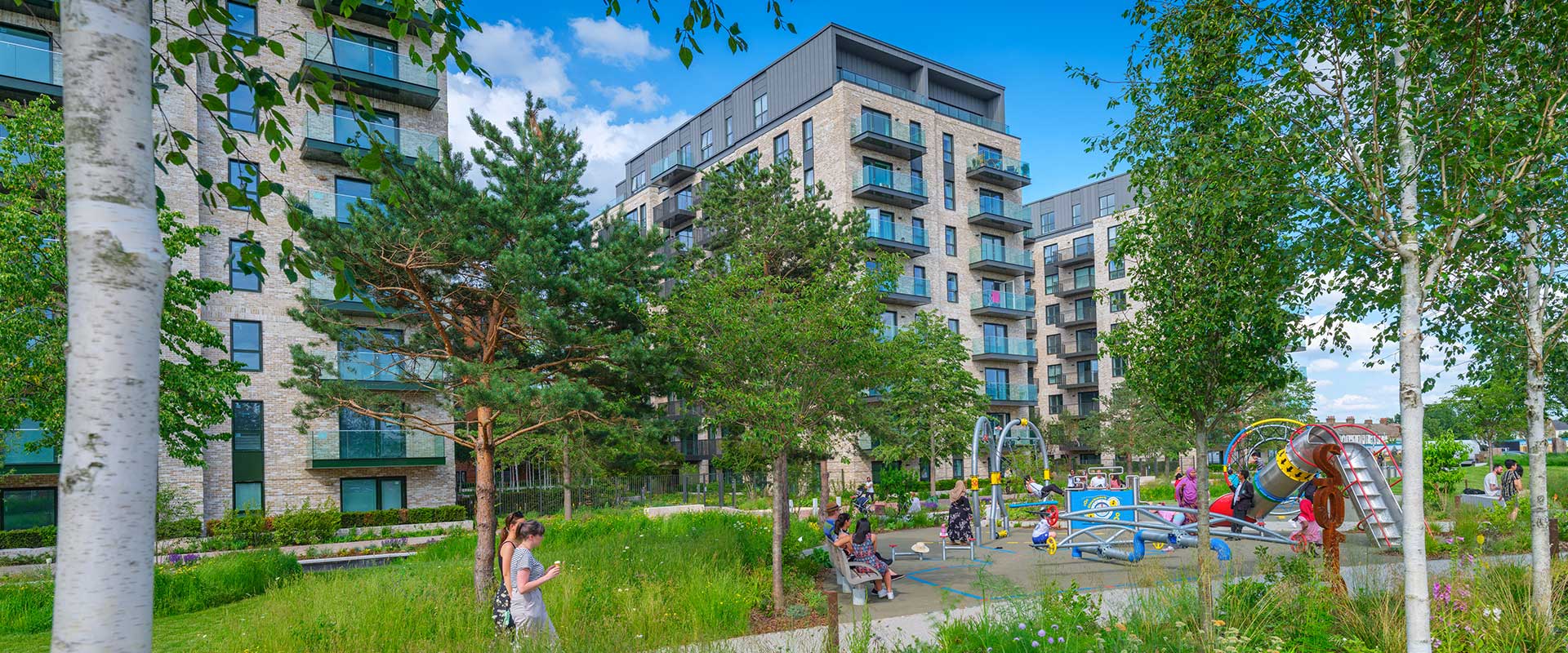 The Green Quarter: Ealing Regeneration Case Study
88-acre brownfield site
3,750 mixed-tenure homes
48% public open space including 2 parks
Primary school, community hub, nursery and health centre
Sustainably located close to Southall Crossrail station
In one of the country's most ambitious regeneration projects, the 88-acre former Southall Gasworks is being transformed into a nature-rich neighbourhood, characterised by 13 acres of beautiful parks, meadows and wetlands, designed in partnership with London Wildlife Trust.
Close to half of the site will be public space, including a mix of natural habitats, fitness trails, public squares, outdoor event space and children's play and recreation areas.
The new neighbourhood brings a wide range of public amenities to Southall, including a health centre, primary school, community centre and a mix of shops, cafés and office space.
Long Term Brownfield Regeneration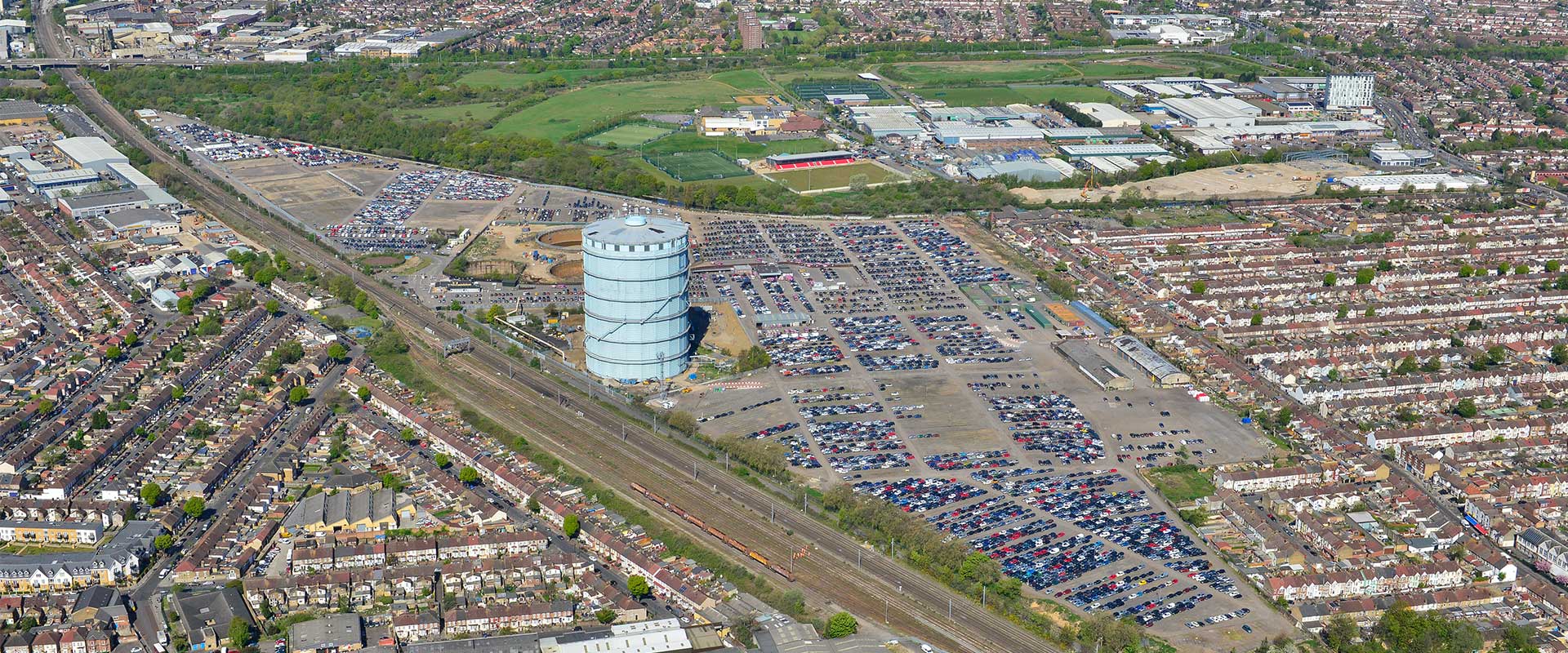 Before regeneration: the site was once a gasworks, then a car park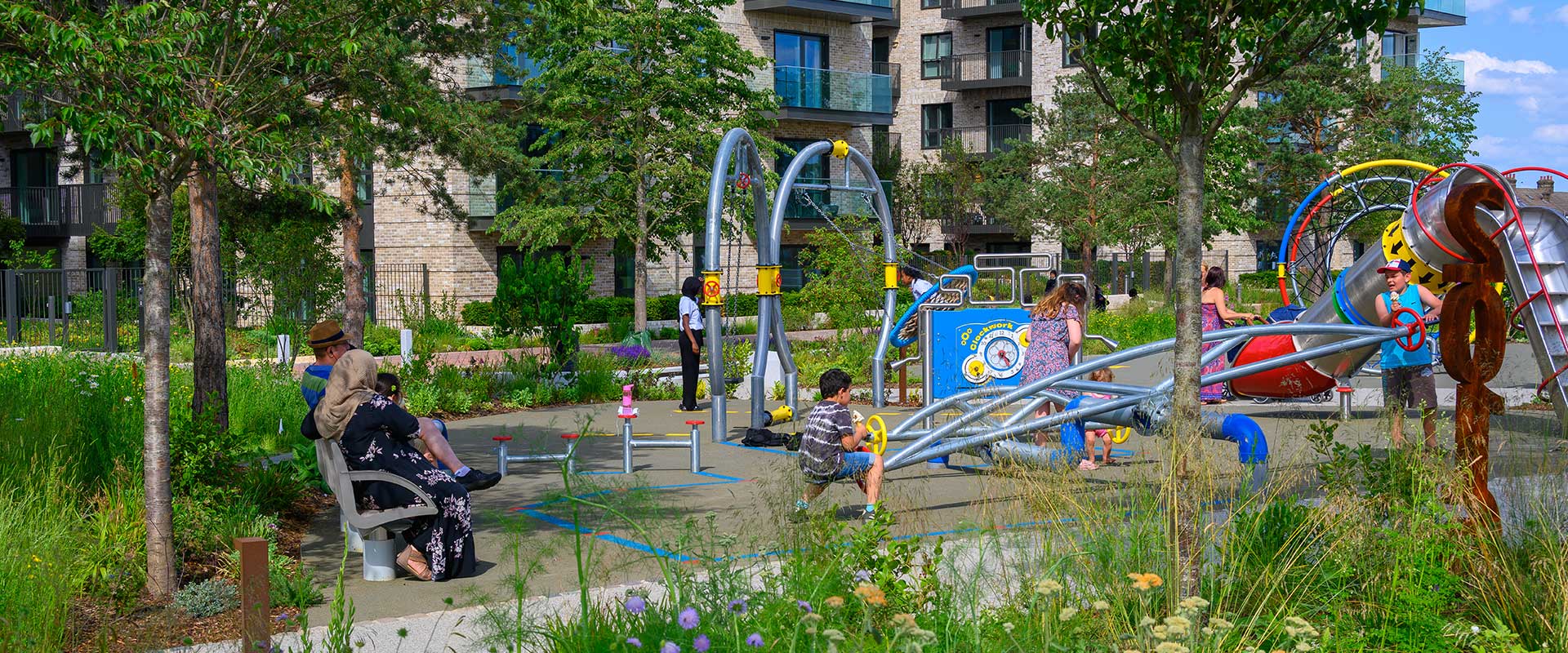 A playspace for local families lies at the heart of the linear park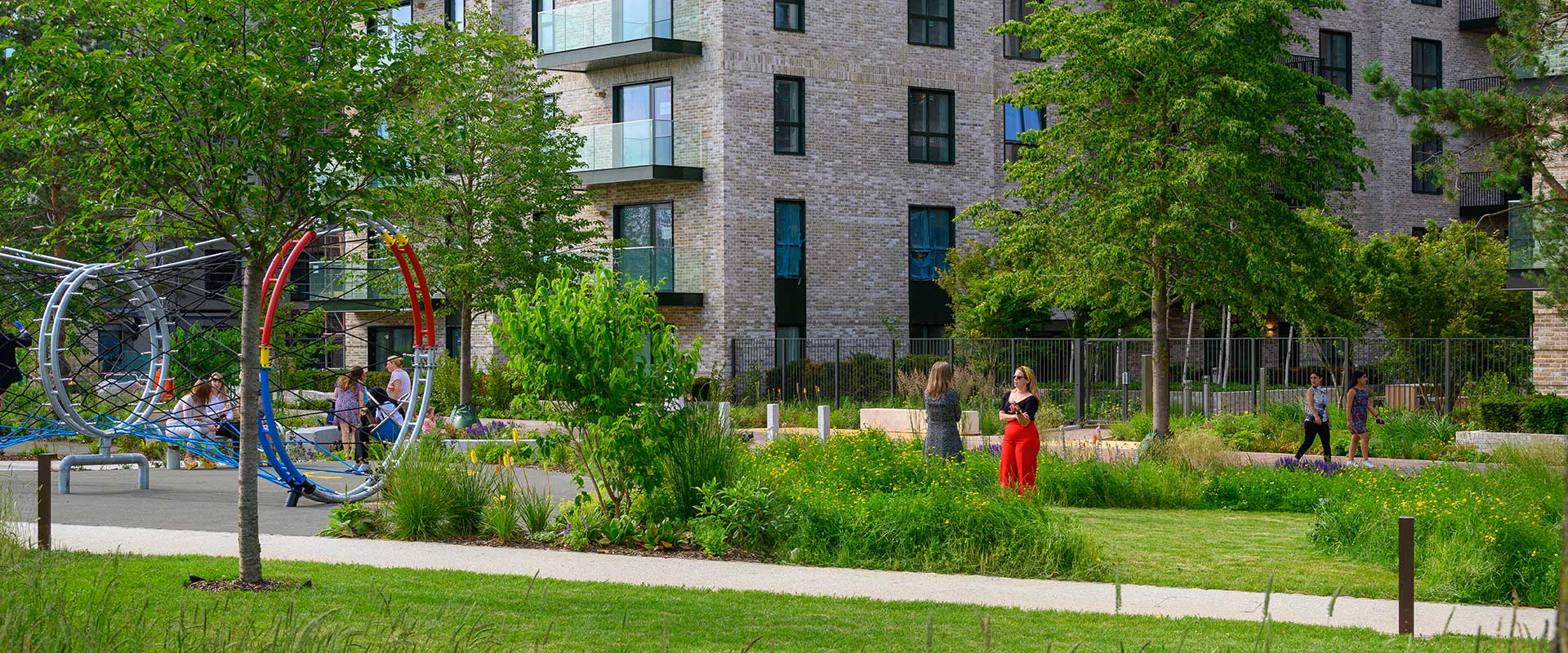 More than 2,500 trees are being planted around the neighbourhood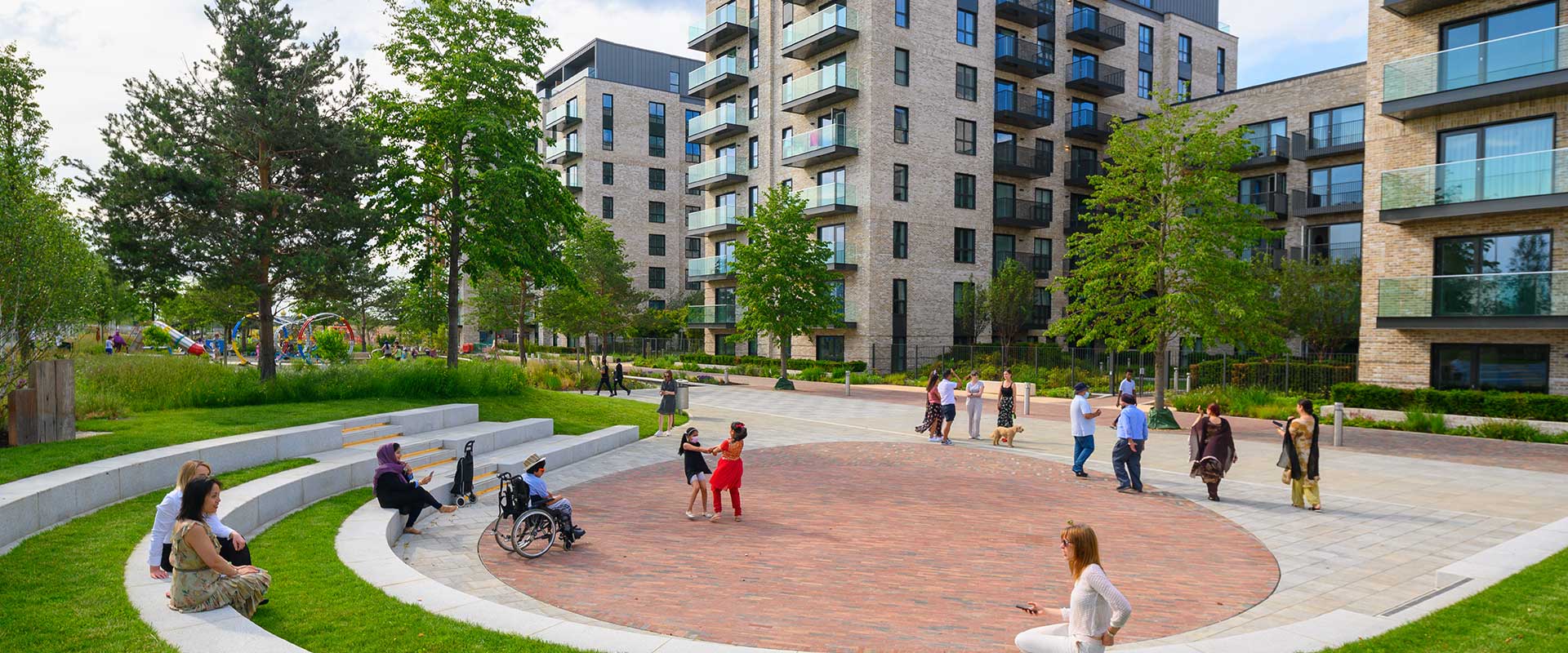 Outdoor community events space
Key Challenges
Remediation of former gasworks site
Complicated land assembly including 124 separate parcels of land
Restrictive Civil Aviation Authority height parameters
National Grid retain land for essential operations and easements run through the site
Limited access via residential streets
Adjacent to existing homes and community spaces, Metropolitan Open Land, Blue Ribbon Network & Nature Conservation site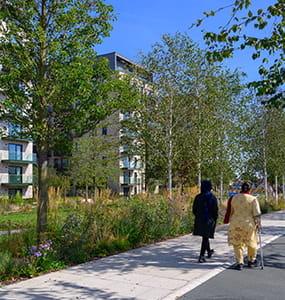 A Welcoming, Healthy Neighbourhood
The Green Quarter is being transformed into a welcoming walkable neighbourhood, designed with the wider community in mind. New cycle and walking routes through the site make it easy for the whole community to get around, with a host of new on-site amenities to attract people in.
community hub | nursery | primary school | health centre | retail and office space
children's playspace | 1km canal frontage | fitness trails and cycle network | public squares, outdoor amphitheatre and gardens
dedicated community support and calendar of public events
footbridge connections to neighbouring 90-acre Minet Country Park | short walk to forthcoming Southall Station on the Elizabeth Line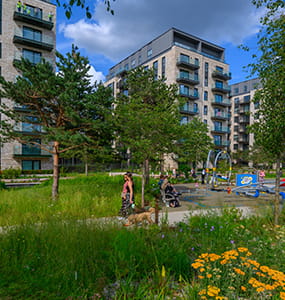 Nature Recovery
Almost half of this new neighbourhood has been dedicated as public open space, with nature-rich habitats designed in partnership with the London Wildlife Trust. With a vast network of wetlands, meadows and native planting, the landscaping has been chosen to create one of the most biodiverse new developments in the country.
42 acres of public open space including two parks
target 75.5% net biodiversity gain
meadows | hedgerows | grassland | 2,500 new trees and copses | wetlands with new reedbeds and ponds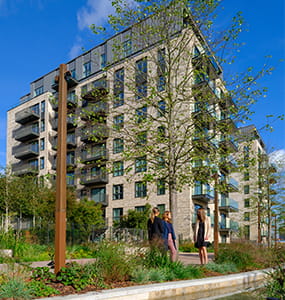 Sustainable By Design
This former gasworks is being transformed, with sustainable features incorporated throughout the new buildings, and the spaces between them. New residents will be empowered to live more efficiently, with sustainable transport options on the doorstep, and energy-saving features in the home.
944 cycle spaces | electric car charging infrastructure
rooftop solar panels | efficient building fabric | energy-efficient appliances | office space targeting BREEAM 'Excellent'
biodiverse roofs | Sustainable Urban Drainage Systems
Modern Methods of Construction used to minimise environmental impacts
"Southall Wetlands is about to reawaken a lost landscape. We are going to create one of the UK's finest examples of urban regeneration that puts biodiversity and nature at its heart."
David Mooney, London Wildlife Trust
Sustainable Travel Options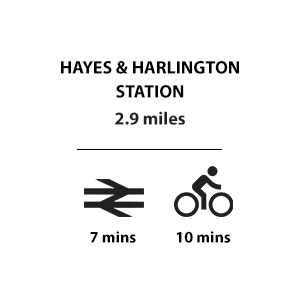 Our Partners
Planning Authorities: Ealing Council | Hillingdon Council | Greater London Authority
Architects: John Thompson & Partners | Atkins | HTA
Landscape & Ecology: London Wildlife Trust
Housing Associations: Catalyst | Clarion
Community & Voluntary Partner: Hope for Southall Street Homeless