Our landscape-led developments enhance the environment and provide beautiful, friendly and sustainable places where people can interact with nature.
54+
sites committed to biodiversity net gain over 10%
52
acres of wetland planned or delivered
550+
acres of new or measurably improved natural habitats to be delivered
We believe that new development should enhance nature, instead of take away from it.
Biodiversity net gain (BNG) is an approach to development that aims to leave the natural environment in a measurably better state than it was beforehand.
We are playing our part in tackling the global biodiversity crisis and are proud of our industry-leading approach to nature recovery. In 2016 we became the first homebuilder to commit to delivering a biodiversity net gain on every new site, and in 2021 we increased this further to deliver a minimum 10% net gain for our new developments.
Working in partnership with experts, such as the Wildfowl and Wetlands Trust and local Wildlife Trusts we are weaving more ambitious and beautiful natural networks through our neighbourhoods, giving wildlife the conditions to thrive and delivering welcoming public spaces. This provides residents with multiple benefits including improving their health and wellbeing, as well as helping our developments be more resilient to the effects of climate change, by reducing the urban heat island effect, managing water more sustainably and storing carbon.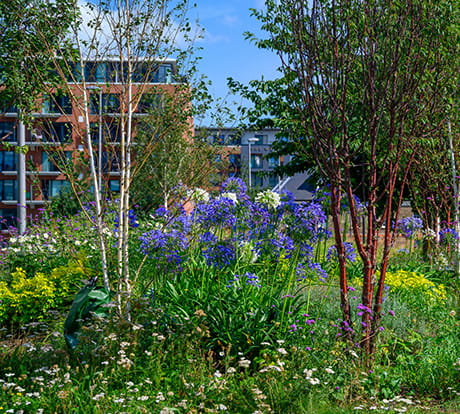 Since 2017, we have been designing our new developments to achieve measurable biodiversity net gain, regardless of the site's context or former use. Last year we strengthened that commitment so that each new development will create at least a 10% biodiversity net gain. In March 2023 we co-hosted a Biodiversity Net Gain Conference with Natural England and the Local Government Association. The event brought together over 500 leaders and experts from across the public, private and voluntary sectors to share knowledge, experience and solutions. Drawing on examples of live and completed projects, delegates heard about the benefits of biodiversity and received practical advice and guidance on how to deliver and maintain a biodiversity net gain across a range of different sites.
We aim to deliver the biodiversity increase within the site boundary so the local community experience the full long-term benefit of an enriched natural environment.
All of our project teams include ecology and landscape design experts who ensure that the preservation and enhancement of biodiversity is central to our approach from the earliest stage.
Habitat creation or enhancement planned or delivered includes:
150 acres of nature-rich grassland
235 acres of woodland
55 acres of living roofs.
*We also have an additional site at Milton Keynes with a significant area of habitat creation/ enhancement
The Story of Kidbrooke Village
In 2018 we made Kidbrooke Village the demonstration site for our very first biodiversity net gain project.
Our challenge was to transform a neat and tidy 20-acre urban park into a wilder and more varied natural landscape, working in close partnership with the Royal Borough of Greenwich, London Wildlife Trust and HTA Landscape Architecture.
It was a big challenge. But, as this video explores, the results are hugely positive on many different levels.
This is only the beginning. Work continues on Cator Park South with our partners where we are targeting more than 250% biodiversity net gain in the long-term.
To ensure that we achieve a biodiversity net gain on each of our sites we use the Defra Biodiversity Net Gain metrics and work with experts during the design stage of our developments.
We have developed the Nine Concepts working with leading ecologists and landscape architects. The nine overarching design concepts help us to design nature-rich habitats that deliver a measurable biodiversity net gain. The Nine Concepts are considered in the earliest stages of planning as part of cross-disciplinary design discussions.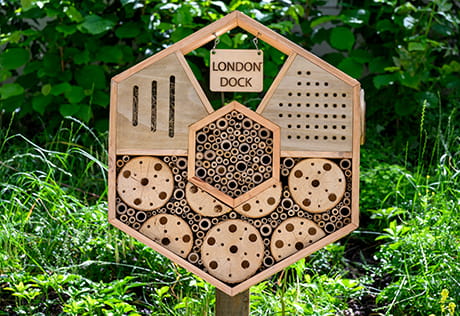 Building on our industry-leading approach to biodiversity net gain, we are broadening our focus so that we deliver an even more valuable and holistic contribution to the environment on every site. We have committed to achieve environmental net gain on all our sites by 2030, leaving the natural environment in a measurably better state than it was before.
We have identified four priority areas where the pressures on the environment are greatest and where we can have most impact: water, climate, pollution, ecology. These will form the core of our approach to environmental net gain.
Beginning with water, we have partnered with Thames Water to explore what water neutrality should mean for our sites and how it can be applied in practice.
Find out more about how we embed Nature into our business strategy through Our Vision 2030 here.
Achieving Water Neutrality at a Project Scale
Over the past year (2022-2023), we worked in partnership with Thames Water to pilot the concept of water neutrality in what is understood to be the first project at this scale.
Smart water meters were installed in each of the 320 homes at Royal Exchange in Kingston upon Thames.
More than 45,000 litres of water per day have been offset through retrofitting 79 local schools and businesses with new water saving devices and measures such as fixing leaking toilets, taps and urinals.
Read about our findings in the Thames Water report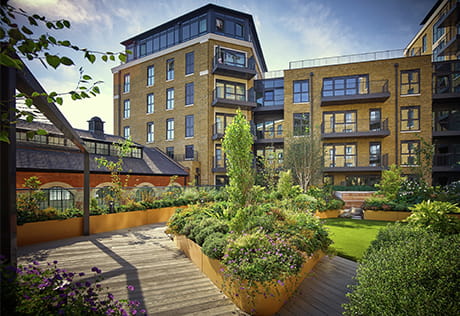 | | | |
| --- | --- | --- |
| | 2016 | Berkeley becomes the first homebuilder to commit to delivering a biodiversity net gain on every new site. |
| | 2017 | All new developments designed to achieve biodiversity net gain. |
| | 2020 | Cator Park, Kidbrooke Village, wins the 'Sir David Attenborough Award for Enhancing Biodiversity' at the Landscape Institute Awards. |
| | 2021 | All new developments designed to achieve 10% biodiversity net gain ahead of the forthcoming national requirement in 2023. |
| | 2022 | Research begins on environmental net gain, to take our approach further and deliver positive impact on the environment. |
| | 2023 | We co-hosted a Biodiversity Net Gain Conference with Natural England and the Local Government Association. |