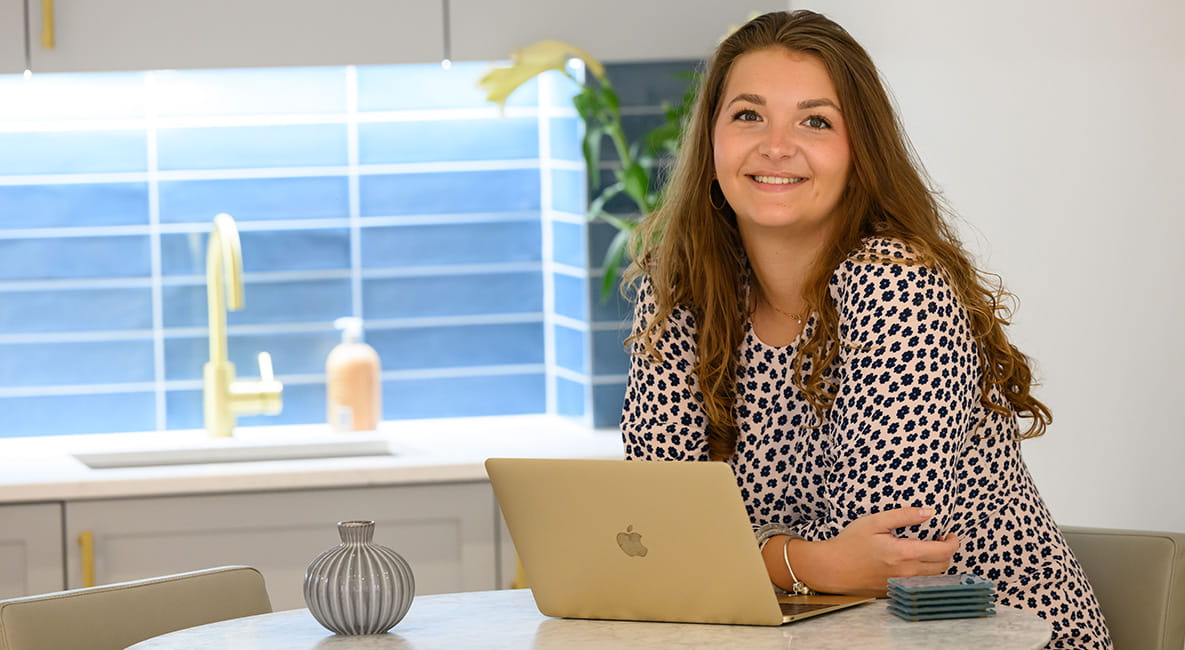 Knights Quarter: A First-Time Buying Experience in Winchester
Twenty-five-year-old, Charlotte Yea, moved into her fabulous ground-floor apartment in Winchester just three months ago.
Charlotte is a Senior Account Manager for a global PR business that specialises in pharmaceutical and healthcare communications, where she has worked for three and a half years.
The start of the pandemic drove Charlotte back to her parents after living in a house share with three other girls in Shoreditch before COVID stopped their fun. Living back with her parents was good in many ways, Charlotte muses:
"I had the most fabulous time living in Shoreditch and it was a shock moving home. But I have to say I am one of the lucky ones, I have a brother and sister and we are a really close family, so it was quite a fun time. My friends are close to my parents and I was able (COVID allowing) to meet them for walks etc. And all of a sudden, I was saving a small fortune after having partied hard in London, there was suddenly nothing to buy?"
Charlotte has bought a spacious two-bedroom garden flat at Knights Quarter less than half a mile from the heart of Winchester. She decided during the pandemic that it was time to buy a place of her own and started looking in and around Winchester as she loves this ancient city with its boutique shops and great places to eat and drink. Having looked at a handful of second-hand flats she felt rather dejected and decided to check out the two new build schemes by Berkeley and Cala Home. She continues:
"I wanted to go to see the new build homes as a benchmark to the resale market. I went with my Mum and Dad to see Knights Quarter which is a very easy and well-lit walk to the station. We walked into the apartment and it was just perfect. My Mum was convinced almost before I was and she said 'Charlotte you are buying this one' To be honest after seeing the Berkeley show apartment nothing else came even close."
"There were simply no negatives to the home, we both loved it. It has two beds so I have set one up as a study with a sofa bed so friends can come and stay. All the utilities are very high spec – I had to have quite a long lesson to learn how to use all this equipment! I particularly love my wine fridge – that is a bonus to good living."
Knights Quarter is set just up the hill from the High Street and Charlotte's apartment has French doors out to a communal garden area. She said:
"I have a private patio area and this spills out onto a lovely garden with a lawn and beautiful plants – it is really pretty and it is wonderfully quiet here which I love. I have neighbours but I don't hear them which is perfect. I have said hello to a few but I am looking forward to meeting them properly at a drinks event that Berkeley is hosting for us this summer."
"I also can't wait for the communal gym to open at the end of the summer. I think I will use it a lot and it will be a good way to make more friends at Knights Quarter and keep fit. My job is completely flexible so I do work from home quite a bit so it will be great to have this added luxury on the doorstep. I was also relieved that the service charge here is relatively low compared to what we get. I have a secure underground parking space for my car, a lift up to the apartment and a concierge who is brilliant for taking in my parcels when I'm not here!"
Talking about the local area Charlotte commented: "About once a week I have a night out in London and catch the last train home. But there are loads of fabulous pubs and restaurants right here in town so I never run out of things to do or places to go. Winchester is buzzing at night with a warm friendly vibe that I love."
Speaking of her buying experience, Charlotte comments: "The sales and customer care teams at Knights Quarter have been so helpful throughout – they made buying with Berkeley an easy and smooth process. If you are looking for a beautiful new home that is fully equipped to move into, I would highly recommend buying with Berkeley!"
Prices for one and two-bedroom apartments at Knights Quarter currently start from £340,000. Take a look at the latest information and availability at Knights Quarter here.