Berkeley Modular
Berkeley Modular is a newly-formed company, founded to produce a volumetric modular housing solution specifically for the Berkeley Group.

From our purpose-built, technologically advanced manufacturing facility in Northfleet, Kent, our highly skilled workforce will produce a range of modular housing products designed to the high specification and excellent build standards that customers demand from the Berkeley Group.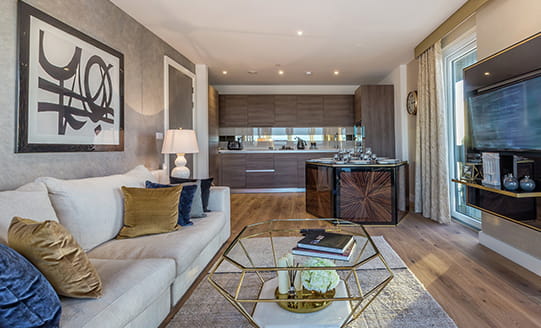 Our Goal
Our goal is to provide the Berkeley Group with a high-quality housing product which can be delivered using sophisticated volumetric modular manufacturing methods.

To achieve this, we are making a significant investment in new production capacity and carrying out in-depth research in order to create homes which are fantastic to live in and deliver an improved correlation between design intent and the performance of the final built product.
Principles of Modular Manufacturing
Drive Improvement In Build Quality

Our investment in the new manufacturing facility is intended to create a product which will reflect our brand: it will be high quality, high performing; and above all, a comfortable and beautiful home.

We believe strongly in the future of volumetric modular assembly and its potential to help us deliver fantastic homes in amazing places.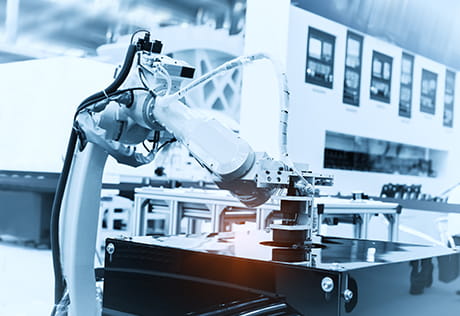 Leverage Construction Productivity

Our intent is to ensure the new facility helps revolutionise the process of building exceptional quality homes. We have invested time and research into the best means of deploying scalable offsite thinking to help alleviate the growing demand for housing.

We are focused on developing an engineered product which will use state-of-the-art sophisticated production technology in a lean manufacturing facility to support the mass customisation of virtual designs to physical product.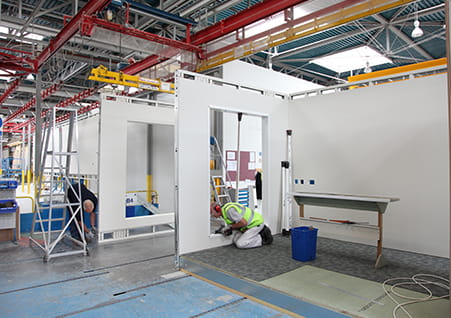 Control Resources Effectively

Skills availability, and quality of skills, are real challenges facing the whole construction sector. Whilst we appreciate that there are risks associated with the cost of procuring resources, we are committed to protecting our capacity to build new homes for our customers. We are going to recruit and train a permanent, directly-employed workforce to design, manufacture and install our volumetric modular product.

The new facility is helping to create these opportunities for direct employment within the Berkeley Group, and also stimulates new apprenticeships that are suited to an ever-evolving industrialised construction landscape.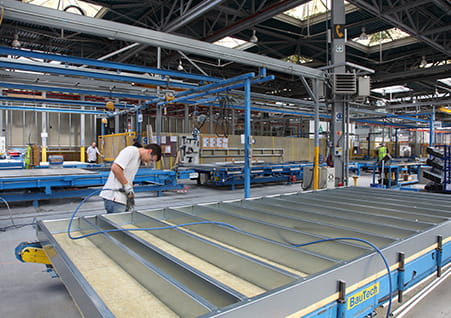 Why Build Modular?
Volumetric modular manufacturing need not limit architectural freedom. In fact, it should help us build even better homes. Our lean manufacturing principles will integrate leading-edge technology and seamlessly connect production technologies to virtual design models. The digital river which will ensure information flows from concept design to a building's end-of-life will help provide a golden thread of connectivity.

As interest in offsite technologies grows across the UK construction sector, many people are focused on the speed of build that such technologies can yield, and the positive impact that it might bring in terms of creating new and interesting careers. The primary driver for Berkeley Group's investment in volumetric modular manufacturing though is the scope to enhance the quality of homes we can build without compromising on comfort or flexibility of design.
The Challenge
We are undertaking extensive research and development to create a sophisticated volumetric modular solution that will provide the Berkeley Group with a high-quality, high-performing housing product.

This is an exciting challenge: creating a volumetric modular solution that will not limit the necessary architectural freedom that is essential to creating places where people want to live, and delivering through-life performance which matches design intent.
Our Aims

We want our volumetric modular solution to deliver homes which are stylish, high performing, of fantastic quality and safe and comfortable to live in.

This initiative is not just about what we build, it's also about how we build it: we want to create a sophisticated volumetric modular product that is sector leading in an efficient and cost-effective manner. We want to get the product design and manufacturing process right, we want it to be scalable and we want to operate at maximum productivity to help meet the challenges facing the UK housing market.
How We Will Deliver

We are working with forward-thinking consultants and supply chain partners with a proven track record of innovation. Our multi-themed research and development programme is focused across the range of structural, fabric and services performance requirements to ensure we deliver an exceptional solution that is suited to housing and engineered for living.

We are collaborating with leading test laboratories to evidence the physical performance of the homes, in terms of structural, thermal, acoustic, fire resistance and air permeability, to ensure our product meets or exceeds the requirements of current Building Regulations, and is future proofed to ensure we satisfy projected trends.
Sustainability
Our Commitment to Sustainability

We are creating an exemplar business that is leading edge in terms of environmental performance and fully endorses Berkeley Group's commitments, as set out in 'Our Vision'.

The essence of the advanced, lean manufacturing strategy we are implementing reflects a more sustainable approach to building the fantastic homes which represent the Berkeley Group brand.

Reducing Carbon

Our goal is to develop and embed a procurement strategy that prioritises supply chain partners who are prepared to take a long-term view, can provide resilience in the context of fast-paced manufacturing, possess outstanding environmental credentials and a corporate social responsibility strategy that fits with our own aspirations.

We want to limit physical and human waste as far as practicable, and ensure we transfer zero physical waste to landfill. Further, we want to develop a programme that will continuously reduce the embodied carbon required to construct the new homes that we will build. At the forefront of our logic is a constant focus on driving improvement in all that we do which forms part of our customer-centred quality approach.

We will we achieve this by working with supply chain partners with the capability and capacity to innovate: both in terms of their products, and in how these same products integrate and interface with other elements of the volumetric modular homes we will build. We will also record the embodied carbon in our procured materials, components and equipment.

Reducing Environmental Impact

In manufacturing our volumetric modular product, we want to specifically minimise the direct and indirect impacts on local residents and communities during the offsite construction process.

Our volumetric modular methodology will minimise environmental impact by reducing the time to construct, reducing vehicle movements to and from construction sites for both materials and people, and significantly reduce the number of people on-site.

We are adopting world-class manufacturing and offsite construction techniques to help deliver outstanding health and safety performance, which will ensure we keep Berkeley Modular employees safe and positively impact the safety and wellbeing of the broader construction team.

Job Opportunities With Us
Construction of the factory shell and core is now complete at Berkeley Modular's new manufacturing facility in Northfleet, Kent, which once populated with production equipment will eventually allow us to produce our unique volumetric modular product.

This new factory is the key to servicing some of Berkeley Group's future development requirements for creating fantastic new homes for customers. The birth of this advanced manufacturing facility is creating a significant number of employment opportunities in the local area. These are permanent, full-time direct-employed roles, working in the sophisticated, technologically-advanced manufacturing environment that will be at the heart of our operation.
The Manufacturing Facility
The manufacturing facility is expected to become operational in 2020, but recruitment of the directly-employed workforce is already well underway. Our well-trained, specialised team will soon be in place to allow us to begin producing high-quality volumetric modular products from the day the factory opens. This investment by Berkeley Group is creating exciting opportunities for both production and site-based employees, and includes apprenticeships offered in conjunction with North Kent College.

Working with key partners like North Kent College and private training providers, we have created a robust development framework to help us build the right team for our business.
Who Are We Looking For?
Please see below the sorts of job and apprenticeship opportunities we will be creating.
Our Job Opportunities:
Production: Cell Operatives, Production Planning, Facility and Engineering Maintenance
Commercial: Procurement, Quantity Surveying
Design: Product Engineering, BIM Co-ordination
Projects: Project / Site Management Quality, Installation and Finishing Operatives
Logistics: Stores, Supply Chain Management, Transport Management
Our Apprenticeship Opportunities:
Digital Design: BIM Co-ordination
Commercial: Quantity Surveying
Logistics: Transport
Offsite Manufacture: Production and Engineering, Maintenance
Offsite Assembly: Installation and Finishing
Site Management and Integration: Project Management and Planning
If you are interested in applying for our job opportunities listed above, please follow the link below.