Environmental Management
Our goal is to identify and manage environmental risks on site. To avoid incidents and reduce the impact of our construction site activities on the environment and local communities.
We recognise that construction activities can pose a variety of potential risks and disruptions to the environment and community ranging from nuisance, pollution and environmental regulation breaches. It is therefore important to have a robust framework to understand and mitigate issues around our sites and implement a management system to ensure we meet our legal requirements.

Therefore on our sites we undertake site sustainability assessment by our sustainability team at least every quarter and we have set sustainability standards for our construction sites. These standards are supported by our internal sustainability management system.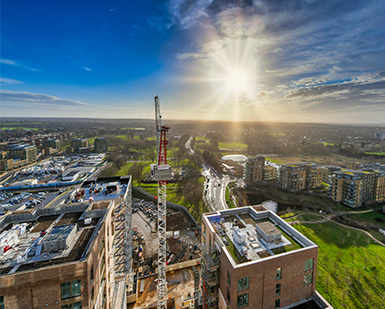 Sustainability Management System

Our sustainability management system outlines our systematic approach to managing sustainability issues relating to all business activities. It includes procedures to embed sustainability at each stage of the development process. It allows us to not only meet our required legislation but to go beyond to embed best practices into our sites and ensure our sites negative impact is minimised.
Sustainability Standards

We have sustainability standards which support our strategy and create a framework for our sustainability requirements. These allow us to ensure developments, offices, construction sites and sales and marketing suites are responsibly and safely developed. We work alongside our contracts to continue to achieve good environmental management across our sites.