Rewarding Careers
Today's built environment sector offers cutting-edge, varied and rewarding careers.
Or training, apprenticeship and graduate programmes offer fantastic ways to develop your skills and reach your potential.
Whatever your gender, age or background, we could have a career choice that's right for you.
There are dozens of office and site based roles to choose from and you can be part of a supportive team which develops your skills throughout your career.
Let the stars of this video, below, tell you more.
Finding Your Path to Work
The built environment sector offers a role for everyone, but it can be hard to know where to start if you don't have experience. At Berkeley Group we offer a range of training pathways for people at different stages of learning, to help you get the skills you need to kickstart your career.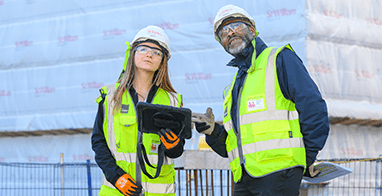 Current Vacancies
Find our current vacancies with the Berkeley Group here.
Why Work for Us
Our passion and purpose is to build quality homes, strengthen communities, and improve people's lives.