Berkeley's The Green Quarter, an ambitious regeneration in Southall, has been announced as local club, Southall FC, premier kit Community Sponsors for the 2023/24 season.
The official announcement of the sponsorship took place on Friday 11th August, ahead of the team's first league game of the season. Players and management of Southall FC visited The Green Quarter where they showcased their new kit and celebrated the sponsorship with the community and Berkeley team.
Sponsorship includes the first team's home, away and training club kit, and will also see both Berkeley and Southall FC running a community engagement programme to encourage young people to take up sport.
Founded in 1871, Southall FC is one of England's oldest football clubs and is currently in the Isthmian South-Central league, the eighth tier of English football. Berkeley joins other local businesses in the area sponsoring the team such as restaurant Kulcha Express and Chingari.
The Partnership
Dave Considine, secretary of Southall FC, said: "Southall as a community is thriving thanks to partnership and visions such as ours, and I am personally thrilled to see how The Green Quarter has enhanced the exact place of my birth, and how the improvements and opportunity that it brings fits with Southall FC's vision to work together on diverse and exciting programmes encouraging local children to play football not just in the community but competitively through our new academy.
With The Green Quarter on our shirts, we can achieve great things this season both on and off the pitch."
Marcus Blake, Regional Managing Director of St George City, Berkeley, said: "I am very proud of our partnership with Southall FC. Sport brings people together and supports our physical health and mental wellbeing. Southall FC delivers all this and more, including by hosting community football events to encourage everyone to give it a try, and this sponsorship is a perfect fit for us. At The Green Quarter, we hope to play our part in this too by creating a place filled with nature and green space, to encourage people to enjoy the outdoors, for exercise or as a place for the community to come together."
The Development
Located five minutes from Southall Crossrail station, (Elizabeth line and National Rail), nature sits at the heart of The Green Quarter's design. Once complete, the development will be home to some of west London's most impressive green spaces, with nearly 50 percent of the 88-acre site comprising open green space and close to two-thirds of the homes overlooking water or green areas. With over 600 homes already complete and residents moved in, a thriving community has already formed.
The development includes Central Gardens – with an amphitheatre, water feature, children's play area and open space The Field. Parkside Yards, the latest destination at the Southall development that combines creativity, community and nature was also recently launched, offering a café, lifestylestore and outdoor piazza, as well as a nature trail, wildflower meadows and a giant jumping pillow.
To find out more about the homes available please call 020 4502 3995 or visit The Green Quarter.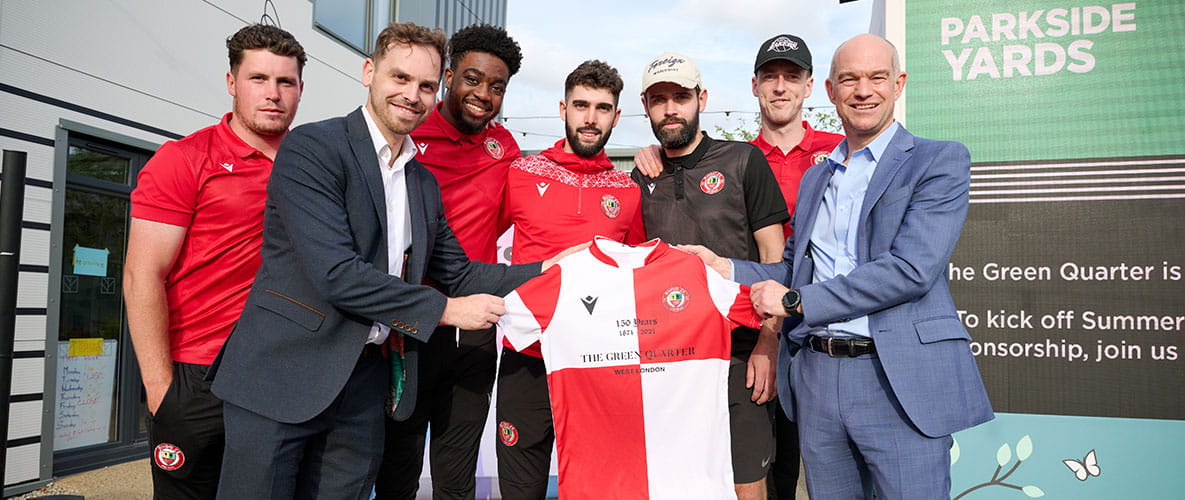 James Purton, Operations Director at St George City, Berkeley, and Marcus Blake, Managing Director of St George City, Berkeley, hold the sponsored shirt in front of members of the team.