St George, a proud member of the Berkeley Group, will unveil two major public art installations by world-renowned sculptors and mother and daughter duo, Lorne McKean and Tanya Russell, at its prestigious Chelsea Creek development in West London on Wednesday 26 April.
With a focus on biodiversity at the development both bronze sculptures pay homage to the nature and wildlife at Chelsea Creek, whilst providing two focal points within the development. The works have been commissioned with respect for their surroundings, and perfectly complement the ground-breaking architecture and meandering waterways at the development, whilst offering intriguing ways for both the public and residents to think about the importance of the natural world and wildlife in urban locations.
The first sculpture, Swooping House Martins, creates an impressive scene, poised above one of the winding canals at Chelsea Creek. Depicting two graceful house martins in flight, the sculpture sees a spectacular 200cm spread from wing tip to wing tip, hovering above the water. The work evokes the natural surroundings of Chelsea Creek and its annual visit from migrating house martins to London's largest colony, which is close to the scheme to the north.
The other, Space for Nature Spiral, is situated at the heart of Chelsea Creek, and at over 600cm high and 300cm wide at the base, this incredible piece celebrates the reintroduction of natural habitats into the area and depicts a number of the plant and animal life which can be found locally. This striking structure, created in a swirling spiral, naturalistically portrays dace and pike fish, moorhens, toads, newts, mushrooms, irises, house martins, hedgehogs, a fox, squirrels, a stoat, a bat and a nightingale all surrounded by grass and ferns, with a falcon with a wingspan of almost 200cm as the crowning glory.
Both sculptures have been cast in Foundry Bronze, using the lost wax process, by two of the most sought-after sculptors of today, Tanya Russell and her mother, Lorne McKean, who have a combined 90 years of experience creating some of the most impressive public art sculptures across the world. Tanya Russell has been an apprentice of her mothers and also the acclaimed sculptor Edwin Russell (b.1939-d.2013). She is renowned for creating life-like animal sculptures and has completed scores of public and provide commissions. Tanya is founder and principal of the Art Academy London and author of Modelling and Sculpting the Figure.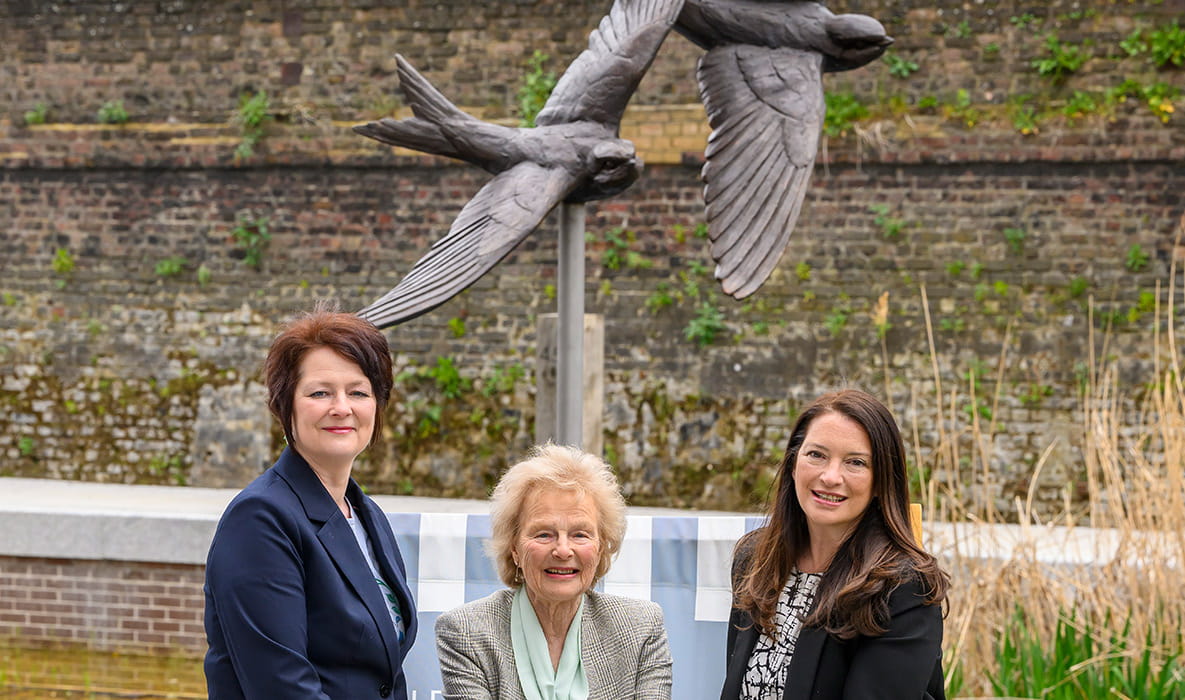 Tanya comments: "During this project it was really important for us to reference the amazing work which St George has done in increasing biodiversity on a derelict gasworks site. The waterways at Chelsea Creek are emblematic of the development's extraordinary connectivity, whilst also creating new wildlife corridors, granting access to a host of animals, some of which haven't been in this section of Fulham for over two hundred years. One of our main considerations was how people move through the buildings at Chelsea Creek, and we had to ensure that from every angle both pieces created strong and contemporary silhouettes, with nature as their core subject. The pieces needed to be aesthetically beautiful, to tie in with their surroundings, whilst also anchoring Chelsea Creek as a location. People navigate London on a visual level, with key places often being identified by their respective public statues. So it was essential to create something that represented the identity of the sculptures' environments, to allow people to identify the art with the site, and the site with the art, on a subconscious level. In all, these works took around 14 months to complete. The chosen material – foundry bronze metal, has a long history locally. Notably with some of the greatest sculptors in Britain such as Henry Moore and Barbara Hepworth casting work at the Art Bronze Foundry in Fulham. The Space for Nature Spiral was particularly challenging as freestanding spirals are particularly rare in sculpture, due to the complexity of designing and casting them. However, it was essential to form a piece which was designed entirely in the round, so that it can be enjoyed from all angles, whilst granting the apartments behind it plenty of light and views. Chelsea Creek's individuality deserved artwork that is this specific to its site history and the environmental achievements of the new development and we believe that this is what we have achieved with these two sculptures."
Stephen Kirwan, Regional Managing Director, St George West London, commented: "These sculptures and we are looking forward to seeing how audiences respond and engage with the works. Placemaking is at the heart of everything we do at Berkeley Group, creating fabulous homes, but also with care and attention paid to biodiversity and our impact on the environment."
Public art at Chelsea Creek is just another example of the efforts of St George to maximise its positive impact on society and the natural world. Biodiversity and encouraging nature to Chelsea Creek is one of the main aims, whilst also excelling in development design. Both sculptures with their naturalistic forms respect and honour London's rich environment.
There are now only 64 homes remaining at Chelsea Creek, a sought-after new London neighbourhood, varying from Manhattans to contemporary two-bedroom apartments, in the two final buildings - Westwood House and Imperial Tower. Westwood House has two new Showhomes, which have been designed by two major interior design studios: Untold Interiors and ThirteenID. Each apartment sees an expansive open-plan kitchen/living/dining area and private balconies, overlooking Chelsea Creek's tree-lined avenues and network of canals, designed by architects Squire & Partners, to mirror the waterways of Copenhagen and Amsterdam. Those living at Chelsea Creek have access to state-of-the-art amenities including a cinema room, wellness centre, modern gym, spa, indoor heated pool, treatment room, rain shower and Scandinavian-style sauna and steam room, all of which are more important than ever for the holistic wellbeing of residents.
Other amenities available to residents on the doorstep include a street food market and artisan coffee shop Harris+Hoole creating a truly London 'village' feel. The proximity to the Design Centre at Chelsea Harbour, a vibrant design quarter in London, is a real benefit for design-conscious purchasers at Chelsea Creek. The cultural attractions and retail opportunities close by, such as the fashionable King's Road and world-renowned Saatchi Gallery, ensure that the development is located in an enviable location in the Capital.
Prices for an apartment in Westwood House start at £1,355,000. To book an appointment please contact the Chelsea Creek Marketing Suite on – 0203 944 9034 email sales@chelseacreek.co.uk or visit www.chelseacreek.co.uk.