St William has claimed a major planning award for its regeneration scheme Clarendon, in recognition of the development's contribution to affordable housing.

The new 12-acre city village between Wood Green and Hornsey was named the winner of the 'Planning for Affordable Housing' category at The Planning Awards 2022.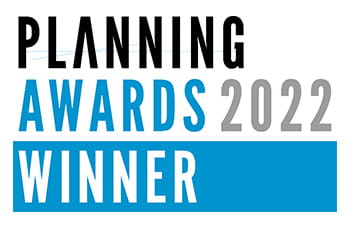 The award recognises a development that demonstrates how its planning work has helped to increase the provision of affordable homes, improving the economic or social well-being of a community.

Once complete, Clarendon will provide more than 1,700 homes, 125,000 sq ft of commercial space and 2.5 acres of green open space.

Under original proposals, Clarendon was due to provide 444 affordable homes. However, working with affordable housing partner L&Q and via additional grant funding from the Greater London Authority, St William increased this number to 589 affordable homes.

The Planning Awards judges cited the scheme as an example of how to make "best use of brownfield land" and highlighted "a well thought-through masterplan and housing designs".

Clarendon forms an important part of the Haringey Heartlands Opportunity Area, one of the largest development opportunities in North London. It is adjacent to Alexandra Palace Park, one of London's most iconic green spaces with 196 acres of rich parkland and woodland.

The new neighbourhood benefits from outstanding links to public transport, with Alexandra Palace, Wood Green, Turnpike Lane and Hornsey stations all within a 13-minute walk, making key London hubs easily accessible. King's Cross can be reached in 14-minutes and Moorgate and Old Street in 20-minutes, while London Heathrow, London Stanstead and London Luton airports are all under an hour's drive away.

The Planning Awards showcase outstanding work across the planning and placemaking sectors. The awards recognise excellence in planning and associated placemaking disciplines including heritage conservation, urban design, economic development, partnership working, environmental consultancy, housing and law.