Berkeley Group has completed the recruitment of an additional 63 Site Management Apprentices as the company looks to grow its operations and take steps to tackle industry's skills challenges.

The new intake brings the total number of employees in accredited earn and learn training roles to just under 300, with around 50% undertaking apprenticeships and the other half being either graduates or sponsored students completing a minimum 12 months training.

Over the last six months an average of just over 7% of Berkeley's total workforce have been earn and learn roles, reaching more than 9% in October after the 63 new apprentices came on board.

Another 164 apprentices and 71 sponsored students are working across the company's sites within its supply chain.

Berkeley's trainees are key to supporting future growth as the company brings forward 29 of the county's most challenging long term regeneration sites (up from 5 in 2009). These projects are set to drive a 50% increase in annual housing delivery as they move through the build stage.

The 63 new recruits are now beginning a unique skills development programme, which breaks the mould of conventional vocational training. The company's training partners, Farnborough College and Ixion Holdings Ltd (part of the Shaw Trust Group), have worked with Berkeley to develop a mix of bespoke training plan that reflects the latest construction management practices, modern methods of construction and digital working.

Images and a video from the apprentices' induction day are provided in the links above.

Upon completion the vast majority of new recruits will achieve a Level 4 Construction Site Supervisor Apprenticeship, with a small minority working towards Level 3, or the degree-equivalent Level 6 qualification.
Rob Perrins, Berkeley Group Chief Executive said: "The built environment sector has a vital role to play in driving the recovery from Covid-19, the transition to net zero and tackling the housing crisis. But to achieve all this we have to address the skills and recruitment challenges that constrain our vital work.

"The industry has to take the lead on this, which is why Berkeley is continuing to expand its Future Skills programmes, including this new intake of 63 aspiring Apprentice Site Managers. Congratulations to all of our new recruits on joining our fantastic industry."

Rebecca, Site Management Apprentice at Beaufort Park, said: "I'm just really excited to be getting started. I wanted a career, not just a job. I don't think this is an industry that women traditionally thought about, but there is a really inspiring female manager on my site who has shown me it's for everyone."

Jacqueline Oughton, Managing Director, Ixion Holdings and Shaw Trust Education and Skills, said: "Ixion Holdings Ltd (part of the Shaw Trust Group) are delighted to be working in partnership supporting the Berkeley Group in their growth and succession planning. The collaborative work undertaken to create this bespoke programme for the Berkeley Group aligns to the Group's goal to equip their people with the skills they need now, and for the future - enhancing social mobility."

Virginia Barrett, Principal CEO, Farnborough College of Technology, said: "Farnborough College of Technology are delighted to be a partner on this truly innovative and bespoke programme for their new Construction Site Supervisors to develop future leaders. It is exciting to be working with such a diverse group of apprentices and look forward to them succeeding in their road to Chartered Membership."

Off the job learning, which represents at least 20% of Apprentices' working hours, includes classroom based sessions at the Berkeley Academy and partner colleges, online learning, work shadowing professionals on other sites and curriculum linked project work.

Structured on the job training is delivered by Berkeley's expert site teams with support from mentors and a network of in-house Future Skills and Training Managers.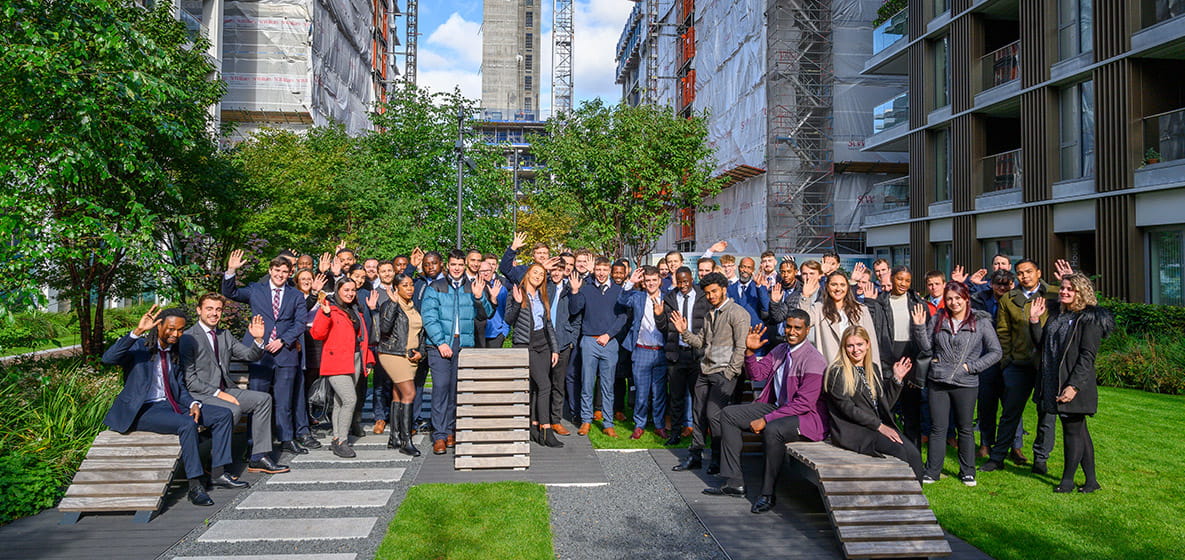 Berkeley has set Future Skills as one of ten strategic priorities under its long term business strategy, called Our Vision 2030.

To explore Berkeley's training programmes and live vacancies visit the careers pages of our website.