The leader of Slough Borough Council, James Swindlehurst, visited the Horlicks Quarter today to celebrate the first collection of affordable homes being created at this former factory complex on Stoke Poges Road.

He was joined on site by the area's ward councillors, along with project partners including Sovereign Homes Chief Executive Mark Washer, Homes England Chief Executive Peter Denton and Berkeley Group Chief Executive Rob Perrins.

The former Horlicks Factory site is now being transformed by Berkeley into a unique and innovative mixed-use neighbourhood that will include up to 1,300 high quality private and affordable homes.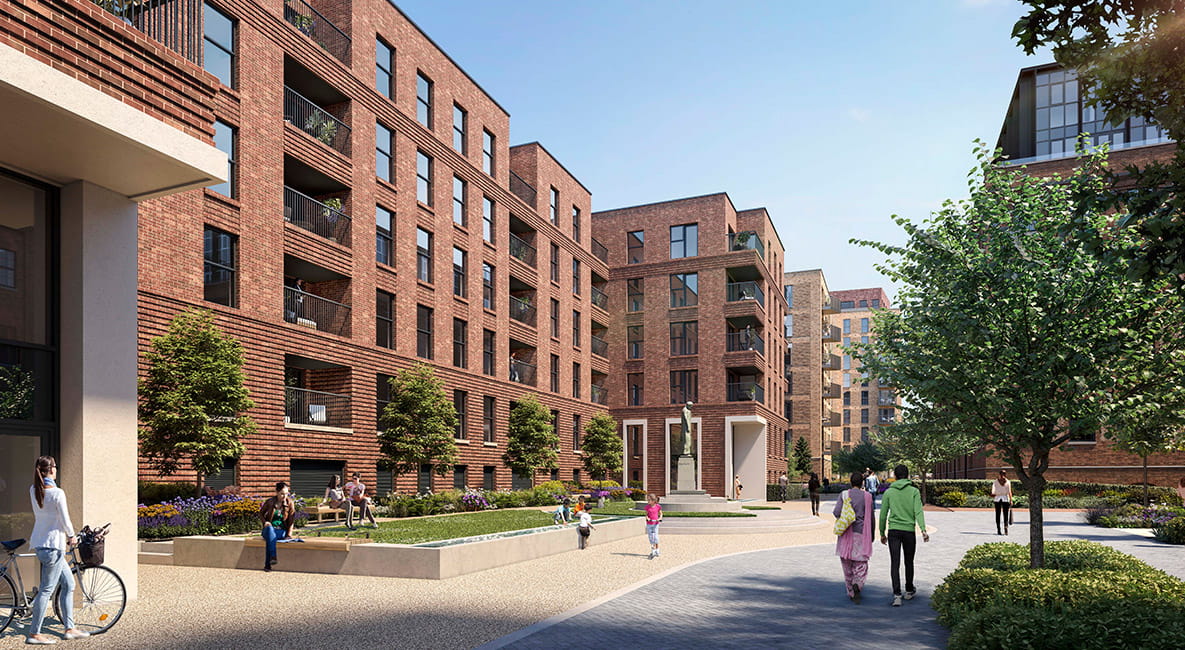 Computer Generated Image

The masterplan centres of the site's historic factory, clock tower and chimney, which are being carefully restored and set within a network of public open spaces and gardens, with a central square at Clocktower Place for community activities, to include a nursery and a proposed café for everyone in the local area to enjoy.

Slough Borough Council is driving an ambitious regeneration programme with plans to create a fantastic new neighbourhood. Proposals for the 'square mile' include building thousands of new homes and multiple new leisure and retail outlets, as well as creating thousands of new jobs.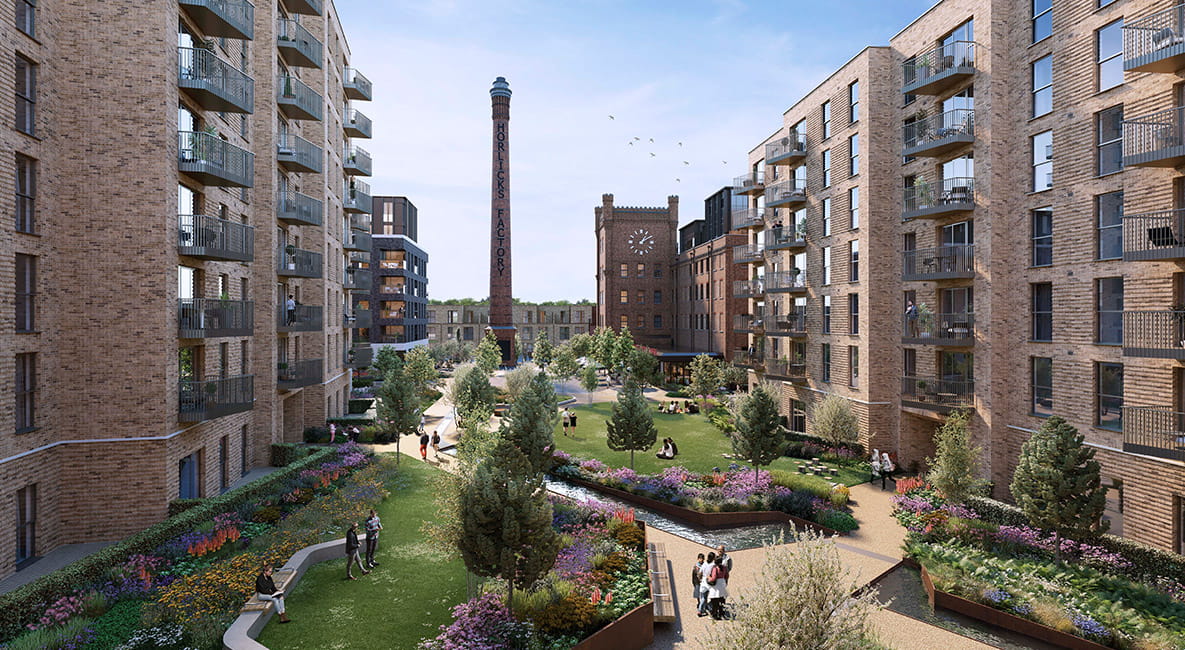 Computer Generated Image

The site's first affordable homes are now well into delivery, and will be managed by Sovereign Homes. They include 102 social rent and 50 shared ownership homes in the first phase at Horlicks Quarter, with the first Sovereign residents expected to move into their new homes from Autumn 2022.

Cllr Swindlehurst said: "It is fantastic to see another stage of development progress on the iconic Horlicks site. These properties are not only affordable - with 102 being social rent and 50 shared ownership - but high-quality and a tribute to our commitment to deliver affordable housing for local residents, working closely with local housing developers to get the best deal for local people. This is just phase one, with more than 100 more affordable homes coming in phase two of the scheme."

Mark Washer, said: "We're extremely proud to be able to deliver 152 affordable homes in Slough. With the implementation of our new Homes and Place Standard, which sets the quality of our homes and communities, we're pleased to see the great quality regeneration work here at Sovereign at the Horlicks Quarter. I can't wait to see residents moving into their new homes next year.'

Rob Perrins, Chief Executive, Berkeley Group, said: "We are delighted to be delivering the first 152 affordable homes at the Horlicks Quarter and I want to thank our fantastic partners at Sovereign Homes, Slough Borough Council and Homes England for their vision and support.
"Together, we are transforming this 12-acre brownfield site into a welcoming new, vibrant, community within the heart of Slough, with a mix of high quality open spaces, public amenities and homes for all."


For more information about Sovereign at the Horlicks Quarter visit:
https://www.sovereignliving.org.uk/developments/sovereign-at-the-horlicks-quarter