Under more normal circumstances the Government's Environment Bill, presented to Parliament in mid-October, would have dominated the headlines with its far reaching changes to the way we protect, manage and enhance the natural world.
This draft legislation proposes new measures and targets to improve air quality, tackle plastics pollution and restore our depleted natural environment after more than 100 years of biodiversity decline. The General Election halted its path, but there is consensus behind strengthening environmental law and any new Government will surely follow a similar, if not identical path.
And no matter what happens next in Westminster, the built environment sector will have a vital role in meeting the major environmental challenges ahead. So why wait for ministers to compel us when we can take the initiative ourselves? Our industry has a chance to lead and to demonstrate the huge environmental and social value that sustainable development can deliver.
Restoring nature is the perfect place to start. The Environment Bill would make it mandatory for developers to record the levels of biodiversity on each site before they start work, then deliver a measurable increase. Net biodiversity gain will be very good policy, but it's already great business so the industry should act now. We have all the tools we need and plenty of expert support from Natural England, Wildlife Trusts, the UK Green Building Council and CIRIA.
We know it can work because Berkeley Group has been putting net biodiversity gain into practice since 2017. We haven't just tested a few pilot developments. We have been applying it to every new site we develop, big or small, urban or rural.
Our approach starts with our Net Biodiversity Gain Toolkit, which helps us to measure existing ecology and calculate the increase we can achieve through different interventions. We then develop a holistic strategy to enrich established habitats and connect them with the surrounding ecosystem to create a bigger and more sustainable natural network. It starts at the earliest stage of design so natural infrastructure like trees, hedgerows, wetlands, meadows and watercourses are woven through the masterplan alongside buildings and hard landscaping.
We approach planting differently, thinking more about species diversity and the food and shelter we can offers wildlife throughout the seasons. We also manage our developments in different ways, treating them as homes for nature as well as places for people to enjoy. And crucially, we involve local communities in landscape stewardship so they take ownership of nature's recovery and drive it long after the building work's done.
So far we have applied our Net Biodiversity Gain Toolkit to 25 sites and we are incredibly excited (and impatient) to see how these nature rich places turn out. In fact we simply couldn't wait, so we spent the last two years putting a large-scale biodiversity strategy into action at Kidbrooke Village, working in partnership with London Wildlife Trust and the Royal Borough of Greenwich.
At Kidbrooke, we focussed on enhancing a traditionally planted 20-acre park we crated in phase one. We have introduced a more valuable network of green infrastructure, creating new wildflower meadows, grassland and wetland habitats. We introduced more varied native planting to provide more food and we allow areas to grow wild then die back before spring comes round again.
The results are spectacular. Through spring and summer Kidbrooke Village is a riot of wildflowers, shrubs, bushes, reeds and grasses. It hums with dragonflies, butterflies, bees and beetles. There are far more birds, including water fowl, herons, willow warblers and starlings. Red kites and a magnificent peregrine falcon have also been spotted. The landscape is constantly changing through the seasons and is more exciting and varied than the traditional lawn landscape we replaced.
According to our toolkit, the rewilding of Kidbrooke Village will deliver a net biodiversity gain of well over 100% once it grows to full maturity. That's a fantastic boost for nature. But it's only half the story.
The redesigned Cator Park takes less water and energy to maintain and the landscape acts as a sustainable urban drainage system which naturally holds and filters rainwater. It also forms a valuable green link between Kidbrooke Green and Birdbrook Nature Reserves, creating a larger and more sustainable network of high quality habitats for south east London's wildlife.
The other big change is the people. Since Cator Park went wild far more come here to explore, rest, meet and play. It's more of a focal point for community life and we partner with London Wildlife Trust to organise nature walks, bird and bug spotting sessions, school visits, family fun days and conservation volunteering. It shows that people and nature belong together and we're hopeful that the landscape will help create an all-round happier and healthier community in the years ahead.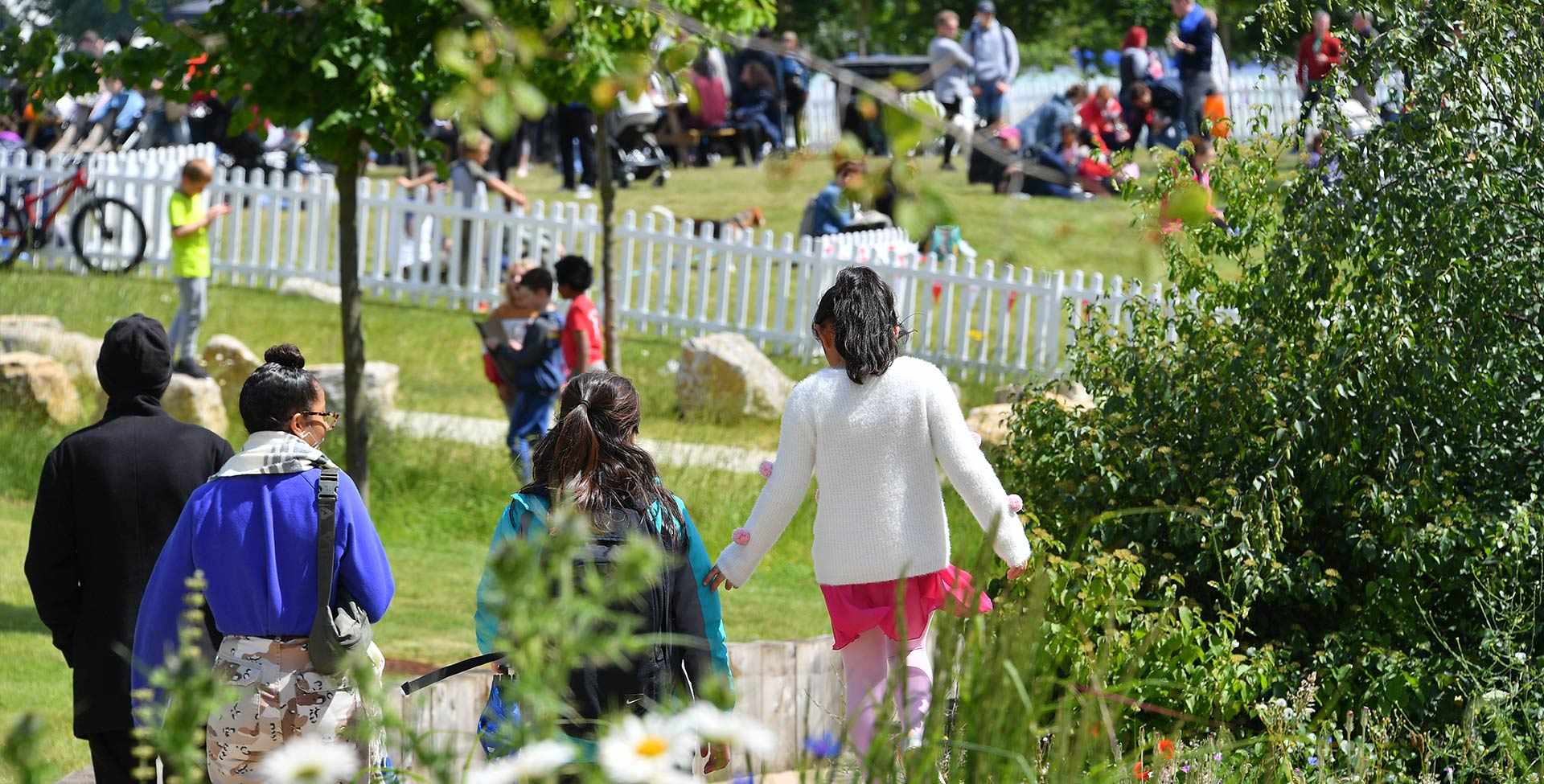 Making this all happen was not quick and easy. It's taken a strategic change in the way we plan, build and look after new places. Embedding this within our culture and across all of our businesses was challenging. But our teams responded with real passion and positivity. They want to support biodiversity and they know that fringe measures like nesting bricks and bug hotels don't go far enough. We have to put nature at the heart of our thinking and we're very proud to be leading the way.
Berkeley's experience with net biodiversity gain has been hugely positive on many levels. The true environmental and social value will become clear once more of our nature rich landscapes mature. Now is the time for the whole industry to embrace its vital role in nature recovery and to be part of something that benefits all. Before long, new laws will spur developers into action, but legislation can only set minimum standards. If we lead this challenge with real purpose and belief we can achieve so much more.
Rob Perrins, Berkeley Group Chief Executive