We are excited to introduce The Silk Club: an exclusive collection of residents' facilities designed to enhance your lifestyle and wellbeing at Silkstream.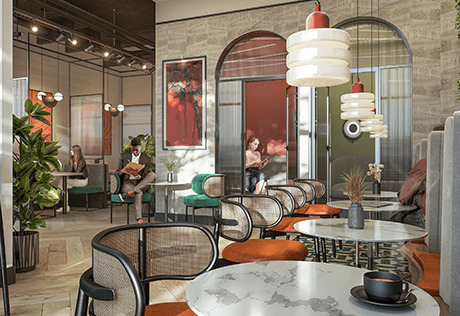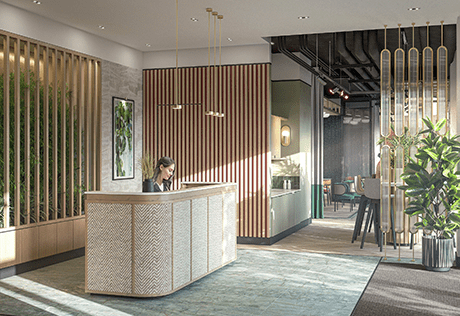 The Silk Clubhouse
A space that reflects today's modern way of living; The Silk Clubhouse is a welcome addition to your home. It features a concierge and sociable residents' lounge.
There is also a co-working area with meeting spaces, video teleconferencing booths, beverage station and outdoor terrace overlooking the 1.5-acre public park.
Gym
Workout in Silkstream's private gym and fitness studio.
Screening Rooms
Host a movie night in one of the two residents' only screening rooms.
1.4 Acres of Podium Gardens
The residences at Silkstream are adjacent to private gardens, each inspired by the landscapes and heritage that together define the rich natural tapestry of Britain.
The Mosaic Garden
The Mosaic Garden is accessible to residents of Bower House, Lindley House, Hartington House and Mawson House.
Mosaic gardens are typically characterised by a mix of habitat types such as flower rich meadows, short, patchy grassland, scrub and wet areas. The individual component habitats may not be notable in their own right, however, in combination they can create areas of high value for biodiversity.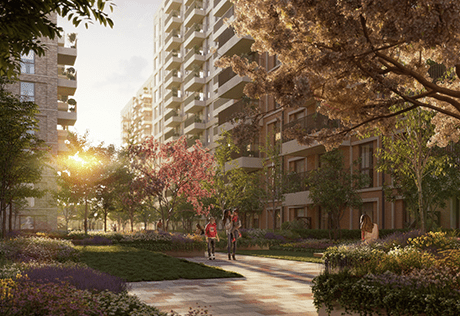 The Meadow Garden
The Meadow Garden is accessible to residents of Hartington House, Mawson House, Paxton House and Henslow House.
A meadow is an open habitat, or field, vegetated by grasses, herbs and other non-woody plants that attract a multitude of wildlife, and support flora and fauna that could not thrive in other habitats.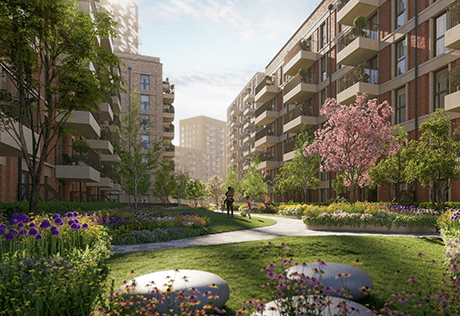 The Woodland Garden
The Woodland Garden is accessible to residents of Paxton House, Henslow House, Broadheath House and Kielder House.
A woodland is land covered with trees; a low-density forest forming open habitats with plenty of sunlight and limited shade. Woodlands also support an understory of shrubs and herbaceous plants including grasses.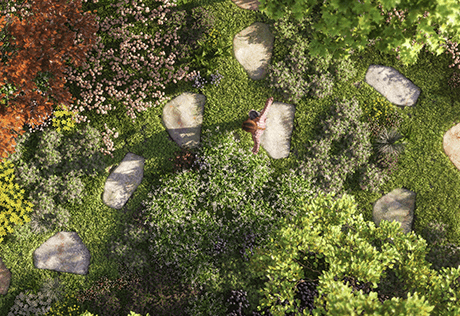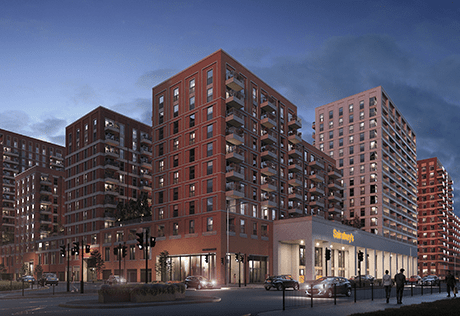 What's in Store
Silkstream's state-of-the-art Sainsbury's supermarket will offer an improved product and service offer that puts high quality, great value food at its heart, bringing the very best in customer choice to residents and the local community.
The flagship 43,000 sq ft store will open in 2024 and will showcase Sainsbury's very latest thinking in terms of look, feel and format. Features will include a fresh food market with an extensive range of fruit and veg, an in-store bakery, Habitat, Tu and Argos giving customers a department store shopping experience. [1]

[1] Concessions may be subject to change.
175 metre Oxbow Lake
Silkstream's oxbow lake flows around the park area, providing a natural habitat for plant life as well as a relaxing place to sit, play or just enjoy the calming effects of water.
1.5 acre Public Park
As well as benefitting residents and visitors, Silkstream's public park has been designed to bring greater biodiversity and create natural habitats for wildlife.
Regenerated Silk Stream
The Silk Stream is a tributary of the River Brent and feeds the Welsh Harp Reservoir. As part of the Silkstream masterplan, we will be regenerating 300m of the stream that borders the east side of the site.
Disclaimers
[1] Concessions may be subject to change.
Where applicable, images, CGIs and photography are indicative only.
Site Plans / Site Maps are indicative only and subject to change [and subject to planning]. In line with our policy of continuous improvement, we reserve the right to alter the layout, building style, landscaping and specification at any time without notice.
Your attention is drawn to the fact that in rare circumstances it may not be possible to obtain the exact products or materials referred to in the specification. Berkeley Group plc reserves the right to alter, amend or update the specification, which may include changes in the colour, material and / or brand specified. In such cases, a similar alternative will be provided. Berkeley Group plc reserves the right to make these changes as required. A number of choices and options are available to personalise your home. Choices and options are subject to timeframes, availability and change.
Floorplans shown are for approximate measurements only. Exact layouts and sizes may vary. All measurements may vary within a tolerance of 5%. The dimensions are not intended to be used for carpet sizes, appliance sizes or items of furniture.
Maps are not to scale and show approximate locations only.
All distances or journey / travel times are approximate and may not be direct. Where applicable, times have been established using relevant sources (
maps.google.co.uk
/
nationalrail.co.uk
).