St George is working with one of the country's leading sculptors to produce an inspirational public artwork for the community of Alperton in North West London.
The sculpture, named "The Next Step", will be situated at the St George development - Grand Union, a 3,350-home mixed-used neighbourhood being delivered on the 22-acre former derelict Northfields Industrial Estate.
Brian Alabaster, a member of the Royal Society of Sculptors and an established artist with an international reputation, was selected by the independent art consultancy Art Square Projects and St George after producing a brief that placed the local community and Alperton Community School at the heart of his work.
Brian Alabaster comments: "I had read about the Art & Textiles teacher Andria Zafirakou MBE at Alperton Community School and who was named the winner of the Varkey Foundation Global Teacher Prize in 2018. She was said to have completely changed the dynamic of the school, earning the trust of her pupils and their families."
Andria Zafirakou MBE redesigned the curriculum across all subjects and helped a music teacher launch a Somali school choir. She created alternative timetables to allow girls-only sports that would not offend some of the more conservative communities, leading the girls' cricket team to win the McKenzie Cup, and by learning the basics of many of the 35 languages represented in Alperton's pupil population, including Gujarati, Hindi, Punjabi, Nigerian and Ghanaian, Andria was able to reach out to her once marginalised students to earn their trust and, crucially, establish relationships with their parents, many of whom did not speak English.
Brian adds: "With Andria's inspirational connection with the pupils of Alperton Community School in mind, I set out to show, through my art, how this diverse next generation of children is achieving great success with the creation of this sculpture showing three local school children climbing ascending stacks of books."
Residency at Alperton Community School
As much of Brian's work involves capturing the natural poses of his models, he decided to undertake sculpture workshops at the school to get to know the pupils. These became so popular with the students that Alperton Community School is now looking to incorporate 3D art into their curriculum.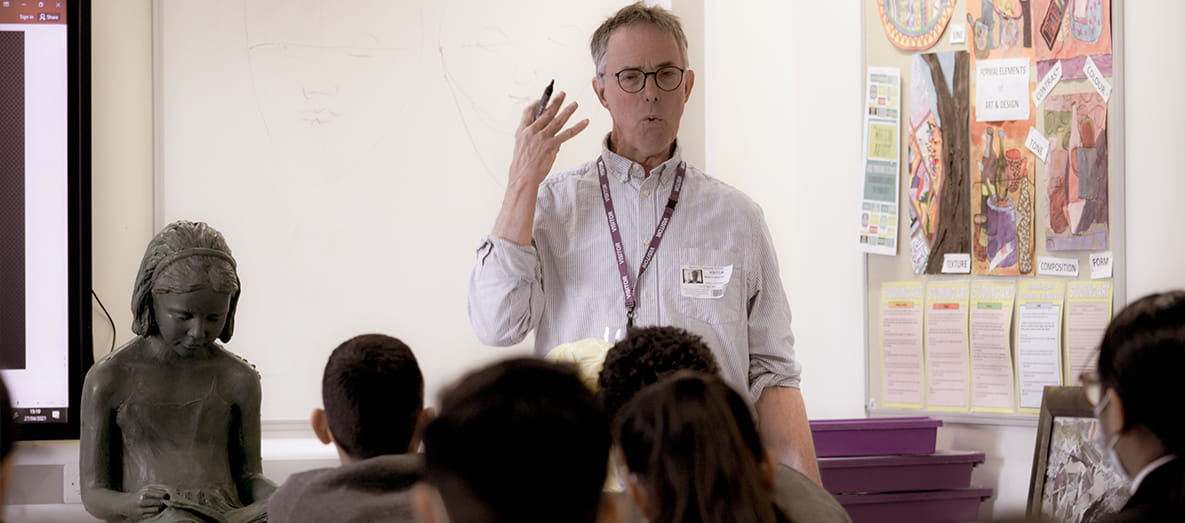 Brian explains: "I didn't know what to expect as it was the first time I had gone into a school to work directly with students, but it was an amazing experience. Both Leyla and I thought it very important that the children who could end up being models for the artwork felt comfortable around me and my team and so I used the time with them in the sculpting workshops to get to know them better. It also provided us with the opportunity to choose the three models for the artwork."
The completed bronze sculpture will first be displayed at the Chelsea Flower Show in May 2022. It will then make its way back to Alperton, where it will reside at Grand Union for the local community to enjoy.
Stephen Kirwan, Regional Managing Director, St George West London, said: "Through the creation of Grand Union, we want to make sure that we are giving back to the already established and thriving neighbourhood. Helping develop communities is very important to us, which is why we immediately fell in love with the inspiration behind Brian's artwork. It symbolises growth, diversity and togetherness, and how the children of Alperton are making a positive impact on the area.
"We have thoroughly enjoyed working with Brian and Leyla on The Next Step artwork, and we can't wait to unveil it at Grand Union later this year."
Grand Union has been designed with the community in mind, and, as part of this work, St George is opening up previously inaccessible parts of the Grand Union canal and the River Brent to local residents and visitors to enjoy. There will also be a canal-side piazza, new community centre, health centre, local supermarket and a range of onsite amenities.
The development will also benefit from 10.2 acres of publicly accessible landscaped gardens that will improve the area's biodiversity by an estimated 240% and look to enhance people's wellbeing.
For more information on Brian Alabaster's artwork, visit www.brian-alabaster.com or @brianalabaster and for details of Grand Union, visit www.grandunion.uk or call the sales team on 020 8108 1278.