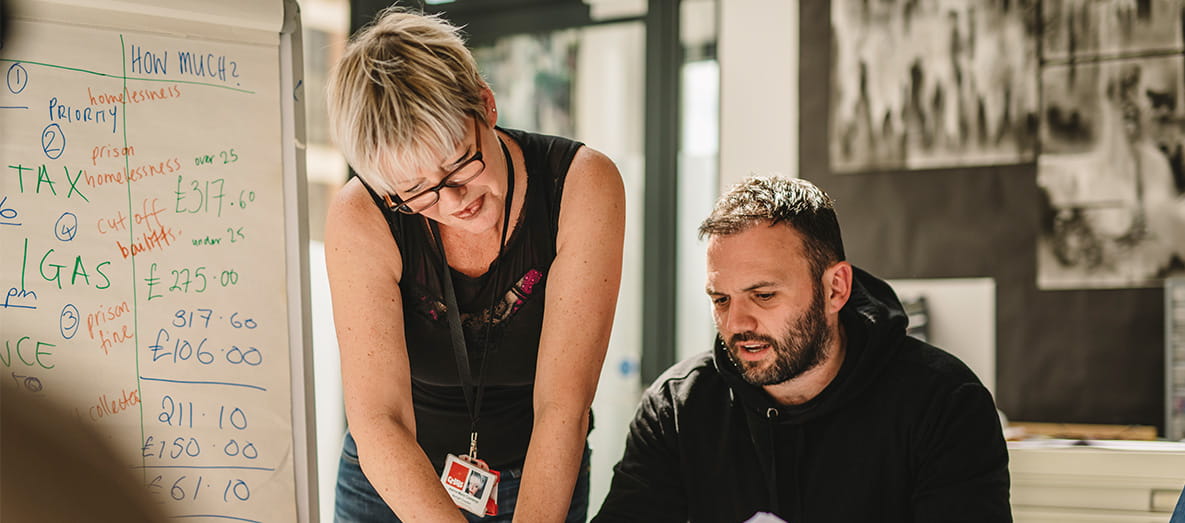 In this blog published by The Berkeley Foundation, Freddie O'Farrell, Partnerships and Development Manager at Crisis, talks about place-based partnerships and the value of collaboration.

For the past three years, in partnership with The Berkeley Foundation, Crisis has been developing and implementing a 'place-based' approach to ending homelessness in the London Borough of Brent.
We often feel the need to start these conversations by defining what exactly 'place-based' means in this context, as it is one of those policy-jargon prefixes – like 'person-centred' or 'data-led' – that sounds deceptively like common-sense, so broad that they obscure the rather specific and specialist meaning within.
Suffice to say that our place-based work is expressed in two core commitments:
A deep understanding of our local area, including by developing good quality data and promoting the voice of lived experience
Working in partnership with the local homelessness 'system', driven in large part by a recognition of the fundamental interconnectedness of social problems, something that is especially true for how people experience homelessness
Not every funder would have the foresight and flexibility to invest in an approach that is so famously difficult to define. But The Berkeley Foundation, and the wider partnership, which includes Brent Council, have supported Crisis Skylight Brent to proactively build partnerships, promote best practice and – hopefully – create the conditions for local systems change.
One of the ways we have sought to do this is by creating a 'Community of Practice', a collaborative meeting co-delivered by local services, which aims to address tricky areas which the sector might sometimes struggle with (e.g. no recourse to public funds, housing pathways, mental health, etc). We have held a CoP every 6-8 weeks since early 2021, with sessions usually attended by around 40 partners. Over time, the range of topics and breadth of participants has produced a valuable information bank for partners – a potential source for understanding what services are actually available in Brent, how to make referrals, and because we invite specialists to lead each session, what best practice in that area is. But (before now) all that local knowledge was not stored anywhere where it might actually be useful to people; it was simply scattered across a year's worth of emails.
One of the insights of place-based thinking is that this kind of local partnership work is essential for achieving the broader goal of ending homelessness. To that end, today we are launching a new online hub for what we are calling the Brent Homelessness Partnership – a dedicated website and newsletter, hosted by the Brent Skylight, where our partners can easily access information aimed at supporting them in their day-to-day work. We will also advertise events on this page, such as training opportunities (including those we deliver on homelessness awareness and prevention) and upcoming sessions of the Brent Homelessness Forum, run jointly with the Local Authority, where we can also record minutes and actions.
Though in some ways it is a small step, the need for a proper communications channel is a reflection of what we have achieved over the past three years. Our collaboration with The Berkeley Foundation has enabled relationships with both statutory and non-statutory partners in Brent to develop substantially – whether via setting up a panel to address the issue of people with multiple, complex needs who were not being well-served by current services, or by a cross-sector rough sleeping working group which could respond to the challenges thrown up by the pandemic.
These are the foundations for what we want to achieve next: a fully joined-up network of partners, committed to a common vision and a shared data-system, which can quickly and sustainably prevent or resolve homelessness for everyone who experiences it in the borough. It is a big ambition, especially considering the current external environment. But at the very least, we are starting to see the necessary elements take shape.
Visit The Berkeley Foundation website to read more blogs and news from the grant-giving charity.