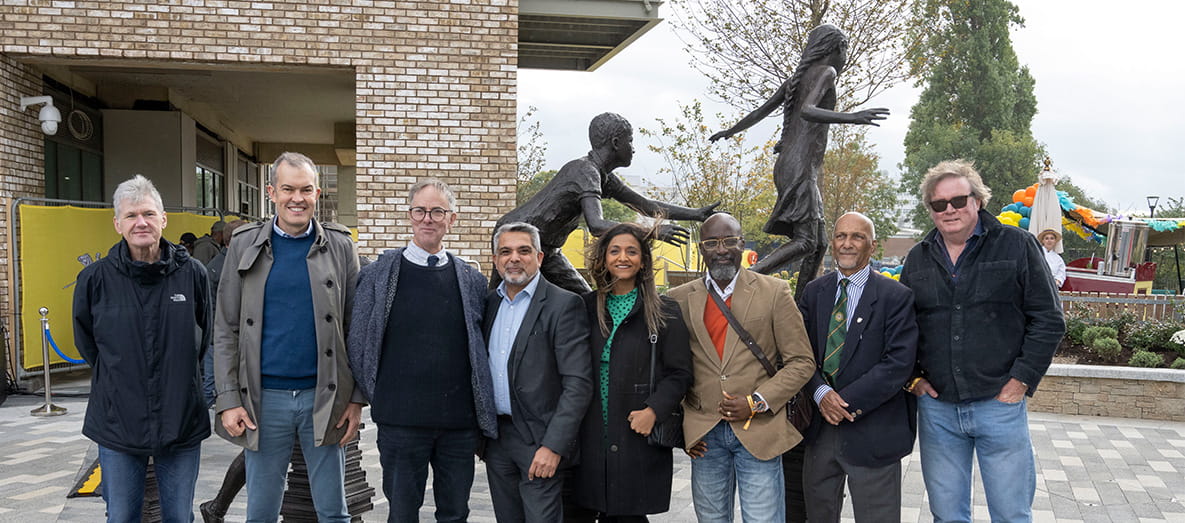 St George has opened a new canalside public piazza at Grand Union, its major regeneration project in partnership with the London Borough of Brent.
The piazza opens up the first section of restored canalside, providing public access for the first time to this part of the Grand Union canal, with new routes across the development and onwards to neighbouring areas.
The piazza is home to a new Community Hub, nursery, and café and features a new piece of public art, 'The Next Step', inspired by pupils from nearby Alperton Community School. A historic narrowboat, originally built in 1935 for the Grand Union Canal Carrying Company, has also been restored and permanently located at Grand Union, where it will serve as a unique reminder of the area's rich history.
New Connections for Alperton, Brent
Grand Union's piazza is a vital new piece of public realm that connects the new development to its surrounding neighbourhood of Alperton. The Community Hub and café, managed by The London Development Trust, will become a focal point of community activity. Local people will be able to use the Hub as a meeting and event space, hire it for functions, attend workshops being held there, and enjoy the onsite café that will provide healthy food and drink options.
A New Piece of Public Art
To anchor the new public realm, St George commissioned one of the country's leading figurative sculptors, Brian Alabaster, to create a piece of public art inspired by the local area.
Working with pupils from Alperton Community School, Brian created 'The Next Step' - a sculpture symbolising the learning, progression and achievement of local children. To create the artwork, Brian held clay sculpting workshops at the school, leading to the introduction of 3-D art to the school's curriculum.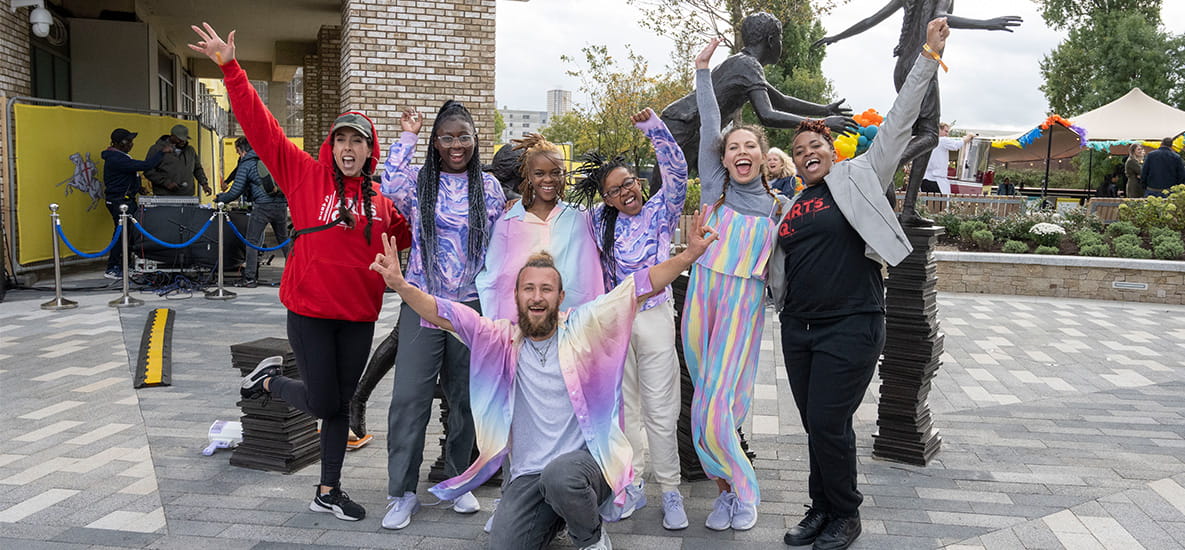 Celebrating Grand Union's Past
To help celebrate the Grand Union Canal's industrial past, St George purchased a historical narrowboat, named PAVO, which was built in 1935 for the Grand Union Canal Carrying Company. PAVO carried cargo from London to Birmingham, amongst other destinations. St George has permanently located PAVO in the canalside piazza at Grand Union, where it will be used as part of a community programme, providing a unique, educational setting to showcase the area's history and heritage.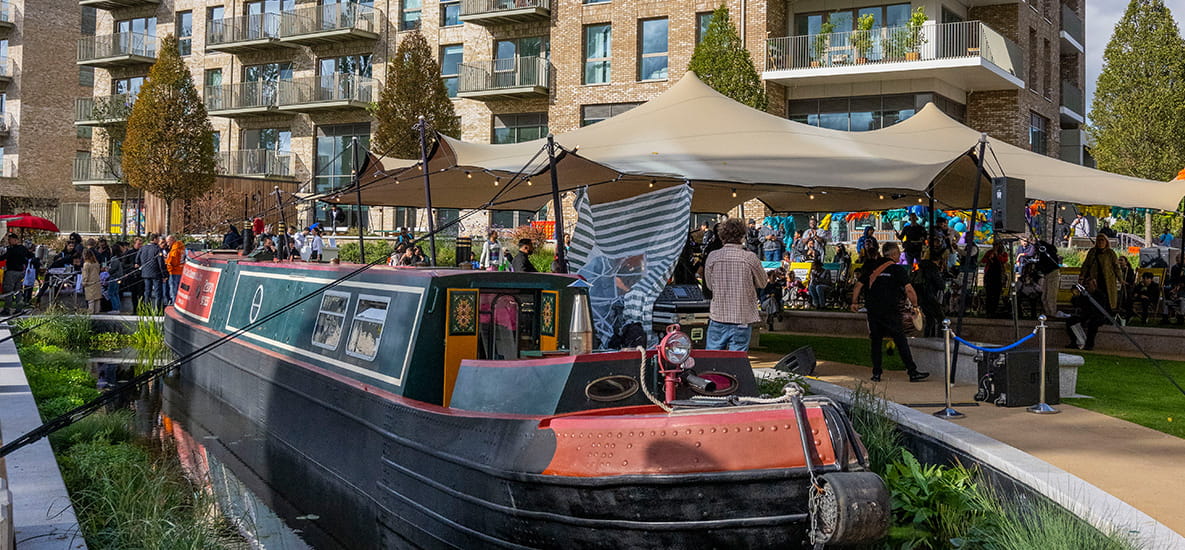 A Thriving New Neighbourhood
Covering 22 acres, Grand Union provides 3,350 new homes, 35% of which are affordable. The development also includes London's first multi-level industrial building, SEGRO V Park Grand Union, which will provide high quality industrial floor space and attract a range of occupiers – from start-up to more established businesses.
The first residents moved into their affordable homes facing the Grand Union canal last year. The major new development also provides 14 acres of open space, including landscaped gardens, riverside meadows and walkways.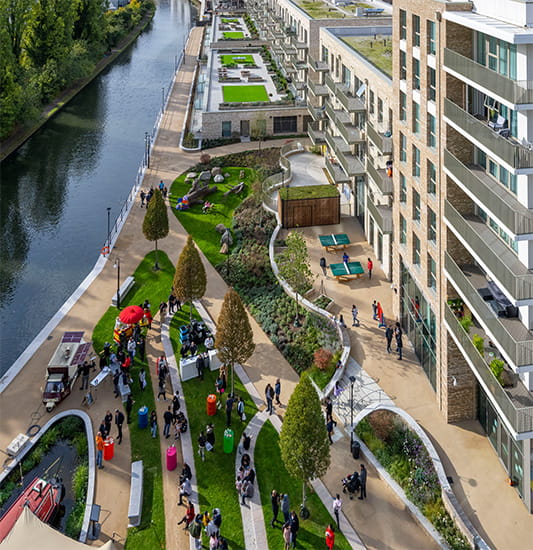 The latest phase, Waterview House, provides beautifully designed homes that have been influenced by the surrounding canalside.
Counsellor Shama Tatler, Cabinet Member for Regeneration and Planning at Brent Council, said:
"This is a fantastic moment for Alperton and the wider borough. The Community Hub will be a huge asset for the local area, creating opportunities for people to socialise and engage as a community. The Grand Union project has totally regenerated and revitalised this neighbourhood."
Stephen Kirwan, Regional Managing Director at St George West London, commented:
"Opening Grand Union's new piazza and canalside to the public for the first time is a major milestone in the wider regeneration. It will provide a unique place to live, work and connect, anchored by the new Community Hub, alongside new cafes, a nursery, convenience store, gym and modern workspaces. Furthermore, we are celebrating the area's heritage through a new public artwork and the return of PAVO, an original Grand Union Carrying Company barge. Both will attract both the local community and new visitors in their own right, making it a truly exceptional waterside destination."
For more information visit grandunion.uk