This former goods yard lies on the banks of the Birmingham & Fazeley Canal in the city's Gun Quarter, a district with a proud heritage of craftsmanship and skilled manufacturing dating back to the 17th century.
In partnership with Birmingham City Council, we are now creating more than 400 high-quality homes and landscaped gardens here, including a mix of steel, brass and timber design treatments that celebrate the area's tradition as a centre for skilled trades.
Outside our site boundary, we are repairing the crumbling canal wall and will be investing in the unloved towpath on the opposite bank, which is run down and dogged by antisocial behaviour. This will include new lighting and an ongoing management regime, to restore it as a tidy, safe and well-used walking route once again.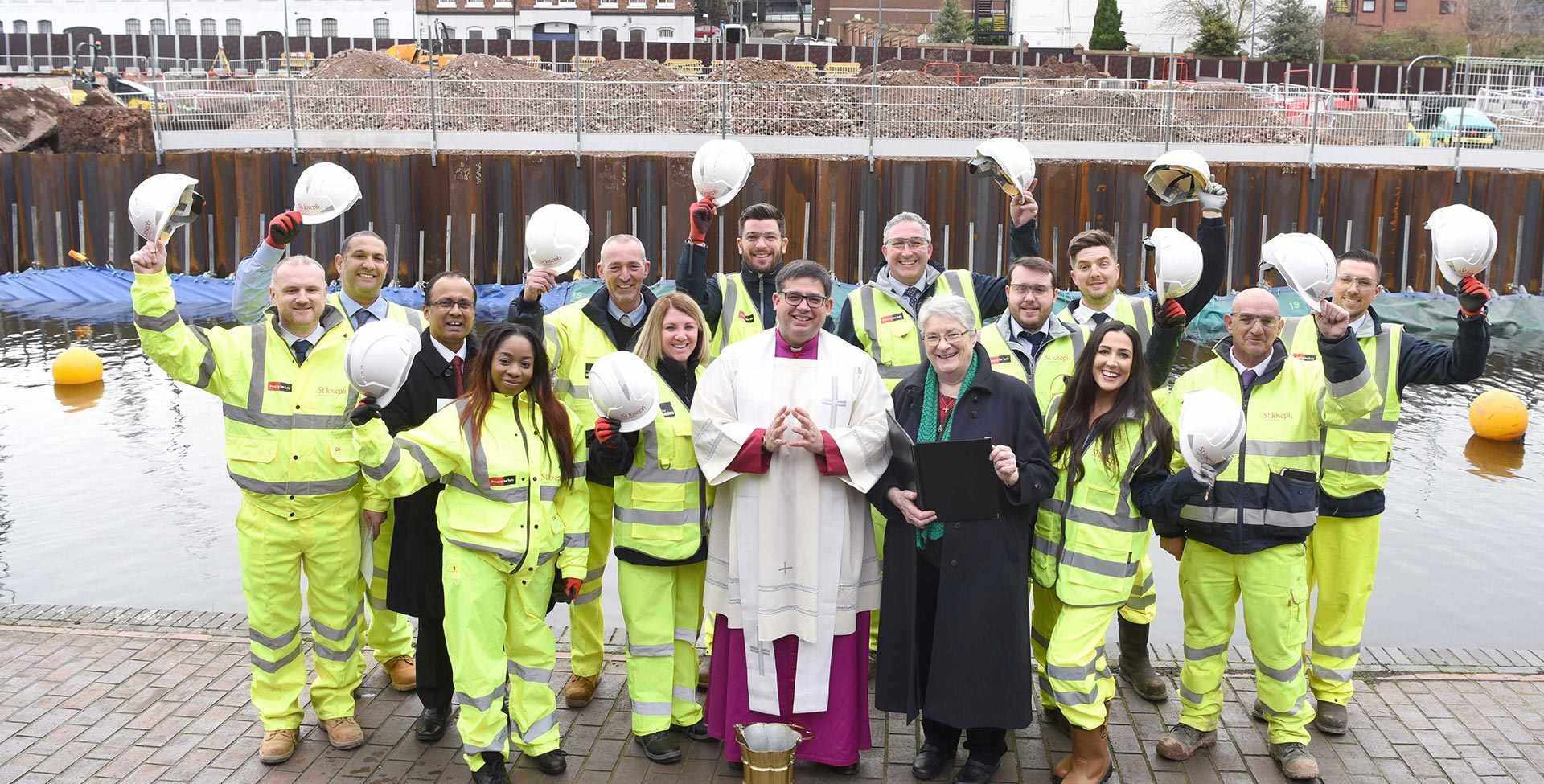 The Snow Hill Wharf team with Monsignor Timothy Meneze and Sister Margaret Walsh from neighboring St Chad's Cathedral.
As one of the first major developments to get underway in the Gun Quarter, we took care to get to know the local community and explain how our plans could affect local life. We built a strong relationship with the neighbouring St Chad's Cathedral, and are working together to ensure the local community can take full advantage of the area's on-going regeneration.
We also work closely with nearby homeless charity The Sanctuary Trust, and are developing plans to enhance their premises through contributions from our staff and supply chain.
From adapting our construction schedule to avoid clashes with local events, to upgrading the local street network, our team is always looking for ways to support the community and make the Gun Quarter a more attractive and welcoming part of the city.
"The St Joseph Project team have been fantastic to work with. Their appetite for ensuring the development considers the surrounding neighbours' needs has been a blessing in disguise! Sensitivity to the local community is summed in their phrase 'We Care' - this is more than just words." Canon Gerry Breen, Dean Emeritus of St Chad's Cathedral.
Snow Hill Wharf was announced in 2018. The canal-side development will feature a mix of one, two and three bedroom homes, along with landscaped podium gardens.
Read more about St Joseph's partnership with St Chad's Cathedral here.