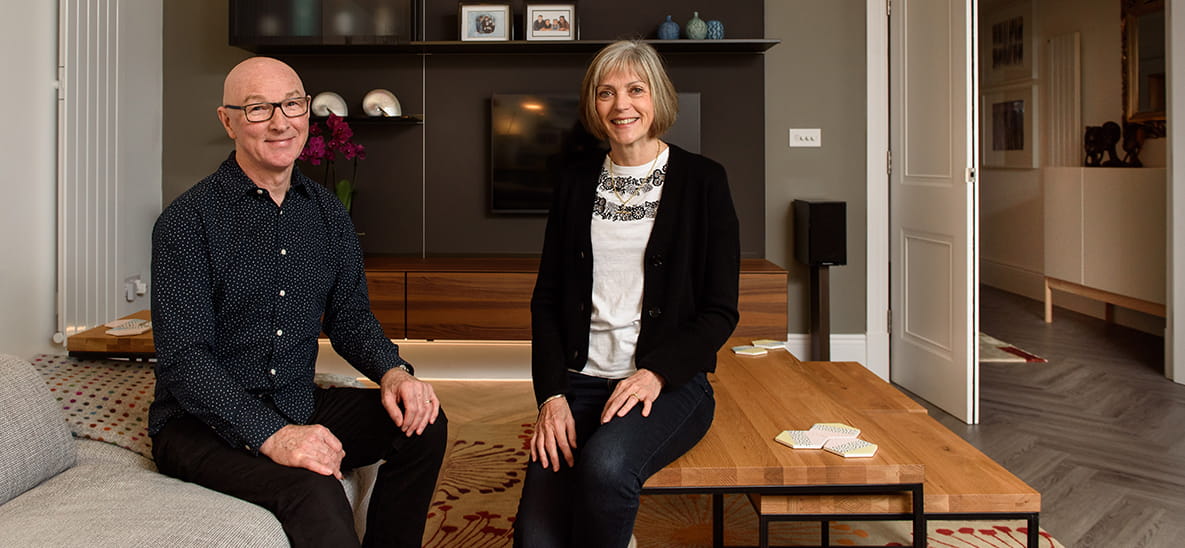 From Whipsnade to Winchester: A Knights Quarter Penthouse
Barry and Avril Gowers took the bold step earlier this year as they walked away from 20 years of living in their family home in Whipsnade, Bedfordshire. Swapping the six and a half acres of garden for the high life, they moved into a three-bedroom penthouse at Knights Quarter in Winchester.
The extremely young at heart couple (aged 66) decided to up sticks and move to be closer to their daughter who lives in Winchester, where they can help with their grandchildren and fully enjoy a carefree life not wedded to maintaining a garden.
Barry comments: "We have two children and five wonderful grandchildren. Moving to Winchester has allowed us to be very close to our daughter, two of her three sons are choristers at Winchester Cathedral, which is a great joy to us. We also have plenty of space for my son's family to stay overnight when they visit from Hertfordshire. I think the whole family has fallen in love with our new home at Knights Quarter!"
Avril was worried that saying goodbye to her garden might be a wrench, she muses: "Leaving my garden was probably the hardest part of moving from Whipsnade but I have amazed myself. I am so busy here in Winchester that I have not had a chance to be nostalgic. Being in the penthouse, we are blessed with an extremely splendid terrace and patio, so I have gone a bit mad with pots, which is keeping my green fingered side absorbed. To be honest it is a relief not to have to look after six acres – it was getting to be hard work for us."
The couple love living within walking distance from the heart of ancient Winchester, Barry says: "Winchester is wonderful. There are plenty of shops and some top quality pubs and restaurants. We both love being so close to the River Itchen, the water is crystal clear and we quite often see the odd trout swimming past. I have renamed Winchester the 'goldilocks zone' – it's not too big and it's not too small – it really is just perfect. And we are regulars on the train to London – we love the arts and theatres – and the train station is less than a 10 minute walk."
Speaking of her new home, Avril said: "Our apartment is perfect for us. We looked at some conversions before we chose Knights Quarter – but nothing else met the brief that we have written for ourselves. The specification is exemplary and we love the high ceilings and feeling of space, this Berkeley development is a quantum leap from anything else we looked at. Once we had viewed Knights Quarter there was no point looking elsewhere."

Keeping themselves occupied has not been a problem in Winchester. Barry explains: "Avril is mad keen on the gym and she is currently going to one in town, but it won't be long before the gym opens in Knights Quarter and she is looking forward to exercising there. She also runs regularly and we enjoy cycling out of town onto the South Downs, where you can go for miles. I have found an art studio in town, where I have relocated my etching press, so I can continue making fine art prints for my own enjoyment, a hobby which keeps me amused, and my walls covered."
"There is a fabulous bunch of people living right here in Knights Quarter, Berkeley recently hosted a 'meet the neighbour' event which was such fun. The champagne was flowing and we soon got to know everyone who came. We have a WhatsApp group in our building – we live in Bedivere House in Fellowes Rises and have comically named our group Bedfellowes – we regularly meet up for a bit of a social. It's a great mix of all ages and personalities"
The couple did invest in a media wall when they moved into the apartment, Avril said: "We didn't want the TV to be the main feature of our living room so we splashed out a little and had a media wall created by local interior designers, Hobson's Choice, which hides the TV, the hi-fi units and all the wires – it has made an ideal central focal point. Other things I love are all the brand new, top of the range appliances in the kitchen. Our double size wine fridge gets quite a lot of use. There are some fabulous deli's in Winchester, we particularly love Basil Leaf Deli where we stock up on some very interesting cheeses and charcuterie."
The move from Whipsnade to Winchester wasn't without the odd small hiccough. Barry mulls: "We did have a few challenges on our hands completing the sale of our house in Whipsnade with one thing and another. But Berkeley was brilliant. They didn't put us under any pressure and let the transaction take its course. Their aftersales team has been marvellous too. We designed and built our previous house ourselves so I am aware of the challenges of house building – it also means I have high standards – but the craftsmanship at Knights Quarter is exceptional."
Each apartment at Knights Quarter features a contemporary layout designed to complement busy modern lifestyles. Open-plan kitchen/living/dining areas create a hub of the home and include French doors leading out onto a terrace or balcony, flooding the living room with natural light. Principal bedrooms exude luxury and are complete with a sumptuous en-suite bathroom and fitted wardrobes, with some benefitting from a dressing area or walk-in wardrobe. Second bedrooms also benefit from en-suite bathrooms, ideal for visiting guests.
Knights Quarter enjoys an idyllic location just a short walk from excellent shopping, theatre and restaurants set along the pedestrian streets of the city centre. The train station, for fast trains to Waterloo, is also a less than 10 minute walk away. Winchester is steeped in history and is also home to one of the largest cathedrals in Europe, the historic Winchester Cathedral, which hosts regular exhibitions and events, including the famous Christmas Market, for both residents and visitors to enjoy. For lovers of the outdoors, Winchester's water meadows and St Catherine's Hill are located close to Knights Quarter while the South Downs, New Forest, Southampton and the beaches of the South Coast and the Isle of Wight are easily reached.
Prices for one and two-bedroom apartments at Knights Quarter currently start from £365,000. For more information, please call 01962 657243 or visit the Knights Quarter page.